Tobias Gebb is a Manhattan-born-and-bred drummer who leads a band in the style of Art Blakey's Jazz Messengers. That long-lived, drummer-led unit that was the gold standard of straight-ahead jazz from the '50s (when Blakey formed the group with pianist Horace Silver) to the '80s (when "young lions" like Wynton Marsalis and Terence Blanchard passed through the Messengers' ranks). A Blakey alumnus, alto saxophonist Bobby Watson even plays on three tracks here.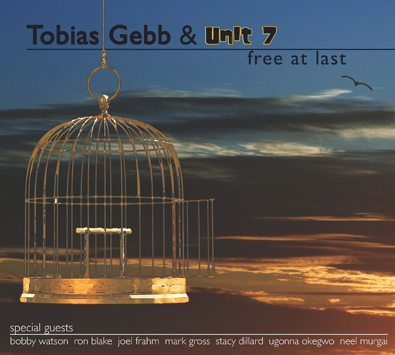 The real story on Free At Last, however, is Gebb's writing and arranging — whether it's the polyphony of horn voices on the standard ballad "You Don't Know What Love Is," the rollicking Rollinsesque calypso "Bop Be Dop," the re-imagined "Softly As In a Morning Sunrise," or the majestic, daybreak-like chords that the saxes and trumpet sound after the opening thematic statement on the gospel-tinged Obama tribute "Free At Last" (which puts me in mind of some graffiti that's adorned the newspaper box by my neighborhood donut shop since the morning after the presidential election).
Finally, I'm a sucker for The Beatles' "Tomorrow Never Knows," and while Gebb certainly isn't the first jazzman to cover Lennon's Indian-tinged dronefest (saxophonist Steve Marcus did it first, way back in '68), the drummer and his crew do it up fine, complete with an actual sitar. While it's hardly revolutionary enough to make Art Blakey spin in his grave, it's evidence that there's still vitality left in jazz tradition. Cop via www.yummyhouserecords.com.