Take a look at the scrubbed-clean MySpace photos of the pop rock quintet The J. Walkers, and you can tell from their shiny smiles, cherubic faces, and variously styled mop tops that these Tarrant County natives are being groomed with a specific target audience in mind.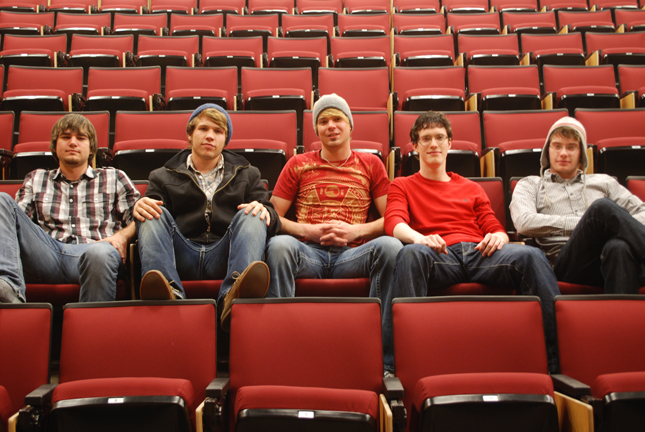 Singer-fiddler Klint Stallons, lead singer-guitarist Jordan Burchill, and drummer Jordan O'Leary have played clubs and festivals around North Texas and opened for bands like Green River Ordinance and Forever The Sickest Kids since graduating from Aledo High School three years ago. The loyal fan base they've attracted so far has not been ignored by their management.
"Most of our fans are female," confessed Stallons with a shy chuckle. "If guys come to see us, they're either friends of ours, or they came with their girlfriends."
The J. Walkers may have been put on the express train to Heartthrob City, but their charming, jumpy, utterly sincere brand of guitar rock has enough spark and ingenuity to justify their being taken seriously as young musicians. Influenced by groups as various as praise rockers Third Day, introspective dude-poet John Mayer, and punk popsters Yellowcard, the trio formed after Stallons and O'Leary started playing in the youth band at their Aledo church. They soon developed a secular alter ego that began gigging at parties and graduations. Then they met Burchill, who presented them with a batch of non-worship music that he'd written. Although they haven't broken away completely from the Christian pop scene, the trio decided that they wanted to broaden their audience with less overtly religious songs that had inspirational lyrics about love, hope, and savoring the small joys of life.
The distinguishing factor in their sunny sound is probably Stallons' fiddle, which he started playing when he was eight. His teachers were renowned bluegrass violin masters Joey and Sherry McKenzie from Mansfied. Klint sharpened his bow on standards like "Cripple Creek" and "Boil Them Cabbage Down." His taste soon grew a little more exotic when he discovered Yellowcard, the Florida punk quintet whose violinist, Sean Mackin, demonstrated that the fiddle could produce a deranged, authentically subversive sound. Stallons absorbed Mackin's wild but precise bow strokes even as he studied video lessons about how to play the violin in a live setting with personality.
"People don't want to see you play correctly," he said. "They want to see you having fun." Stallons has spent countless practice hours learning to hop around a stage with a string instrument tucked under his chin. Restraint plays a big role in pop fiddling: "I have to pick my parts carefully," he said. "The less the audience hears the fiddle, the more they want to hear it."
Since 2007, The J. Walkers have released two CDs of original material but nothing they're especially proud of. They've had a couple of shots at national exposure, including winning a 2008 Battle of the Bands contest at UNT sponsored by the nonprofit youth music organization known as The John Lennon Educational Tour Bus. A former manager got them into a Nashville youth showcase where they received hands-on performance advice from live music producer Tom Jackson, who's helped Taylor Swift and Matchbox Twenty hone their live shows.
"Tom broke us down and built us up again," Stallons said. "It was a huge help. He showed us how it wasn't just about the music, that you also had to show the audience the emotions in the songs."
The J. Walkers will use that instruction in the busy months ahead. They're scheduled to play a short set as part of the Music Gorilla showcase at SXSW later this month. A small West Coast tour is planned for this summer, when they'll release a still-untitled six-song EP produced by Geoff Rockwell (Forever The Sickest Kids). Keyboardist/vocalist Sean Giddings and bassist Daniel Parr have been added to the official J. Walkers lineup to flesh out the band's sound in the studio and onstage. Meanwhile, the two Jordans –– the lead singer and the drummer –– are both studying music at UNT while Klint continues to sharpen his pop-bluegrass violin skills with music classes.
As for the seemingly limitless possibilities open to The J. Walkers, Stallons is practical. "All of us will be playing music in some shape or form," he said. When asked to divulge his own pop star fantasy, he quickly added: "If we can play our songs for an arena [full of fans], that'd be the best."