She can't get away with it forever, but for now, Kristen Stewart can play the living crap out of these awkward, unpolished adolescent girls who don't yet know what to do with themselves. That's what I thought while watching her as a teenage Joan Jett in The Runaways. What makes this uneven music bio so compulsively watchable is Stewart's performance as someone who's rapidly figuring herself out, musically and sexually.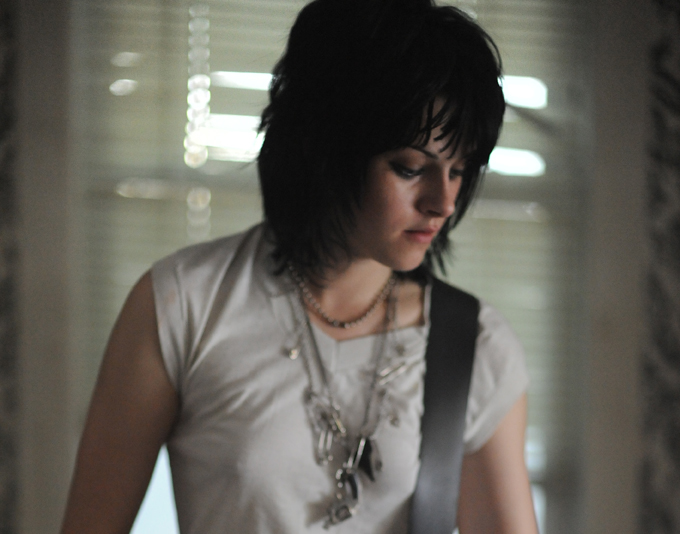 I'm not sure of her range beyond this character type — it's tough to envision her playing, say, Anna Kendrick's role in Up in the Air — yet within this type she's been able to convincingly portray both a straight collegian pushover in Adventureland and a tough-talking, mostly gay trailer park girl here. Stewart spends much of this movie making out (and more) with other girls, and her randy enthusiasm as she goes about this makes you think. With her androgynous features and sexual chemistry with male and female co-stars, she could become an erotic conduit for audiences of all persuasions if she keeps choosing her scripts as well as she's been doing. (First, she needs to finish the Twilight series. The sexlessness of those movies is throwing off her performances there. Yes! I've figured it out!)
The Runaways begins in San Fernando Valley in 1975, when 15-year-old Joan Larkin — already calling herself Joan Jett — works up the nerve to approach music producer Kim Fowley (Michael Shannon) at a club and tell him about her dream of forming an all-girl rock band. A con artist at heart, Fowley nevertheless sees a way to sell guitar-slinging hot chicks to a skeptical public, so he introduces Joan to a bunch of other female musicians and recruits nightclub party girl Cherie Currie (Dakota Fanning) as lead singer. The Runaways are born, and though intrapersonal differences and Kim's meddling take down the group within a few years, they still pave the way for both Joan's later solo success and for girls everywhere who want to rock.
This story is pretty amazing in retrospect, especially the part about the Runaways being underage girls — all between 15 and 17 when they first formed — who sang hard-driving rock songs about getting wasted, getting laid, and liking it, something that would still cause an uproar today. Italian-Canadian writer-director Floria Sigismondi (a first-time filmmaker from a music video background) frustratingly doesn't really dig into the taboos that the Runaways busted. Today's pop music scene is so female-centric that it's hard to imagine a time when the notion that "girls don't play rock 'n' roll" wasn't even up for debate. The movie could have used more context on how the rock music scene was even more male-dominated back then, as well as what impulse led Jett to write her songs.
Weirdly, Sigismondi seems to think that the story of Cherie battling her nascent drug addictions is more interesting than all this. The script is based on Currie's memoir Neon Angel, and perhaps Sigismondi is aiming for a double-edged story about how early success makes Joan and unmakes Cherie. Still, the domestic drama between Cherie and her sister (Riley Keough) — who stays home and takes care of their sick, alcoholic dad while Cherie tours the world and gets photographed in magazines — takes up too much screen time. It's indifferently scripted, limply played, and doesn't pull its weight.
Better stuff comes from Shannon, giving a wildly entertaining performance as a master manipulator when it comes to getting his band to play like he wants. "This isn't about women's lib, it's about women's libido!" he shouts at his charges. "I want to feel the scratches down your boyfriend's back!" He brings in boys to throw garbage at the girls while they practice so that they'll keep things together when real fans do the same, and he riles up Cherie (in a terrifically played scene) so that she'll sing "Cherry Bomb" with the right amount of snarl. The movie nicely grasps the irony that Kim's canned girl-power slogans inspire Joan to make them into reality, even though he himself is only out to make a pile of cash.
Sigismondi does excel with the atmosphere of this piece, which is the grungiest thing to hit theaters in a while. The movie's first shot is of a splotch of menstrual blood dripping onto asphalt from between Cherie's legs. You can feel the oppressive heat of the trailers that the girls cram themselves into to practice, and you can smell the sex going on. Sigismondi also generates real electricity in the sequences with the Runaways performing live. The actors do all their own singing and most of their instrument-playing, and if anything they're a shade too good — the real-life Runaways weren't that skilled.
Through it all, your eye gravitates to Stewart's Joan onstage, where she struts and sings with a thoroughly Jett-like badassedness that makes her seem taller than everybody else. (The butch leather jumpsuits she's wearing help, too.) Every once in a while, the right role finds the right actor at the right time, and that's what happens here. The Runaways ends with Joan well on her way to becoming something awesome, and you leave this movie convinced that Kristen Stewart might be headed there, too.