Homelessness is a big problem in Fort Worth, said Mike Wallace, a retired homebuilder who grew up here and still lives here. "And I think I have a solution."
Wallace wants to turn shipping containers — the boxcar-sized metal containers that carry freight around the world — into livable homes. He's not the first with the idea: Both artist types and the U.S. military have used them for housing. But he may be the first to see them as a way to solve part of Fort Worth's homeless problem.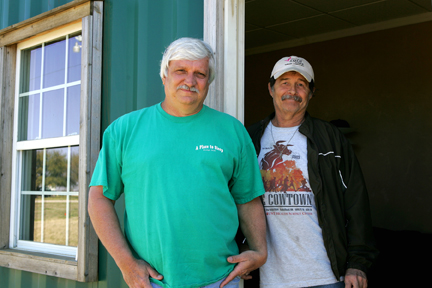 The containers are cheap, nearly indestructible, and can be made into comfortable living spaces. But what seemed like a no-brainer to Wallace might not even get tested in his hometown. After a year of jumping through regulatory hoops in Fort Worth, Wallace said he was ridiculed when he tried to sell the idea to the neighborhood associations on the East Side, where many of the homeless live. "I was basically told to go do it somewhere else and come back later to sell them on the idea. I went somewhere else, but I don't know that I'll go back to Fort Worth," he said.
Otis Thornton, the city's homeless coordinator, said residents were concerned about the container-homes'effect on property values and whether the units would fit into their surroundings.
The city is "absolutely in need of quality, affordable housing for the homeless," Thornton said. But "the last thing the homelessness committee is going to do is to push a type of housing on a neighborhood that doesn't want it."
The idea isn't just to plunk down empty shipping containers around town as makeshift shelters. His vision is to use them as modular sections for homes that can be built with the help of the people who are going to buy and live in them.
"It doesn't do a lot of good to just give someone a place and tell them that's their home," he said. "You've got to give them a stake in it and make them responsible for paying for it, and then you've got to give them a job skill they can use to earn the money to do that."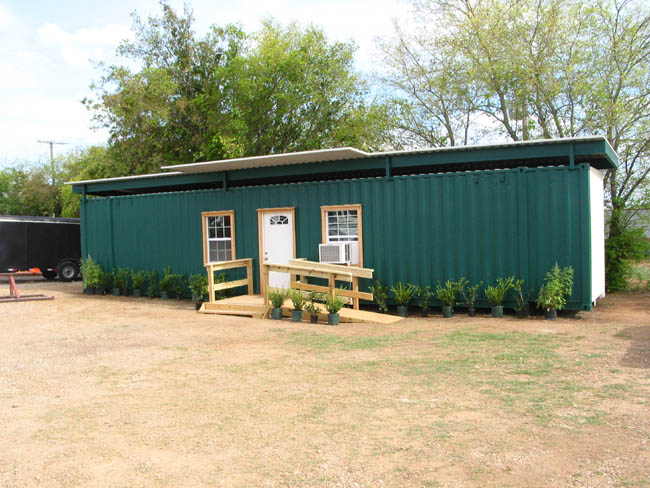 His plan calls for a prospective buyer to spend 300 hours working on the home as a "sweat equity" down payment. "By the time they've put in their hours, they'll know how to frame a wall, put in insulation, put up drywall, do some electrical and plumbing — they'll basically have a skill set that will allow them to find work," he said. "And they'll have to, because I don't plan on giving these away for free."
But he doesn't plan on making money either. His nonprofit group, A Place to Sleep, plans to sell the homes at cost — about $36,000 not including the price of the land. Wallace's organization would carry the 30-year note, "just like a regular mortgage, but with no closing costs and no interest," and with the usual condition that failing to make payments would mean losing the property.
He's building a prototype just outside of Joshua, with the help of a formerly homeless man who's excited about the project.
The main part of the home is a single 8 1/2′-by-48'container (slightly narrower than a trailer home) that will be joined to two slightly smaller containers, on a pier-and-beam foundation. Wallace said it should be finished by late May and will encompass slightly more than 1,100 square feet, including a bathroom and full kitchen, living room, two bedrooms, two large porches, and a brick exterior. Given its sturdy steel construction, which will be welded to plates built into the foundation, it will be highly resistant to fire or extreme weather.
Wallace, 55, made a good living as a builder for many years, working for his father's company, Wallace Construction. They built subdivisions and framed homes for other construction outfits. But while he was recovering from a bout of hepatitis D, he said, "I wondered what I should do with the rest of my life. I still loved building but didn't need to work much anymore."
He had worked through his church, Metroport Cities Fellowship in Keller, as a master crew chief, building homes for Habitat for Humanity. "We were building homes for people with a certain income level. And I just thought — well, God steered me to think — that I should build homes for people with no income."
But how?
He thought about shipping containers, hundreds of thousands of which have wound up unused in U.S. ports. He had the first one delivered, from Houston, to a friend's construction yard in North Richland Hills and set about figuring how to turn it into a home.
The key obstacle in making a steel box into a livable space is to control the temperature. To solve the problem he put a radiant barrier — to reflect heat away from the living spaces — against the inner walls and ceiling of the central container unit, then built interior walls, with insulation in between. For extra insulation, he finished the interior walls with a stucco-like clay.
It worked. During a summer week when temperatures hit 105, he said, the container-home interior temperature stayed at 75 or below, without air conditioning.
Wallace painted the exterior and installed ceiling fans and hardwood floors. The main unit is not yet set on its foundation, plumbed, or connected to the other sections. But he went ahead and furnished it, then he got in touch with the Fort Worth City Council and invited them to take a look at it.
"I didn't brick it or put siding or a roof on it, and I didn't put in a bathroom or kitchen because I didn't know where it would eventually go," he said. In retrospect, the decision to show it off at that point may have been a mistake.
The builder thought his units would find a welcome on the East Side, where abandoned homes and empty lots are common. He put a down payment on a lot and began to look into code compliance requirements.
"The neighborhood associations were concerned that I might be putting substandard housing into their neighborhood — which is, of course, filled with substandard housing. But when I met all the codes and regulations, that still wasn't good enough," he said.
The last straw, he said, was a meeting with council member Kathleen Hicks and her staff last August. "There were people from several neighborhood organizations there, as well as the city's homeless coordinator and the head of the planning department," the builder said. "Those [latter] two had no objections to what I wanted to do. But some of the others raised the most ridiculous questions. … They just didn't want to have anything to do with me or my project.
Hicks said she didn't feel Wallace was ridiculed. "What concerned me was the size," she said. "It was just so narrow. It might do for a single person but not for a family."
When told the prototype is being expanded to more than 1,100 square feet, Hicks said that she would love to see it when it's done. "That's an entirely different idea than what we were shown. That's the size of a real house."
She also said that many of the neighborhood associations felt Wallace was another in a long line of people who thought they could just come in and fix the East Side. "You need to work with the folks here to get them on board with your vision," she said.
Dana Burghdoff, the city's assistant director of planning, said many people "simply objected to the idea of using shipping containers as homes," he said.
Back in Joshua, Troy Sanderson is working on and living in the prototype house, making do for now with bathroom facilities out back and electric appliances for cooking.
Sanderson, who grew up in Cleburne, worked as a welder and managed a feed mill, then took a job hauling new cars cross-country. "I was just a working man, raising my two kids, paying off my house," he said recently.
He began a long spiral downhill in 2000 when his wife asked for a divorce. She ended up with the house; he got $3,000 cash.
Sanderson went to work as a corrections officer but was fired after he got into a fight. He took another job, but by that time he didn't care about much anymore. "Someone offered me some crack one time — I hadn't even smoked pot since the 1970s — and I just fell into it. Nearly every cent I made between 2004 and 2008 went into crack and meth."
He fell pretty far in those years. He lived in his car for a while then wound up at the Presbyterian Night Shelter. He said he tried to commit suicide a couple of times and spent two weeks in a psychiatric ward. In early 2009, though, he went through a two-week rehabilitation program, and he said he's been drug-free since then. Through a faith-based jobs program, Jobs for Life, he made further progress back toward a stable life.
That's where he met Mike Wallace. "He needed someone to do some security on a condo he was remodeling," said Sanderson. "We did that for about a month, me still sleeping at the shelter, when he asked me if I wanted to live in the container house in Joshua. You bet I did. That was Dec. 21, 2009, and I have not been homeless since."
He's working with Wallace to finish the foundation, after which the three containers will be put in place and welded together. He'll have to pay the cost of building the home as well as the $25,000 one-acre lot it sits on. "I'm going to get a car, and then I'll get a job and start paying this off," he said. "This is my home, and I don't plan on losing it."
Wallace is happy with his choice of Sanderson as a first buyer. "I want people who are able to work. I want to give people who deserve a second chance a second chance," he said. He'd like to see needy military veterans, who make up about a quarter of the Fort Worth homeless population, get first crack at his container homes.
For Wallace to truly see his vision carried out, he will have to convince others of its viability — he needs money and volunteers. The first home is being funded by a $20,000 grant from a German company that sponsored a contest in innovative homebuilding. He's also received donations from his church, and friends in the construction business have lent him their equipment.
He's hoping that once the showcase home is finished and people can see what's possible on a small budget, the funding will begin coming in. "All I can do is do what I am doing. I leave the rest in God's hands," he said.