In August 2008, the Southwest Fort Worth Alliance, a collection of homeowners associations representing about 25,000 property owners, approved a natural gas leasing deal with Vantage Energy that provided for bonuses of $27,500 per acre and a royalty rate of 23 percent. For residents, it read like the sweetest deal ever in the Barnett Shale.
Homeowners were told that they'd get their money after a fairly simple process: Property titles would be verified by Vantage's leasing agent, The Caffey Group; homeowners would fill out a tax form and sent it in to Caffey; they would go to a signing party and sign the leases; and bonus checks would be sent to their banks in a draft form that would be converted to cash within 30 business days.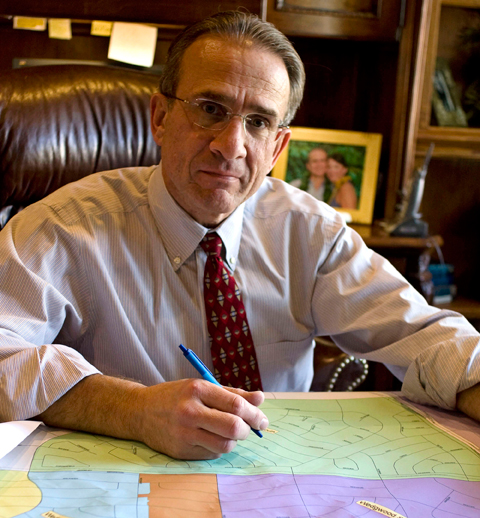 David and Joyce Richey did all those things. They signed their lease on Sept. 13 of that year. Their bonus was calculated at $8,800 for their quarter-acre property, and a draft for that amount was sent to their bank on Sept. 16. They then waited for the check to clear.
On Nov. 6, however, the draft was returned unpaid. And now the Richeys are part of a lawsuit against Vantage and Caffey alleging breach of contract, fraud, antitrust violations, and deceptive trade practices toward themselves and other property owners.
When Fort Worth Weekly first reported on the gas suits ("Worth the Paper They're Written On," Oct. 7, 2009), only two such cases had been filed, both small suits over unpaid bonuses in Arlington.
Since then, the North Texas Lease Litigation Group, a consortium of three Dallas law firms, has filed 17 additional lease suits, most of them involving small groups of homeowners. They have more than 100 clients in all and expect that number to triple in the next few months. Another hundred lawsuits are in the works, and Kip Petroff, lead plaintiffs' attorney in the cases, said more than a thousand Tarrant County residents have contacted the consortium.
The suits thus far center on deals that were negotiated by SFWA with Vantage and by South East Arlington Communities of Texas in April 2008 with XTO Energy. In mid-October of that year, the drilling companies — XTO, Vantage, Chesapeake, and others — pulled their offers off the table for property owners who hadn't signed. By March 2009, they were back in those neighborhoods, but by then offering deals with zero bonuses.
Petroff contends that the drillers didn't like the record levels that bonus offers had reached and, in violation of antitrust law, teamed up to drive prices down. A hearing on May 6 in a Tarrant County district court will determine if the plaintiffs have legal grounds to sue over antitrust issues.
"The companies acted together at the same time, and we have some interesting evidence that we can't share at this time saying they did," Petroff said. "The competition was fierce in 2008, and the prices went sky-high. But then [the drilling companies] looked at each other and said it doesn't make sense to pay that kind of money.
"But they had binding contracts in place, and you can't nullify a contract just because gas prices went down," he said.
The drilling companies and other defendants would not comment for this story. Last year, an attorney for Vantage Energy and the Caffey Group told Texas Lawyer that the lawsuits were frivolous.
"It is very unfortunate that these suits are being filed when these companies have done so much to promote the economy of the counties in the Barnett Shale during a time of economic downturn," attorney Alfred "Rusty" Allen told the magazine.
Petroff had wanted the cases tried in Dallas County, where some of the defendant companies have offices. But last October, a Dallas judge ruled that Tarrant County was the proper venue.
According to testimony in depositions taken by the plaintiffs' lawyers, leasing agents for XTO were still promising SEACTX in September 2008 that every homeowner who wanted would be signed to a lease. One landman sent an e-mail to SEACTX saying that XTO "is committed to doing this leasing project right the first time … treating you and your SEACTX members in a professional manner … ."
Thus far, the XTO officials and employees for the leasing companies XTO hired have mostly testified that they don't recall any specifics about who ordered the lease offers to be pulled or when.
Sherman Young, a landman for XTO, said in his deposition that the offers were pulled in October 2008 because of the "global economy" and other market factors.
The depositions and other documents also suggest that the gas companies, though competitors on the surface, do work together in joint operations at times — an important point in an antitrust case. According to an e-mail obtained by Petroff, one landman advised a SEACTX property owner that he would have a better chance at getting paid royalty money if he signed with Chesapeake, as that company was closer to developing drilling sites in the area than XTO.
According to Young, the companies also trade leased property with one another. If XTO has, say, 70 percent of homeowners signed up in one neighborhood and Chesapeake has most of the remaining 30 percent, while in another neighborhood Chesapeake has the majority and XTO the minority, then the two companies might swap, so that XTO holds all the leases in the first neighborhood and Chesapeake all in the second neighborhood, regardless of which company neighborhood associations had signed a deal with.
"That is anti-competitive, and none of those who were deposed could explain how it wasn't anti-competitive," said Petroff. "What they are doing is cherry-picking in Tarrant County and ignoring the agreements they had signed with the neighborhood associations."
The drilling companies' cancellations of hefty bonus and royalty contracts helped drive the market for those contracts far down from the record levels it had reached in 2008. But now the offers are increasing again. "In the past year, we have seen the bonus offers going from nothing to maybe a high of $2,500" per acre, said Tolli Thomas, who helped negotiate the SFWA deal and is treasurer of the Wedgwood Neighborhood Association. "But it is still just 10 percent of the deal that all of our homeowners thought they had back in 2008."
The drilling companies' financial exposure is huge if Petroff and his plaintiffs succeed, especially since federal law allows actual damages to be trebled when anti-trust violations are proved. So a contract for a $27,500-per-acre bonus could end up costing the companies $82,500 if the plaintiffs win.
The Caffey Group's web site says that the leasing effort in the SFWA project "has been put on hold by Vantage until further notice. Leases that have already been signed and issued bank drafts will be valid. We apologize for any inconvenience and will inform you of more details as soon as possible."
The statement makes it sound like the Richeys will get their $8,800 — but they're not holding their breath.