Almost anyone in a band will try to sell you the same story: I'm only in it for the music, man! But when you're in your 30s, married with a kid, working a full-time job, and you've named your band Raging Boner — how could you be in it for anything else?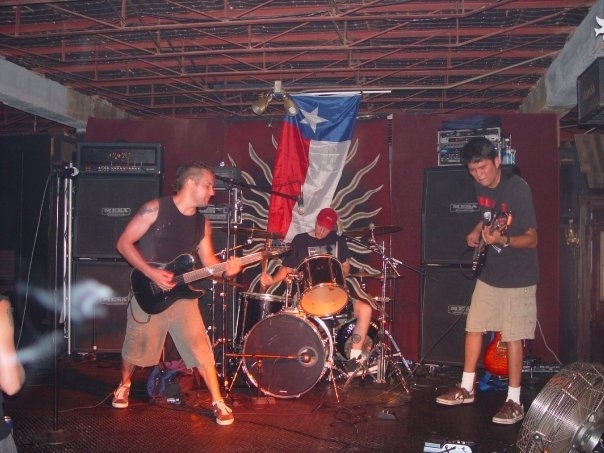 Started in 2008 by 32-year-old guitarist/vocalist Michael Buyskes — a.k.a. African Mike — as a solo recording-project, Raging Boner may be a young band, but the Fort Worth crust-punk trio's perspective on music is anything but juvenile. All the members have been in serious bands, releasing records and touring since their teens. They lost any delusions of grandeur 10 years ago. No one in Raging Boner is counting on a record deal. Now, playing music is purely an act of catharsis: a way to let go, help foster a community for like-minded friends, and — most importantly — just have fun. "And if we can piss someone off too, we're doing something right," Buyskes said with a laugh.
While the band's carefree philosophy and no-nonsense approach to its music appear natural now, the road to insight was long, disappointing, and snaking. The members of Raging Boner had a lot of growing up to do before they learned that no one should take anything — especially music — too seriously. For bassist Bobby Sekaquaptewa and drummer Matt Thomas, that meant toiling for 20 years in local punk and hardcore bands like Slave One and Neighborhood Villain. For Buyskes, that journey began in the early '90s in South Africa, his native land.
Buyskes was addicted to aggressive music from an early age. Even with limited access to foreign artists, he was drawn instinctively to the darkness of The Exploited, Guns N' Roses, and Nirvana. The dream of playing music soon consumed him. He wanted to get signed, release a record, tour — the typical rock fantasy. Buyskes was playing guitar in a poppy grunge band, Blossom, with his identical twin brother by the time he had reached his teens. Despite his ambition, though, there wasn't much of a music scene to support his vision. He could have counted on both hands the bands in the places where he lived, mainly Capetown and Bloemfontein.
The lack of local music industry support actually had its advantages. Music-starved folks turned out in crowds of 300 or 400 for local concerts. And all the musicians in town stuck together. They helped one another out in any way possible — promoting, putting on concerts, and filling out diverse bills with everything from death metal to solo acoustic acts. At 19, Buyskes and his band made the big push toward stardom and decided to move to London to record an album.
London at least had a music scene. But the scene felt cold and segmented, with individual bands more interested in making it than forming a community. For three years, he saw bigger crowds at the restaurant where he worked than in the bars he played at night. And while his band, now called The Sun Blossoms, had managed to record and release an EP, the industry was largely unresponsive. Still, the trip wasn't a waste. During his day job, Buyskes met his future wife. In 2000, when his band broke up and the couple got engaged, Buyskes followed his fiancée back to her native Fort Worth.
From his new home base, he began investigating the North Texas heavy-music scene. Buyskes often went out to concerts searching for new music, but in his first two years exploring he found mostly generic nu-metal bands and Pantera rip-offs. It wasn't until he stumbled across Dallashardcore.com, a local message board, that he found sounds to lust about. North Texas' punk and hardcore scenes are notoriously insular. The web site offered Buyskes an invaluable primer on all local DIY culture: bands, venues, concerts, promoters, the kids attending shows, everything. Soon he was not only regularly seeing locals like Kill The Client, Unit 21, Tolar, and Rotundus, but he was also joining their ranks. Buyskes became quick friends with Dallas hardcore act Neighborhood Villain and was recruited to play guitar.
The group was fun, and having Steve Egerton from punk band The Descendants produce his band's album was a dream. However, Neighborhood Villain never really took off. The band dissolved without a whimper, but Buyskes, who had already begun writing Raging Boner material in his spare time, took it in stride. He had a wife and new baby girl to support. He had a dependable day job at a Dallas marketing/advertising company where, on most days, he could get away with spiking his Mohawk. It wasn't long until he had another band.
The transition to Raging Boner was natural: Buyskes on guitar and vocals, Thomas again on drums, and Sekaquaptewa on bass. Within months, the group had put together an album. It's one of several recordings with which Buyskes has been involved but the first on which he wrote all the songs. Nation In Shit is informed by Buyskes' deep love for the grating immediacy of punk as well as his experiences living in South Africa, England, and the United States. The songs are simultaneously politically conscious — deriding racism, homophobia, and faceless corporations — and sardonic. "I'm tired of singing about feelings," Buyskes said. "There are things people need to be made aware of, whether they support it or not." The guitars crunch with rusted distortion. The rhythm section issues everything from jarring blasts to doom-laden churning. The squalid vocals rasp out lyrics that ridicule hypocrites. Appropriately, the song begins with a guttural burp.
Raging Boner
Fri, Apr 16, w/Rotundus, Violent Messiah, Life Erased, and Brainsore at 1919 Hemphill, FW. 817-773-1833.