On Saturday at The Grotto (517 University Dr. near the Cultural District, 817-882-9331), the Rivercrest Yacht Club will play its second-to-last show for a while.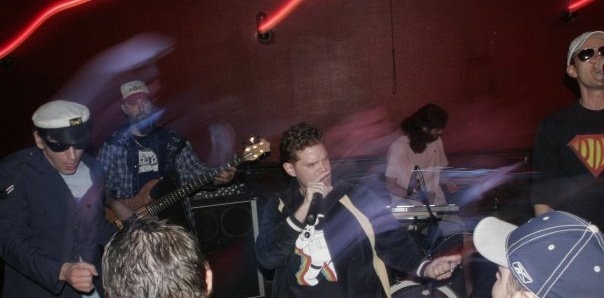 The rap quintet is going to hole up primarily in Heffminster Abbey, the home recording studio of Yacht Clubber Heffminster de la Roca, to record an album tentatively titled The Bass That Launched a Thousand Hips, the follow-up to the rap quintet's 2008 debut. Yacht Clubber MC Generic (a.k.a. Weekly staff writer Eric Griffey) is also taking time away from the stage to work on a couple of side projects not including the Fort Worth Music Co-Op, of which he is an executive member. He'll be working on the band Wolfpup-Raincloud: Goth for Kids, with guitarist Ron Geida and roots-rock singer-songwriter Carey Wolff, and the movie Escape From Night and Day Backyard Posse Boy Island, about a Menudo-type boy band whose members are exiled to a secret island once they pass their prime. Since the island is located near Japan, big monsters are involved, and Generic also mentioned something about a dance-off and the loose-limbed involvement of Wolff and Steve Steward. The RYC will be joined at The Grotto by burgeoning TCU-bred rapper Dru B. Shinin' and brassy stalwarts Villain Vanguard.
The RYC's last show for a while will be as part of Lola'spaloozza, a two-day event (Sat., May 8, and Sun., May 9) at Lola's Saloon-Sixth (2736 W. 6th St. in the W. 7th Street corridor, 817-877-0666). The bill is loaded with local talent. Also slated to play are Calhoun, Dove Hunter, Chatterton, The Me-Thinks, Foe Destroyer, Boss Level, JZ & Dirty Pool, James Hinkle, Keite Young, Josh Weathers, John Stevens, Taylor Craig Mills, Scott Vernon, Rahim Quazi, Braker Lane, 100 Damned Guns, Scott Copeland, Addnerim, Prophets of Rage, Automorrow, Sweetooth, Exit 380, Impulse of Will, Quaker City Nighthawks, Stoogeaphilia, Sally Majestic, and maybe some others. … On Sunday, Lola's will inaugurate its new outdoor stage with a performance by C&W singer-songwriter Scott Copeland from 4 to 6 p.m.
Good shows at Lola's starting on Thursday, with Fort Worth indie-rockers Great American Novel, Fort Worth R&B crooner Keite Young, and Hello Lover, the Dallas quartet that will be celebrating the release of its new, eponymous CD. On Friday, Lola's will welcome Fat Possum's Heartless Bastards, with openers The Orbans and Austin's Monahans.
Weirdest show of the weekend? Perhaps it'll be at The Moon (2911 W. Berry St. by TCU, 817-926-9600). On tap is Austin's Sublime-esque Sunglasses & Mushrooms, former Darth Vato frontman Kerry Dean, and the Stooges tribute act Stoogeaphilia. Bring earplugs.
From the depressing news department: Americana chanteuse and perennial Fort Worth Weekly Music Awards nominee (and past winner) April Geesbreght is relocating from the Fort to Nashville in May. Catch her while you can. Her next show is on Sunday at the Voodoo Lounge inside the House of Blues (2200 N. Lamar St., Dallas, 214-978-BLUE.). Geesbreght also is planning to release a five-song EP of new material produced by local singer-songwriter Jordan Critz.
Contact HearSay at hearsay@fwweekly.com.