Way back in September, 2009, not long after Calhoun allegedly broke up, the two main songwriters, frontman/lyricist Tim Locke and multi-instrumentalist Jordan Roberts, started writing and recording again ("Calhoun Redux," Sept. 9, 2009). The homebrewed results eventually ended up in the hands of producer James Barber ("Calhoun Hits Studio with Ryan Adams' Guy," Blotch, Sun., Feb. 14, 2010), who had produced Ryan Adams' critically acclaimed Rock N Roll album and who was an unabashed fan of Calhoun's first, eponymous album.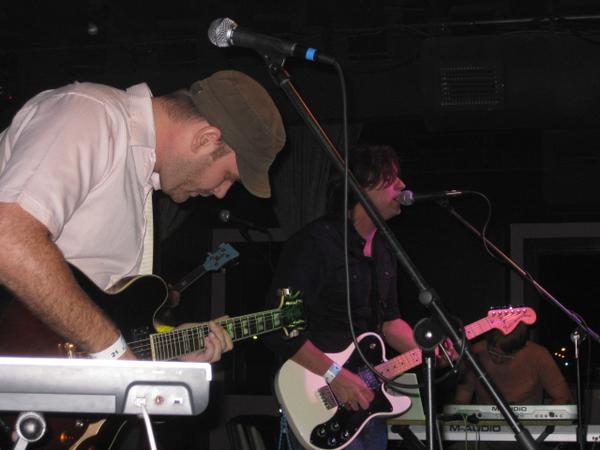 Locke and Roberts began laying down fundamental tracks at Bass Propulsion Laboratories in Dallas and, later, going all out in Barber's Atlanta studio ("Calhoun, Dove Hunter Recording," Feb. 17, 2010). The album, Heavy Sugar, should be finished soon, Roberts said. Look for it in early summer. Though Roberts has described his and Locke's version of Calhoun as mainly a studio project, the two songwriters have assembled an impressive backing band for their Sat., May 8, performance as part of Lola's-paloozza, a two-day festival featuring nearly two dozen mostly 817-local bands at Lola's Saloon-Sixth (2736 W. 6th St. in the West 7th Street corridor, 817-877-0666). Joining Locke and Roberts onstage will be keyboardist/vocalist Toby Pipes and bassist Nolan Thies, both from Little Black Dress, and Red Monroe drummer Jeff Gillroy. The lineup is not permanent but "one you can probably expect to see from time to time," Roberts said.
I guess Lola's-paloozza has replaced FredFest as an annual springtime fling –– apparently, Fred's Texas Café has been getting noise complaints from residents in the newly developed West 7th corridor. (I'd like to add my own complaint. A solo-acoustic Austin-based Texas Music dude who performed at Fred's a couple of Tuesday nights ago kept talking about how he was glad to be back in Dallas. WTF?!) Also performing as part of Lola's-paloozza will be, on Saturday, The Me-Thinks, Chatterton, Keite Young, Dove Hunter, Josh Weathers and the True+Endeavors, Jefferson Colby, and James Hinkle, among others. On Sunday: Woodeye (Woodeye?!), Goodwin, Rivercrest Yacht Club, Sally Majestic, Stoogeaphilia, Katsük, and RTB2, among others. Admission is $6.
Our 13th Annual Fort Worth Weekly Music Awards charity compilation CD is a wrap. Nearly a dozen Fort Worth artists passed through Eagle Audio Recording last weekend to hang out and lay down some tracks for us. The tunes are all brand-spankin' new, previously unreleased, or previously unrecorded. In no particular order: "Leavin' Here" by Whiskey Folk Ramblers, "Everything Went Dark" by Pinkish Black, "New Light" by Clint Niosi with The Theater Fire's James Talambas, "Six Miles to Mexico" by The Dangits, "Jogging in Place" by Browningham (a.k.a. Nathan Brown), "Atles" by Chris Hardee (frontman for Alan: The UniversAL ANswer is Both), "Trippin', Fallin'" by Christian L. Williams, "Anne-Marie" by Jason Worley (a Dylanesque singer-songwriter –– and Weekly ad rep –– whose forthcoming album will include instrumental contributions from Telegraph Canyon's Tamara Cauble and Chuck Brown), "Whiskey For a Broken Heart" by Ginny Mac, "Spin" by Titanmoon, and "Sometimes You Hear the Bullet" by Chatterton. The CD will be out by Sun., June 27, the day of our annual 40-plus-local-band festival, this one in the West 7th Street corridor.
Stay tuned.
Contact HearSay at hearsay@fwweekly.com.