Texas Dance Theatre brought its inaugural season to a close by offering a potpourri of Modern pieces last weekend at Scott Theater. They covered a lot of stylistic territory but weren't all stellar.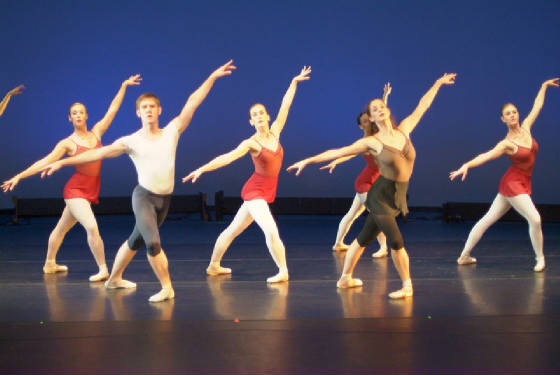 On the bright side, choreographer Emily Hunter revived her Confugium, the Latin word for "asylum" and a reference to composer Antonio Vivaldi's work as a priest at a Venetian girls' orphanage. Set to excerpts from his "Gloria" and "Dixit Dominus," Confugium was danced by six women, who gave us the flavor of Hunter's flowing patterns. She works in a pleasing, lyric style, but her choreography could have used more bite in the music's crisp, contrapuntal sections.
Hunter's duet "Dreamers," on the other hand, which she danced with Dan Westerfield, didn't go anywhere. Instead of a romantic duo, it was more like two people doing their own thing, coming together only occasionally as their thoughts crossed, and maybe that was what it was about.
I didn't have a clue what Krista Jennings Langford's "Returning Away," set on four dancers, was trying to say. Certainly the paradoxical title didn't help. The evening's biggest mystery, though, was Mark Sean Panzarino's "Adam and Eve and God: A Dance for Two," set to George Crumb's screeeeeching, plunking, sighing sounds played at ear-popping volume and danced by Josie Baldree and Westerfield –– except that there wasn't any dancing, only movement that didn't illuminate much. Westerfield jumped around the stage like a gorilla, beating his chest and head and writhing on the floor as Eve huddled in the dark off to the side. The stage filled up with balloons, and Eve put on a two-piece bathing suit. Adam removed his trousers to reveal matching shorts. If Eve bit into an apple, I missed it. The couple didn't appear to find any joy in Eden, and presuming that the brilliant lights that suddenly blazed upstage represented God, they didn't find it when they left, either –– they just stood looking blankly at each other for the last three or four minutes as if the choreographer had run out of ideas.
A brief "Duet" for dancer and a rehearsal barre, choreographed by Elizabeth Gillaspy and danced by Hollis Hock, explored a love/hate relationship between the dancer and her rehearsal apparatus. She alternated between caressing and fighting the barre during a daily warm-up routine.
At the end, artistic director Wil Mcnight brought sanity back to the evening with his setting of four Webern Variations, which could be subtitled An Homage to George Balanchine and featured the whole company. Very much in the refined style of the late New York City Ballet founder and choreographer, the piece reminded us of the nobility that Modern dance can achieve, something we didn't see much of during the evening.
Art Notes
Though native Fort Worthian Robert Smith, 55, is battling cancer –– for the second time –– he still hasn't stopped painting. The graduate of Tarrant County College and University of North Texas will celebrate the opening of his latest exhibit, Random Thoughts of a Cancer Survivor, Veteran, and Aging Baby Boomer, on Friday from 6 p.m. to 9 p.m. at the Fort Worth Community Arts Center (1300 Gendy St. in the Cultural District, 817-738-1938).
Smith is "doing all right," according to his wife, Melinda Smith, and he will be at the opening. "He wouldn't miss it for anything," she said.
The exhibit is Smith's first solo show at the arts center. His work has hung there before but only in group-show settings. Finely drawn, Smith's work blends René Magritte's unfussy surrealism with old-fashioned Robert Bechtle realism. Some of Smith's paintings are wacky montages, with icons floating in and out of the frame. Others are quiet imagistic paeans to suburbia.
Random Thoughts of a Cancer Survivor, Veteran, and Aging Baby Boome will hang until Sat., May 29. –– Anthony Mariani
Contact Kultur at kultur@fwweekly.com.