Larry Andrews had been homeless for almost 15 years, most of that time spent down in the East Lancaster Avenue area, near the shelters and other agencies that provide services to folks in his situation. He had a cocaine problem. When the weather was bad, he slept in one of the shelters; in nice weather, he slept on the street.
Andrews, 53, came to Texas from Michigan, where he had served 10 years in prison because of an assault and robbery conviction. He figured it might be easier to get a new start down here. But over time, being homeless became the norm, the way he was used to living.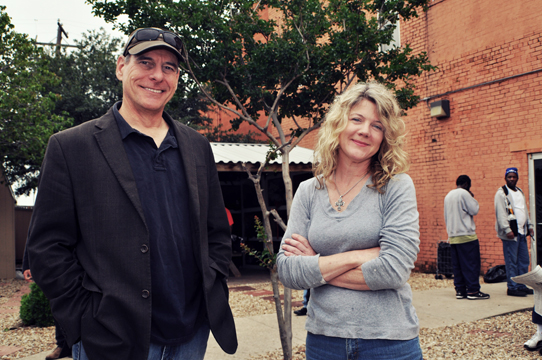 For almost a year now, Andrews has been living in a $575-a-month apartment near Race Street and Sylvania Avenue. He has graduated from a cooking school, interned at a downtown restaurant, and is out looking for a full-time job. He has been through drug treatment programs and hasn't used drugs in about eight months.
The Fort Worth program that got Andrews off the street and into housing is called Directions Home. A city-funded voucher pays his rent, and he meets regularly with a case management worker who helps him adjust to his new living space, monitors his drug treatment program, and advises him on how to get full-time work.
The program has made a lot of progress in its first year. With 190 supportive housing units identified and filled with tenants, Directions Home is ahead of the pace needed to meet its 10-year goal of creating 1,088 such units. Achieving that goal, city officials say, would virtually end chronic homelessness in Fort Worth.
But the coming months will be critical for the program. Not many of those getting housing vouchers are likely to become totally self-sufficient, so the program's costs will continue to rise, with new units being filled and expenses continuing for tenants in existing units. Because of that, just 24 new housing units will be added next year.
There have also been some setbacks. Last month, the city council killed a proposal by the Fort Worth Housing Authority to build a 100-unit apartment complex on the city's southwest side, using mostly federal money.
And looming ahead is the city's budget shortfall and the question of how that will affect Directions Home's expected $2.9 million funding for next year. Last year, the city had wanted to cut the program's budget by $1 million, but protests by homeless advocates convinced the city council to keep the program intact by moving some money around. That may not be possible this time.
The city and the agencies that operate homeless programs in Fort Worth draw funding from a complex mix of federal, state, and local government sources, as well as private charities. During the past year, city officials said, a major challenge has been figuring out how to piece together that money to achieve the goal of getting the homeless into real housing, much different from the city's past practice of just maintaining emergency shelters to provide meals and sleeping space.
"We have had quite a learning curve in figuring out what works and what doesn't and coordinating all the agencies and their money," said Otis Thornton, executive director of Directions Home. "But one thing we know that has been seen in other cities in dealing with chronic homelessness: Overall, costs go down when you get people off the streets and into housing." The stability of having a home decreases emergency room visits, incarcerations, drug dependency, and other problems for which taxpayers end up footing the bill.
Programs like Directions Home also draw increased federal funding to Fort Worth. The private nonprofit Tarrant County Homeless Coalition got $10 million from the U.S. Department of Housing and Urban Development last year. But the coalition also received an additional $650,000 based on "bonus points," mostly because of programs like Directions Home.
"Communities that have the highest emphasis on housing get the highest bonus grants," said coalition direction Cindy Crain. "It's about leveraging additional funding. The Directions Home project is a big part of that bonus money. And $650,000 can go a long way."
The University of Texas at Arlington's School of Social Work has been evaluating the Directions Home program each quarter. One object of their research has been to assess how the supportive housing program has helped participants become more self-sufficient.
Measuring such things as income, mental health, healthcare, and support systems, the UTA researchers determined that the average supportive housing resident had shown a 48 percent improvement in self-sufficiency in the first six months. To help in that regard, Directions Home officials this week announced that more then $75,000 is being made available to clients to pay for basic household furniture, work uniforms, kitchen utensils, and other household needs. No cash will go directly to clients; the items will be purchased by the agencies providing case management. The maximum amount a household will receive is $800, with the average anticipated at $175.
The UTA study has found that not everyone who gets into the program immediately become self-sufficient: About 46 cent report no income, 74 percent have no job, 57 percent are on food stamps or get free food from churches and food pantries, and 42 percent lack "necessary support from family/friends."
But leaders of local homeless programs see significant progress. "Up until Directions Home [began], we had very limited resources for case management and providing some of the basic services," said Bruce Frankel. executive director of the Day Resource Center, which provides the homeless with things like showers and storage areas for personal items.
Frankel said that during the past year, money from Directions Home has allowed his agency to increase the number of case workers from two full-time to five full-time and two part-time. The funding also allows the center to open earlier so that homeless people going to jobs can access their storage areas before leaving for work.
Earlier this year, the city announced plans to buy the foreclosed Carlton Apartments complex on Woodway Drive in the Wedgwood neighborhood in southwest Fort Worth, tear it down, and then build a new 100-unit complex to house the homeless. State and federal funds were to pay for about $3 million of the costs and the city about $600,000.
But the city council killed the project in a unanimous vote in April, mostly because leaders of nearby neighborhoods complained that the project was being forced on them without proper notification.
"It was never explained to us what this project was all about until the last minute," said Tolli Thomas, treasurer of the Wedgwood Square Neighborhood Association. "What they needed to do is explain to those who live near the Carlton exactly what is going on and then get our input. They didn't do that.
"It wasn't that there was really a bias against the homeless," Thomas said. "If [the city] had been more open about it, there might have been a different result."
The Fort Worth Housing Authority was the lead agency with the Carlton Apartments purchase. Officials there did not respond to requests for comment on how the agency handled the case.
Fort Worth was the last major city in the U.S. to develop a 10-year plan to end chronic homelessness. But the Directions Home program is gaining some national respect. Jacksonville, Fla., earlier this year sent a delegation to learn about the Fort Worth service delivery system, and Austin is studying it as a template for rewriting their plan, Thornton said.
However, Directions Home, like many other Fort Worth programs, is at risk because of the projected $50 million city budget shortfall.
Earlier this year, city staffers suggested that the city cut homestead exemption in half. The idea drew no support from the council, so department heads have been asked to find ways to make significant cuts in their budgets — though the percentage they'll have to reduce spending by hasn't been determined. Staffers will present the proposed budget to the council in August.
"We have some challenges," Thornton said. "The access to capital for additional housing units is crucial, as is the decision on the city budget. And the prospects for low-skill and low-wage jobs are tough. But we have made major strides this year, and I am confident we will continue to have success, and the city will greatly benefit from that."
Andrews, one of the first beneficiaries of the supportive housing program, said the change wasn't easy at first. "I used to go down to the shelters [from the apartment] on some days, because that area was my home for so long," he said. "I'd see people I knew and eat my meals down there. But I soon realized I had to leave all that behind. I want to work, become independent, and to give back to this community that has helped me so much."