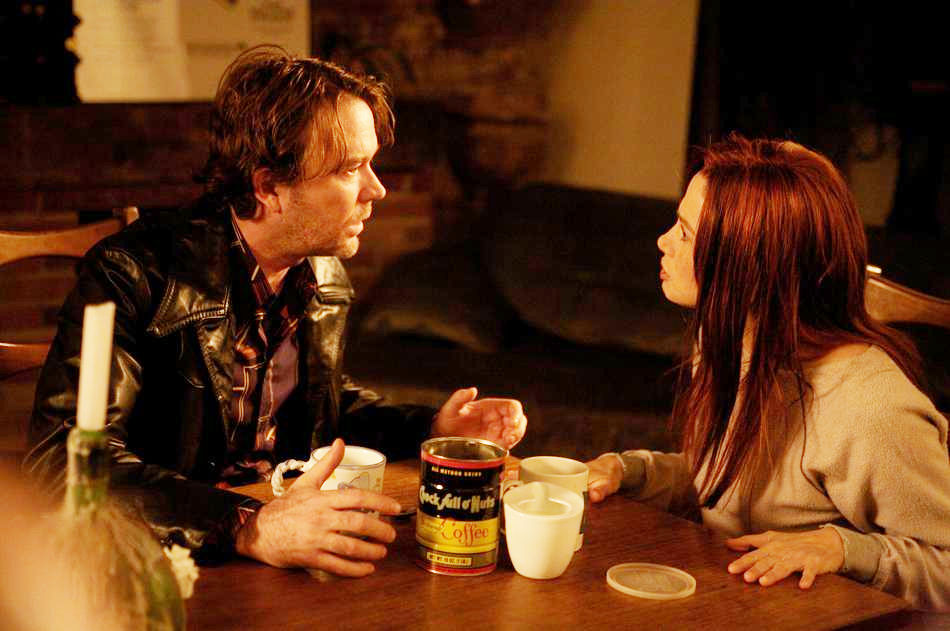 OPENING:
Multiple Sarcasms (R) Timothy Hutton stars in this drama by first-time filmmaker Brooks Branch (is that a pseudonym?) as a successful architect who dreams of becoming a playwright. Also with Dana Delany, Mira Sorvino, India Ennenga, Laila Robins, Stockard Channing, and Mario Van Peebles. (Opens Friday in Dallas)
Casino Jack and the United States of Money (R) This documentary by Alex Gibney (Enron: The Smartest Guys in the Room) explores the rise and fall of lobbyist Jack Abramoff. (Opens Friday in Dallas)
Kites (NR) Anurag Basu's Bollywood musical about an Indian man (Hrithik Roshan) who illegally crosses the border from Mexico to the United States to pursue the woman he loves (Bárbara Mori). Also with Steven Michael Quezada, Luce Rains, Kabir Bedi, Kangana Ranaut, and Nicholas Brown. (Opens Friday at AMC Parks at Arlington)
MacGruber (R) Making life-saving inventions out of household materials! MacGruber! He's an SNL character, and now he's headlining a movie! MacGruber! He's played by Will Forte! MacGruber! Also with Kristen Wiig, Ryan Phillippe, Val Kilmer, Maya Rudolph, and Powers Boothe. (Opens Friday)
Mother and Child (R) The latest drama by Rodrigo García (Nine Lives) tells the interlocking stories of a healthcare worker (Annette Bening), the daughter she gave up for adoption 35 years before (Naomi Watts), and a prospective mother (Kerry Washington) trying to adopt a child. Also with Samuel L. Jackson, Jimmy Smits, Cherry Jones, Marc Blucas, Carla Gallo, Amy Brenneman, David Morse, Elpidia Carrillo, Elizabeth Peña, Lisa Gay Hamilton, Tatyana Ali, LaTanya Richardson, and S. Epatha Merkerson. (Opens Friday in Dallas)
Babies (PG) Too cute, really. Thomas Balmès follows four babies (in Tokyo, San Francisco, Mongolia, and Namibia) through their first year of life. Following the lead of other French documentarians, he treats this like a nature documentary, presenting his subjects with no interviews and no narration to explain what we're seeing. This highbrow approach might convince some people that this is really deep, but really the lack of context prevents the movie from commenting on different cultures and how they raise children. This movie isn't about anything, which is why I left feeling like I'd spent an hour and a half looking at someone else's baby pictures.
The Back-Up Plan (PG-13) Jennifer Lopez gives it a game try, but this romantic comedy vehicle is too rote and too similar to her other movies to offer much. She plays a successful but lonely small business owner who meets the guy of her dreams (Alex O'Loughlin) shortly after becoming pregnant through artificial insemination. The film has a nice supporting cast, some stray funny bits, and one really good scene at a New Agey birthing ceremony. The rest is just tired neurotic agonizing about abandonment issues and anxiety over raising kids, with O'Loughlin being outacted by his washboard abs. Also with Michaela Watkins, Linda Lavin, Eric Christian Olsen, Anthony Anderson, Noureen DeWulf, Melissa McCarthy, Maribeth Monroe, Tom Bosley, and Robert Klein.
The Bounty Hunter (PG-13) This dreary, demoralizing action-comedy stars Gerard Butler as an ex-cop-turned-bounty hunter who's called on to arrest his reporter ex-wife (Jennifer Aniston) after she jumps bail because she's found dirt on crooked cops. The two leads may or may not be a real-life couple, but they have zero chemistry with each other regardless. The action and the comedy are both toothless, and the movie seriously bogs down during an interlude when the two hide out at the bed-and-breakfast where they spent their honeymoon. Terrible stuff. Also with Jeff Garlin, Jason Sudeikis, Matt Malloy, Dorian Missick, Carol Kane, Cathy Moriarty, and Christine Baranski.
Clash of the Titans (PG-13) Demigod Perseus (Sam Worthington) goes on a quest to avenge himself against Hades (Ralph Fiennes) for the death of his family in this rote remake of the Ray Harryhausen effects filled 1981 epic. Updated effects can't enliven the story, with Worthington slaying any investment in Perseus with his signature blandness and action scenes that are only passable, save for a good giant scorpion battle. Too bad, because Neeson and Fiennes are great as Zeus and Hades, and the look of the film, especially Olympus, is impressive. You're best off watching the original and playing God of War. Also with Jason Flemyng, Mads Mikkelsen, Gemma Arterton, Izabella Miko, Ashraf Barhom, Alexander Siddig, Nicholas Hoult, Polly Walker, Elizabeth McGovern, Jane March, Danny Huston, and Pete Postlethwaite. — Cole Williams
Date Night (PG-13) Steve Carell and Tina Fey are believable as a married couple, but as a comedy team, they only deliver in fits and starts as a couple who are hunted down by gun-toting mobsters when they try to shake up their routine by going to a fancy Manhattan restaurant. The stars provide enough stray wisecracks to keep this thing watchable, but the only time the movie sustains the laughs is during a predictable but effective pole dancing bit. Elsewhere, the momentum sputters, and director Shawn Levy never establishes the right tone as the material veers between marital comedy and action. The leads are charming, but between their talents and those of a high-powered supporting cast, this movie should have come to more. Also with Mark Wahlberg, Taraji P. Henson, Mark Ruffalo, Kristen Wiig, James Franco, Mila Kunis, William Fichtner, Leighton Meester, and an uncredited Ray Liotta.
Death at a Funeral (R) Marginally less annoying than the 2007 British farce on which it's based, Neil LaBute's comedy stars Chris Rock and Martin Lawrence as brothers who are preparing for their father's funeral when the father's secret gay lover (Peter Dinklage) blackmails them with sex photos. The movie works somewhat better because the leads are understated and the gay subplot has a charge in this African-American setting that it didn't have in the original. There's too much dead weight in this large supporting cast, though, and too many of the jokes and situations are easy to see coming even if you haven't seen the original. Also with Zoë Saldana, Tracy Morgan, Luke Wilson, James Marsden, Regina Hall, Loretta Devine, Ron Glass, Columbus Short, Kevin Hart, Keith David, and Danny Glover.
Furry Vengeance (PG) Family comedy depicting a battle between land developer Dan Sanders (Brendan Fraser) and the animals protecting their forest. Surprisingly, it's not as bad as it sounds. The animals don't talk or make pop-culture references, and the entire cast is game, with Fraser and Ken Jeong trying their damndest. Still, this is a movie mainly about wacky CGI animal hijinks and cheap pratfalls that wears out its welcome halfway through. Young children and the spectacularly stoned will be entertained, but that's about it. Have the family watch squirrels play outside for free instead. Also with Brooke Shields. –– Cole Williams
Hot Tub Time Machine (R) With a title like this, the movie's either going to be brilliantly dumb or just dumb. This movie is both, but the ratio runs about 60-40 in favor of "just dumb." John Cusack, Rob Corddry, and Craig Robinson play three friends who are transported by a ski-resort Jacuzzi back to 1986 as their teenage selves, along with a 23-year-old nephew (Clark Duke) who stays 23 in the '80s but is in danger of ceasing to exist. Although some of the gags score in a major way, the dopey premise needed an even wilder, more over-the-top treatment to live up to its title. Neither director Steve Pink nor his actors are quite able to take the plunge. Also with Lizzy Caplan, Sebastian Stan, Lyndsy Fonseca, Collette Wolfe, Jessica Paré, William Zabka, Crispin Glover, Chevy Chase, and an uncredited Thomas Lennon.
How to Train Your Dragon (PG) Cressida Cowell's series of whimsical and occasionally gross kids' books becomes this animated film that's more grown-up and less interesting than its source. The movie is about a Viking kid (voiced by Jay Baruchel) who has to prevent his clan from going to war with the dragons that raid their village, after discovering that the animals are basically large, scaly, fire-breathing housecats. The movie's an allegory about the Iraq war, which is okay as far as it goes, but it turns the dragons into passive beings that are too easily domesticated. America Ferrera is counterintuitively well-cast as a badass Nordic girl, but the characters are thin and the comic material wastes a talented supporting vocal cast. Spectacular as this movie frequently looks, it still falls short. Additional voices by Gerard Butler, Craig Ferguson, T.J. Miller, Kristen Wiig, Christopher Mintz-Plasse, and Jonah Hill.
Iron Man 2 (PG-13) Robert Downey Jr. returns for this worthy sequel, playing Tony Stark as a superhero who turns into a self-destructive tabloid celebrity when his superpower renders him terminally ill. This overstuffed movie wastes Mickey Rourke as a Russian baddie, and it can't recapture the original's once-in-a-lifetime alchemy between the character and the newly sober star. Still, it has a great sequence with an attempted assassination on a racetrack, and some terrific additions: an unexpectedly badass Scarlett Johansson and Sam Rockwell as a wonky rival arms manufacturer who thinks he's cooler than he is. More, please. Also with Gwyneth Paltrow, Don Cheadle, Clark Gregg, John Slattery, Jon Favreau, Garry Shandling, Kate Mara, Leslie Bibb, and Samuel L. Jackson.
Just Wright (PG) What a terrible pun! The chemistry between rappers-turned-actors Queen Latifah and Common rescues this romantic fantasy from complete mediocrity. She plays a physical therapist, and he plays an NBA star who needs her services after tearing up his knee. The material is second-rate, and the stuff with the therapist's prettier cousin (Paula Patton) coming between the two is clumsily handled. However, things never get so bad that the lead actors' charm can't fix things. The movie features a bevy of cameos by real-life NBA stars; Dwight Howard has some genuine screen presence. Also with Laz Alonso, Mehcad Brooks, James Pickens Jr., Phylicia Rashad, and Pam Grier.
Kick-Ass (R) This psychotic, subversive satire on comic books stars Aaron Johnson as a teen who tries to fight crime as a masked vigilante without the benefit of superpowers. This is a breakthrough performance from director Matthew Vaughn, who balances the comic possibilities of the setup with the harsh real-world logic applied to superheroes by Mark Millar's comic-book series. The movie acknowledges both the dangerous consequences of superhero fiction and the psychic need that they fill. It also has an intoxicating mix of hard-core action and genre-warping humor, and its gleeful, anarchic spirit is personified by Hit Girl (Chloë Grace Moretz), the 11-year-old goblin child who mows down mobsters. Pretty awesome, all in all. Also with Nicolas Cage, Mark Strong, Christopher Mintz-Plasse, Lyndsy Fonseca, Clark Duke, Evan Peters, Omari Hardwick, and Michael Rispoli.
The Last Song (PG-13) Miley Cyrus makes a brave attempt at playing an alienated, sarcastic teen who'd probably have an allergic reaction to Hannah Montana. It doesn't work, but it's brave. She plays a piano prodigy-turned-adolescent troublemaker who's packed off to live with her estranged dad (Greg Kinnear, doing the best he can) for the summer. Cyrus has the character's slouchy walk down, but her line readings are flat and she has no chemistry with the lead actor (Liam Hemsworth) despite the two of them being a couple in real life. It's okay, though. Based on a Nicholas Sparks novel, this sodden drama is beyond the power of any actor to save. Also with Kelly Preston, Bobby Coleman, Carly Chaikin, Adam Barnett, Kate Vernon, and Nick Searcy.
Letters to God (PG) The real-life story of a cancer-stricken 8-year-old boy who touched others by writing letters to God turns into this unwatchably sludgy weeper starring Tanner Maguire. Producer-turned-director David Nixon never finds the right rhythm for the narrative, and scene after scene ends with the boy's simple courage bringing his mother (Robyn Lively), his brother (Michael Christopher Bolten), or the alcoholic mailman delivering the letters (Jeffrey Johnson) to tears and embracing Jesus Christ. This movie has nothing to say to anyone except the already converted. Also with Maree Cheatham, Dennis Neal, Bailee Madison, and Ralph Waite.
Letters to Juliet (PG) Amanda Seyfried stars in this overcooked romance an aspiring journalist who, while traveling in Italy, discovers a decades-old letter from an Englishwoman (Vanessa Redgrave) and helps her track down the man she failed to run off with 50 years ago. The romantic plot between Seyfried's character and the Englishwoman's overprotective grandson (Christopher Egan) is supposed to drive this, but the actors have little chemistry, and there's more going on between Seyfried and Gael García Bernal as the wrong guy. Meanwhile, Redgrave plays this wispy material as if her life depended on it, giving perhaps her finest performance since Howards End. Too bad the rest of the movie isn't worthy of it. Also with Luisa Ranieri, Marina Massironi, Milena Vukotic, Franco Nero, and an uncredited Oliver Platt.
The Losers (PG-13) Logic goes out the window with this nonsensical thriller about a group of Special Forces commandos who are sold out by a shadowy contact (Jason Patric) and have to come out of exile to get revenge. Based on a comic book series, this movie gives every one of its characters an identifiable quirk instead of a personality and shoehorns in some tepid sex scenes with Zoë Saldana. The action sequences will make you smirk if you've ever played Grand Theft Auto to blow stuff up, but otherwise the shootouts are tired and the quips are DOA. Also with Jeffrey Dean Morgan, Idris Elba, Chris Evans, Óscar Jaenada, and Columbus Short. –– Steve Steward
A Nightmare on Elm Street (R) Chalk up yet another needless, creatively bankrupt reboot of a vintage horror series. This one stars Jackie Earle Haley as Freddy Krueger, the school groundskeeper wrongly accused of child molestation who's now taking revenge on his killers by snuffing their teenage children in their dreams. Or some such crap. First-time filmmaker Samuel Bayer tries to make the dream sequences surreal and beautiful as well as scary, but he fails on every front. It's a shame, because Haley could have made a genuinely frightening Freddy. Also with Kyle Gallner, Rooney Mara, Katie Cassidy, Thomas Dekker, Kellan Lutz, Clancy Brown, and Connie Britton.
Oceans (G) Disney's foray into the water world of morays, stonefish, and elephant seals is a gorgeous though soporific sea life sampler. Moments of majesty (the blanket octopus! ribbon eels!) quickly give way to the same old dolphins, sharks, and clownfish you've seen before. Pierce Brosnan intones the usual message of the oceans' universal importance with the gentle gravitas reserved for reading Horton Hears a Who, and the narrative never focuses on any subject long enough to satisfy. While sea turtles struggle to preserve their species, audiences will struggle to stay awake. –– Steve Steward
Robin Hood (PG-13) Like all of Ridley Scott's movies in the last 10 years, this is intelligent, engaging, and not much fun. The movie re-imagines the origins of the famous story, telling how a common archer (Russell Crowe) returning to Britain from the Crusades leads an uprising against the king and becomes the legendary outlaw. Giving his least interesting performance to date, Crowe turns Robin Hood into a nostril-flaring bore and displays zero chemistry with Cate Blanchett as Maid Marian. The action sequences are no match for the ones in the 1938 Errol Flynn movie, still the gold standard for Robin Hood films. Also with William Hurt, Mark Strong, Oscar Isaac, Kevin Durand, Scott Grimes, Alan Doyle, Eileen Atkins, Mark Addy, Matthew Macfadyen, Simon McBurney, Danny Huston, and Max von Sydow.
A Surprise in Texas (NR) The theatrical release of Peter Rosen's documentary about the Van Cliburn Piano Competition captures too little of the interesting detail that marked last summer's contest. As usual, the filmmaker focuses on a select few contestants (including eventual co-gold medalist Nobuyuki Tsujii) and judges who provide little insight into the music or the competition format. The film uncovers a few nuggets of inside info (like Tsujii listening for other musicians' breathing to play in sync with them), and it's glorious to hear the Cliburn's music issuing from a movie theater's speakers. Still, there's little about the improved technology, the changing feel of Fort Worth, or Tsujii's co-winner Zhang Haochen. The 2009 competition had enough material to make a smart, provocative classical music documentary. Surprise is dull and dutiful.
DALLAS EXCLUSIVES:
Exit Through the Gift Shop (R) The reclusive street artist known as Banksy directs this documentary about French amateur documentarian Thierry Guetta and his futile attempts to meet Banksy. Also with Rhys Ifans and Shepard Fairey.
The Girl With the Dragon Tattoo (NR) Before the inevitable Hollywood version, this Swedish adaptation of Stieg Larsson's best-selling mystery novel stars Michael Nyqvist and Noomi Rapace as a disgraced investigative reporter and a computer hacker who must team up to solve a decades-old series of murders linked to a powerful family. Also with Lena Endre, Sven-Bertil Taube, Peter Haber, Peter Andersson, Ingvar Hirdwall, Marika Lagercrantz, Björn Granath, and Ewa Fröling.
Harry Brown (R) Michael Caine stars as a retired British soldier who goes vigilante after his best friend is murdered by local thugs. Also with Emily Mortimer, Charlie Creed-Miles, David Bradley, Ben Drew, and Iain Glen.
The Human Centipede (First Sequence) (NR) I am not making this up: Dieter Laser stars in this Dutch horror film as a mad scientist who kidnaps backpackers to sew their bodies together to form a human centipede. Also with Ashley C. Williams, Ashlynn Yennie, Andreas Leupold, Peter Blankenstein, and Akihiro Kitamura.
The Secret in Their Eyes (R) The winner of last year's Oscar for Best Foreign Film, Juan José Campanella's drama stars Ricardo Darín as an Argentinian former cop-turned-crime novelist still obsessed with an unsolved 25-year-old rape-homicide case. Also with Soledad Villamil, Carla Quevedo, Pablo Rago, Javier Godino, Mariano Argento, and Guillermo Francella.