Fame, sex, the power to demand Maine lobster tail at 3 a.m. — everyone starts a band with some sort of dream in mind. All Cleburne's Fungi Girls have ever wanted is to be taken seriously. One look at the trio (of guys — the "Girls" is just for fun), and it isn't tough to guess why. Humble and baby-faced, their average age is 17, and they're all still in high school. But reducing the Girls to a cute novelty act hardly does justice to their ambitious music.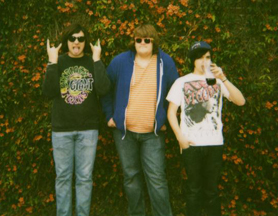 Since forming only two years ago, Fungi Girls have released a demo EP and 2009's Seafaring Pyramids LP, garnering national and international critical praise. The band's catchy, sing-along melodies and slick mix of reverb-heavy shoegaze, punk, noise, surf, and vintage radio pop made the band a cult favorite among music bloggers from Ohio to London. More impressive still, the buzz was mostly based on the group's MySpace page. Outside of a couple of trips to Austin and Denton, Fungi Girls still haven't officially toured. Hungry for new, hyped acts, this year's SXSW music festival was happy to have them. It didn't matter that they were too young to attend the official festival by themselves. Fungi Girls played six shows in front of screaming college-age crowds, alongside established indie acts like Austin's Harlem. Unsurprisingly, they confess they hardly know how to handle all of the sudden attention.
Blame it on the blogs: the adoration, the labeling, the added pressure. Even the impetus for Fungi Girls is rooted in blog culture: deep in the heart of what it means to be a true fan of music and the art of songwriting.
Drummer Skyler Salinas understood this force early on. Ever since his aunt and uncle had turned him on to bands like The Jesus And Mary Chain and obscure '60s compilations like Back From The Grave, he's been fascinated with the scummier side of rock: the fuzz pedals and attitude of '60s surf, the spacy sounds and song structures of shoegaze and psychedelia. By the time he was 12, Salinas was regularly scouring music blogs for new sounds and crate-digging for dusty gems at Forever Young in Grand Prairie. "I guess when you're my age and you have a lot of free time, you just search the internet for music constantly," he said.
Once he caught the bug, it wasn't long before it spread to his friends, and they started playing music. In 2006, he began jamming with current Fungi Girls members, bassist Deryck Barrera and guitarist/vocalist Jacob Bruce, in a few short-lived bands, but he admits these first experiments in songwriting were just that — experiments and nothing more. The practices were a chance to learn different styles and diverse genres while still having fun — some of the qualities that define Fungi Girls' sound today. Things got serious when they were introduced to the experimental noise pop of Ohio's Psychedelic Horseshit. They were floored by the band's ability to mix lo-fi, ear-bleeding cacophony with hooks and carefree melodies. By August 2008, Fungi Girls were born.
Just wanting to get some music on the internet, the kids began recording songs as they were being written. "We didn't have a four-track, and we didn't know anyone who would record us," Salinas said. "We didn't really know anybody." The rudimentary conditions resulted in the most DIY approach possible. Fungi Girls decided to record live in Salinas' shed using his aunt's digital camera. To capture the music, the band later converted the audio files. Two months later, the trio posted its first songs on www.myspace.com/fungigirls and self-released its first demo, Pslio.
Within two weeks of Pslio's release, Fungi Girls were opening for Denton's Bad Sports and Austin's The Strange Boys at Muscle Beach, a popular Denton house-venue for punk shows. That's when the public love affair started. The increased outside interest was no doubt aided in part by some of the band's biggest champions — Jason Kelly of The Wax Museums and Fergus and Geronimo, and Trent Ostvig, co-founder of Denton's Play Pinball Records. After Fungi Girls' set, both guys approached the group to offer compliments. The seeds for what would become Seafaring Pyramids were sown that night.
Kelly eventually offered to record the band at his Denton home, called Bunker Hill, the sometime-venue he shares with Ostvig. In two days' time (but over the course of two months), Fungi Girls' debut full-length was recorded in Kelly's bedroom. Full of romantic, youthful idealism for forgotten sounds of the '60s, '80s, and early '90s, Seafaring Pyramids moves fluidly between diverse genres like a DJ ecstatically throwing on 7-inchers at a party. While the band has no qualms about experimentation and screeching feedback ("Kowloon Walled City"), there's a distinct pop undercurrent to every song. Tracks like the sparkling ballad "Dream of Oz" maintain the stylistic trademarks of shoegaze and punk while still reveling in undeniable pop melodies. Like most of the band's best songs, the tune succeeds on pure force of personality. Bruce's distant, starry-eyed cooing sneaks up and hooks you.
Since dropping Seafaring Pyramids in November 2009, Fungi Girls have already recorded two more 7-inchers — Owsley Knows and Turquoise Hotel — for national independent labels, with releases planned for this summer.
When Salinas and company set out on their first tour of the West Coast in July, though, they'll have to make small adjustments. No one will be looking at their ages anymore. The music is going to have to say it all. l