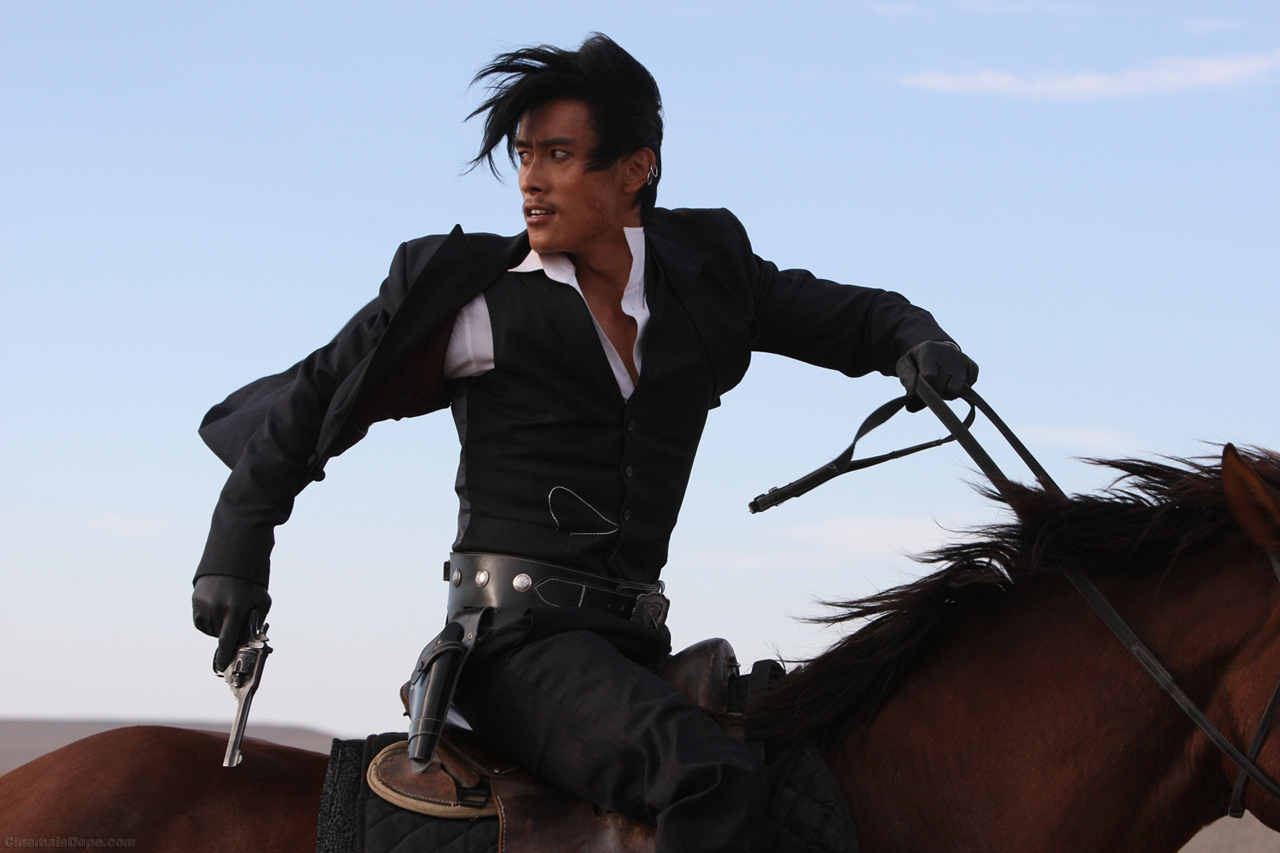 OPENING:
The Good, the Bad, and the Weird (R) This Korean Western by Kim Ji-woon (A Tale of Two Sisters) stars Jung Woo-sung, Lee Byung-hyun, and Song Kang-ho as outlaws in 1930s Manchuria who fight each other, Chinese bandits, and Japanese soldiers for possession of a treasure map. Also with Yun Je-moon, Ryu Seung-su, Song Young-chang, Son Byung-ho, and Oh Dal-su. (Opens Friday in Dallas)


The City of Your Final Destination (PG-13) James Ivory's first film without Ismail Merchant stars Omar Metwally as an American grad student who travels to Argentina to interview the relatives of a deceased writer for a biography. Also with Anthony Hopkins, Laura Linney, Charlotte Gainsbourg, Hiroyuki Sanada, Alexandra Maria Lara, Norma Aleandro, and Norma Argentina. (Opens Friday in Dallas)
Grown Ups (PG-13) Adam Sandler, Chris Rock, Kevin James, Rob Schneider, and David Spade star as middle-school pals who reunite for a coach's funeral and the Fourth of July weekend. Also with Salma Hayek, Maria Bello, Maya Rudolph, Joyce Van Patten, Colin Quinn, Tim Meadows, Norm Macdonald, and Steve Buscemi. (Opens Friday)
I Am Love (R) Luca Guadagnino's romance stars Tilda Swinton as a Russian emigré in turn-of-the-century Italy who embarks on a tragic adulterous love affair. Also with Flavio Parenti, Edoardo Gabriellini, Alba Rohrwacher, Pippo Delbonno, Waris Ahluwalia, and Marisa Berenson. (Opens Friday in Dallas)
John Rabe (NR) Ulrich Tukur stars in this historical drama about the real-life German who saved more than 200,000 Chinese lives during the Japanese invasion of 1937. Also with Daniel Brühl, Anne Consigny, Dagmar Manzel, Zhang Jingchu, Teruyuki Kagawa, and Steve Buscemi. (Opens Friday in Dallas)
Micmacs (R) Jean-Pierre Jeunet's latest fantasy stars Dany Boon as a French video store clerk who vows revenge on the munitions manufacturer responsible for his father's death and his own wounding by a stray bullet. Also with André Dussollier, Nicolas Marié, Jean-Pierre Marielle, Yolande Moreau, Julie Ferrier, Omar Sy, and Dominique Pinon. (Opens Friday in Dallas)
Solitary Man (R) The screenwriting team of David Levien and Brian Koppelman (Rounders, Ocean's Thirteen) direct this film starring Michael Douglas as a formerly successful car dealer trying to make his way back after self-destructing. Also with Susan Sarandon, Mary-Louise Parker, Jenna Fischer, Jesse Eisenberg, Imogen Poots, Richard Schiff, and Danny DeVito. (Opens Friday at AMC Grapevine Mills)
Winter's Bone (R) Debra Granik's adaptation of Daniel Woodrell's novel stars Jennifer Lawrence as a 17-year-old girl in the Ozark Mountains who tries to track down her deadbeat drug-dealing father (John Hawkes) when the family's house is about to be foreclosed on. Also with Kevin Breznahan, Dale Dickey, Garrett Dillahunt, Tate Taylor, and Sheryl Lee. (Opens Friday in Dallas)
---
The A-Team (PG-13) This stupid but occasionally enjoyable big-screen version of the 1980s TV show moves the setting to the present day and describes how Iraq war soldiers Hannibal (Liam Neeson), Face (Bradley Cooper), Murdock (Sharlto Copley) and B.A. (Quinton "Rampage" Jackson) become wrongly convicted fugitives on the lam. Director/co-writer Joe Carnahan stages some ambitious action scenes that don't quite come off. What juice there is here comes from the cast, who seem to be genuinely having fun. District 9's Copley isn't convincing as an American redneck, but he steals all his scenes with his live-wire comic energy. Also with Jessica Biel, Patrick Wilson, Henry Czerny, Brian Bloom, Yul Vasquez, Gerald McRaney, Dirk Benedict, Dwight Schultz, and an uncredited Jon Hamm.
Date Night (PG-13) Steve Carell and Tina Fey are believable as a married couple, but as a comedy team, they only deliver in fits and starts as a couple who are hunted down by gun-toting mobsters when they try to shake up their routine by going to a fancy Manhattan restaurant. The stars provide enough stray wisecracks to keep this thing watchable, but the only time the movie sustains the laughs is during a predictable but effective pole dancing bit. Elsewhere, the momentum sputters, and director Shawn Levy never establishes the right tone as the material veers between marital comedy and action. The leads are charming, but between their talents and those of a high-powered supporting cast, this movie should have come to more. Also with Mark Wahlberg, Taraji P. Henson, Mark Ruffalo, Kristen Wiig, James Franco, Mila Kunis, William Fichtner, Leighton Meester, and an uncredited Ray Liotta.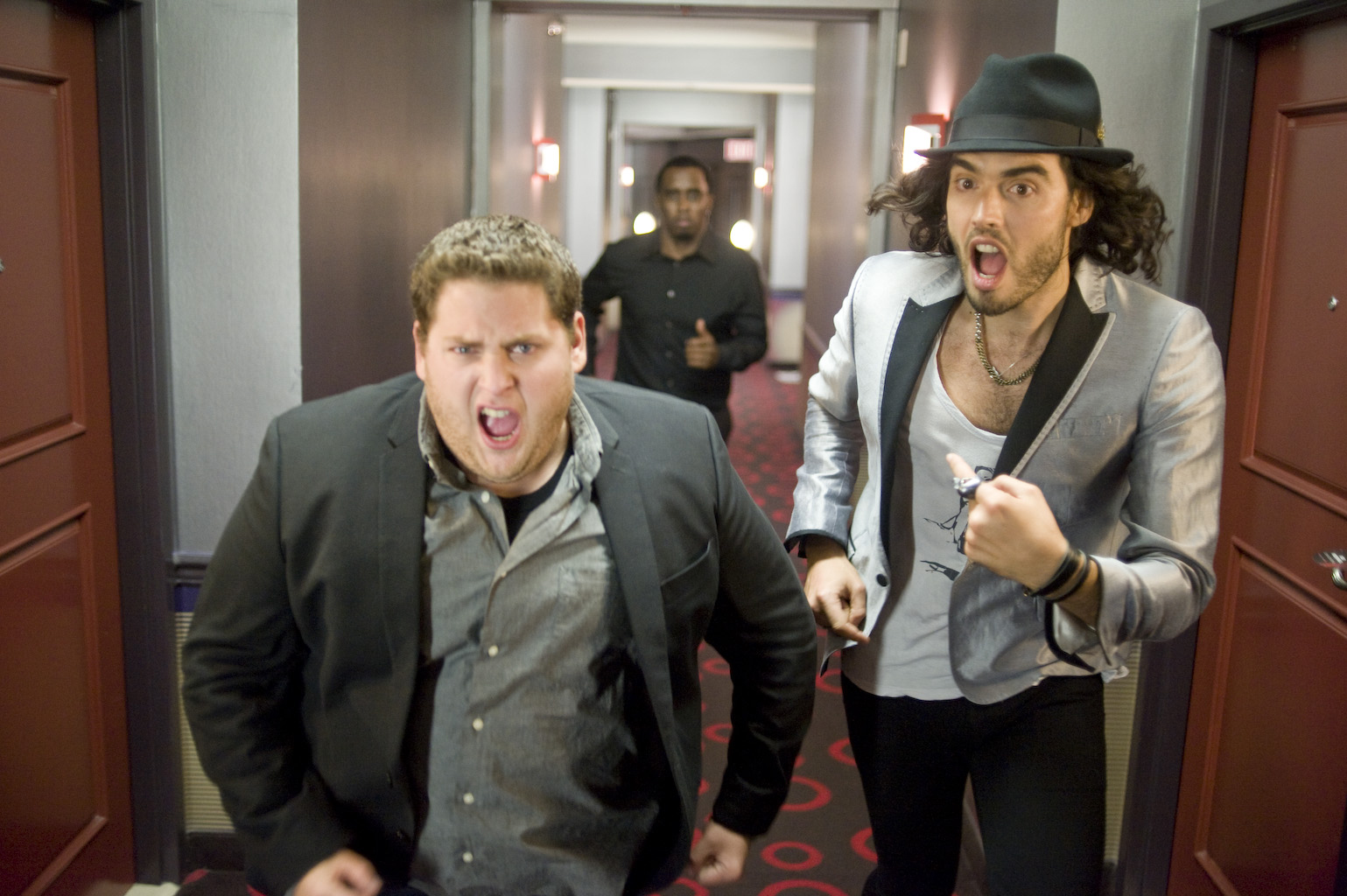 Get Him to the Greek (R) Nicholas Stoller writes and directs this spinoff of his 2008 comedy Forgetting Sarah Marshall, with Russell Brand reprising his role as a bad-boy British rock star and Jonah Hill portraying a music-label flack who runs into myriad difficulties transporting him from London to L.A.'s Greek Theater for a concert. The pairing of Hill and Brand proves to be inspired, leading to all manner of comic situations and verbal riffs. The most miraculous thing is the way the movie squeezes laughs even out of the cameo appearances (by Lars Ulrich and Paul Krugman, among many others) and makes supporting actors with no track record in comedy look downright hilarious (especially Sean Combs as the record label's president). This is the funniest comedy so far this year. Also with Elisabeth Moss, Rose Byrne, Colm Meaney, Aziz Ansari, Carla Gallo, Kali Hawk, and Kristen Bell.
How to Train Your Dragon (PG) Cressida Cowell's series of whimsical and occasionally gross kids' books becomes this animated film that's more grown-up and less interesting than its source. The movie is about a Viking kid (voiced by Jay Baruchel) who has to prevent his clan from going to war with the dragons that raid their village, after discovering that the animals are basically large, scaly, fire-breathing housecats. The movie's an allegory about the Iraq war, which is okay as far as it goes, but it turns the dragons into passive beings that are too easily domesticated. America Ferrera is counterintuitively well-cast as a badass Nordic girl, but the characters are thin and the comic material wastes a talented supporting vocal cast. Spectacular as this movie frequently looks, it still falls short. Additional voices by Gerard Butler, Craig Ferguson, T.J. Miller, Kristen Wiig, Christopher Mintz-Plasse, and Jonah Hill.
Iron Man 2 (PG-13) Robert Downey Jr. returns for this worthy sequel, playing Tony Stark as a superhero who turns into a self-destructive tabloid celebrity when his superpower renders him terminally ill. This overstuffed movie wastes Mickey Rourke as a Russian baddie, and it can't recapture the original's once-in-a-lifetime alchemy between the character and the newly sober star. Still, it has a great sequence with an attempted assassination on a racetrack, and some terrific additions: an unexpectedly badass Scarlett Johansson and Sam Rockwell as a wonky rival arms manufacturer who thinks he's cooler than he is. More, please. Also with Gwyneth Paltrow, Don Cheadle, Clark Gregg, John Slattery, Jon Favreau, Garry Shandling, Kate Mara, Leslie Bibb, and Samuel L. Jackson.
Jonah Hex (PG-13) This sci-fi Western starts out promisingly before giving way to a rushed, oddly truncated ending. Josh Brolin plays an Old West bounty hunter whose near-death experience left him scarred in the face and able to talk to the dead for short periods of time. Director Jimmy Hayward (Horton Hears a Who!) comes up with some inventive visuals in the opening stages of in his live-action debut, but after that it's just standard CGI-enhanced thriller stuff and listless banter between Brolin and Megan Fox's hooker. Inglourious Basterds' Michael Fassbender comes up aces as a singing Irish killer, but he's not enough to make this worth the ticket price. Also with John Malkovich, Michael Shannon, Will Arnett, Wes Bentley, Tom Wopat, and Aidan Quinn.
Just Wright (PG) What a terrible pun! The chemistry between rappers-turned-actors Queen Latifah and Common rescues this romantic fantasy from complete mediocrity. She plays a physical therapist, and he plays an NBA star who needs her services after tearing up his knee. The material is second-rate, and the stuff with the therapist's prettier cousin (Paula Patton) coming between the two is clumsily handled. However, things never get so bad that the lead actors' charm can't fix things. The movie features a bevy of cameos by real-life NBA stars; Dwight Howard has some genuine screen presence. Also with Laz Alonso, Mehcad Brooks, James Pickens Jr., Phylicia Rashad, and Pam Grier.
The Karate Kid (PG) Why isn't this movie called The Kung Fu Kid? This remake of the 1984 hit stars Jaden Smith as a 12-year-old who's relocated from Detroit to Beijing, where he's bullied by the locals until he meets a maintenance man (Jackie Chan) who teaches him kung fu. Director Harald Zwart does well with the Chinese setting, but the real attraction is Chan, who knows how to play this laconic character for laughs and does just as well with the character's private grief. (If you've only watched his Hollywood stuff, you may be surprised to see that Chan can act.) The movie manages to capture the electric charge of the famous "wax on, wax off" scene, and enough of the original's inspirational punch to make it a worthy successor. Also with Taraji P. Henson, Han Wenwen, Wang Chenwei, and Yu Rongguang.
---
Killers (PG-13) It's hard to pull off marital comedy and action-thriller at the same time.
Mr. and Mrs. Smith
showed you how it's done. This movie shows you how not to do it. Katherine Heigl stars as a woman who suddenly discovers that her new husband (Ashton Kutcher) is a secret government hit man who's being targeted for assassination. The material isn't the best, but the movie still could have worked if the fatally lightweight lead actors had a better feel for how to pitch their performances or if director Robert Luketic hadn't lost control of the tone every time the movie shifted gears. Sadly, that is the case, and the result is shrill and annoying. Also with Catherine O'Hara, Tom Selleck, Katheryn Winnick, Kevin Sussman, Alex Borstein, Lisa Ann Walter, Rob Riggle, Martin Mull, Casey Wilson, and Usher.
Letters to Juliet (PG) Amanda Seyfried stars in this overcooked romance an aspiring journalist who, while traveling in Italy, discovers a decades-old letter from an Englishwoman (Vanessa Redgrave) and helps her track down the man she failed to run off with 50 years ago. The romantic plot between Seyfried's character and the Englishwoman's overprotective grandson (Christopher Egan) is supposed to drive this, but the actors have little chemistry, and there's more going on between Seyfried and Gael García Bernal as the wrong guy. Meanwhile, Redgrave plays this wispy material as if her life depended on it, giving perhaps her finest performance since Howards End. Too bad the rest of the movie isn't worthy of it. Also with Luisa Ranieri, Marina Massironi, Milena Vukotic, Franco Nero, and an uncredited Oliver Platt.
Marmaduke (PG) When film historians look back on Owen Wilson's acting career, they may very well cite this horrible, soul-sucking experience as the movie that marked the end of him as an interesting entertainer. He provides the voice of the badly CGI-animated havoc-wreaking Great Dane from the comic strips, here transplanted to California with his family and trying to fit in with the mean dogs at the dog park. They could have made this script into a movie about a new kid at school. They didn't because without the crappy CGI, it would have been a total snooze. Yeah, but this is so much worse than that. Also with Lee Pace, Judy Greer, and William H. Macy. Additional voices by Emma Stone, George Lopez, Steve Coogan, Christopher Mintz-Plasse, Kiefer Sutherland, Marlon Wayans, Damon Wayans Jr., Sam Elliott, and Fergie.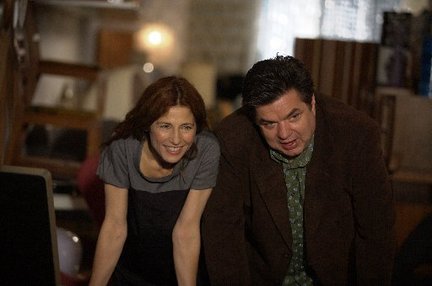 Please Give (R) Like all of Nicole Holofcener's other movies, this comedy features sharp dialogue and complicated female characters drawn in unflinching detail. Chief among these is Catherine Keener as a Manhattan furniture storeowner who feels guilty about making a vulture-like living when others are poor. Holofcener uses the New York setting to set up some funny encounters between these privileged characters and various strangers, especially a superbly awkward dinner scene with an elderly neighbor (Ann Guilbert) and her two daughters (Rebecca Hall and Amanda Peet). Maybe this is a fruitless exercise in rich white guilt in the end, but it's a delectable one. If the alternative is Sex and the City 2, I'll take this movie instead. Also with Oliver Platt, Sarah Steele, Lois Smith, Thomas Ian Nicholas, and Kevin Corrigan.
Prince of Persia: The Sands of Time (PG-13) Jake Gyllenhaal portrays a prince of the Persian empire who's forced to flee along with a dethroned princess (Gemma Arterton) after they're drawn into political intrigue involving a dagger that can turn back time. Based on a popular video game, this movie would be fine if it simply concentrated on the action, which involves the prince doing acrobatic leaps in high places. Instead, it forces us to sit through a lot of blather about time and destiny and an infantile romantic subplot with no chemistry between the leads. Also with Ben Kingsley, Steve Touissant, Toby Kebbell, Ronald Pickup, Richard Coyle, Reece Ritchie, and Alfred Molina.
Robin Hood (PG-13) Like all of Ridley Scott's movies in the last 10 years, this is intelligent, engaging, and not much fun. The movie re-imagines the origins of the famous story, telling how a common archer (Russell Crowe) returning to Britain from the Crusades leads an uprising against the king and becomes the legendary outlaw. Giving his least interesting performance to date, Crowe turns Robin Hood into a nostril-flaring bore and displays zero chemistry with Cate Blanchett as Maid Marian. The action sequences are no match for the ones in the 1938 Errol Flynn movie, still the gold standard for Robin Hood films. Also with William Hurt, Mark Strong, Oscar Isaac, Kevin Durand, Scott Grimes, Alan Doyle, Eileen Atkins, Mark Addy, Matthew Macfadyen, Simon McBurney, Danny Huston, and Max von Sydow.
Sex and the City 2 (R) Carrie Bradshaw and her gal pals (Sarah Jessica Parker, Kim Cattrall, Kristin Davis, and Cynthia Nixon) go to Abu Dhabi to deal with their issues and dress fabulously. The movie stays true to the show's focus on friendship, but the movie runs about 700 years and features tons of bad writing and self-congratulation about its feminist accomplishments, which aren't as significant as the movie seems to think. Even the acting is off. This is for Carrie completists only. Also with Chris Noth, David Eigenberg, Evan Handler, Mario Cantone, Willie Garson, Jason Lewis, John Corbett, Kelli O'Hara, Alice Eve, Lynn Cohen, Ron White, Omid Djalili, and Penélope Cruz. — Cole Williams
Shrek Forever After (PG) More satisfying than the second or third Shrek movies, this concluding film isn't as invigoratingly weird as the movie that started it all. However, it recovers some of the first movie's mojo. The big ogre (voiced by Michael Myers) is conned by Rumpelstiltskin (voiced by Walt Dohrn) into an alternate reality where everything is as if Shrek never existed. The film has a few dead spots and wastes a talented supporting voice cast, but Shrek's mid-life crisis is handled lightly enough and Puss in Boots (voiced by Antonio Banderas) is hilariously reimagined as a coddled, morbidly obese kitty. The laughs are sustained better than in the previous sequels and give our jolly green friends a warm sendoff. Additional voices by Cameron Diaz, Jon Hamm, Jane Lynch, Craig Robinson, Kathy Griffin, Lake Bell, and Meredith Vieira.
Splice (R) Cute, funny, and creepy beyond words, Vincenzo Natali's sci-fi/horror flick stars Adrien Brody and Sarah Polley as rogue geneticists/live-in companions whose cloning experiments for medical research lead them to create a new life form that starts off looking like a fish/cat/squirrel but quickly grows into a humanoid creature (Delphine Chanéac). The scientists' personal issues lead them to start treating the thing like a human girl, even though she speaks only in rodent trills, leaps 10 feet in the air, and has a prehensile tail with a poisonous stinger. This movie plays on your worst fears about both genetic manipulation and raising a child, and its shocking plot twists near the end make it a thought-provoking and supremely unnerving experience. Also with Brandon McGibbon, David Hewlett, and Simona Maicanescu.
Toy Story 3 (G) Yet another fantastic piece of work from Pixar. When their now-grown owner heads off to college, Woody and Buzz (voiced by Tom Hanks and Tim Allen) and the other toys are accidentally shipped off to a local day care center, where the toys are run by a strawberry-scented teddy bear (voiced by Ned Beatty) who acts like a cruel warden. The filmmakers turn this into a prison-break movie but cut the action with just the right amount of cutesy humor. Esoteric references abound, and the script includes a deliriously funny encounter between Barbie (voiced by Jodi Benson) and a morally shady clotheshorse Ken (voiced by Michael Keaton) among its wealth of rich comic material. Additional voices by Joan Cusack, Don Rickles, Wallace Shawn, John Ratzenberger, Estelle Harris, John Morris, Blake Clark, Teddy Newton, Bud Luckey, Javier Fernández Peña, Kristen Schaal, Jeff Garlin, Bonnie Hunt, Timothy Dalton, Whoopi Goldberg, and R. Lee Ermey.
DALLAS EXCLUSIVES:
8: The Mormon Proposition (R) Reed Cowan's documentary exposé of the Mormon Church's history of anti-gay political activity.
Exit Through the Gift Shop (R) The reclusive street artist known as Banksy directs this documentary about French amateur documentarian Thierry Guetta and his futile attempts to meet Banksy. Also with Rhys Ifans and Shepard Fairey.
The Girl With the Dragon Tattoo (NR) Before the inevitable Hollywood version, this Swedish adaptation of Stieg Larsson's best-selling mystery novel stars Michael Nyqvist and Noomi Rapace as a disgraced investigative reporter and a computer hacker who must team up to solve a decades-old series of murders linked to a powerful family. Also with Lena Endre, Sven-Bertil Taube, Peter Haber, Peter Andersson, Ingvar Hirdwall, Marika Lagercrantz, Björn Granath, and Ewa Fröling.
Holy Rollers (R) Kevin Asch's drama based on a true story stars Jesse Eisenberg and Justin Bartha as Hasidic Jews operating a drug-smuggling ring in New York in 1998. Also with Ari Graynor, Q-Tip, Danny Abeckaser, Jason Fuchs, Bern Cohen, Marc Ivanir, and Hallie Kate Eisenberg.
Joan Rivers: A Piece of Work (R) The documentary team of Ricki Stern and Anne Sundberg (The Devil Came on Horseback) profile the standup comic as she turns 75.
Mid-August Lunch (NR) Gianni di Gregorio stars in his own drama as an Italian man who discovers a sense of purpose while taking care of his elderly mother (Valentina de Franciscis) and her friends. Also with Marina Cacciotti, Maria Calì, Graziana Cesarini Sforza, and Alfonso Santagata.
Ondine (PG-13) Neil Jordan's fantasy film stars Colin Farrell as an Irish fisherman who thinks that the woman he recently pulled from the water (Alicja Bachleda) may actually be a mystical sea creature called a selkie. Also with Tony Curran, Dervla Kirwan, Alison Barry, Emil Hostina, and Stephen Rea.
Princess Ka'iulani (PG) Marc Forby's historical drama about the Hawaiian princess (Q'orianka Kilcher) who tried to maintain the island's independence in the face of American colonization. Also with Barry Pepper, Will Patton, Shaun Evans, Jimmy Yuill, Tamzin Merchant, and Julian Glover.
The Secret in Their Eyes (R) The winner of last year's Oscar for Best Foreign Film, Juan José Campanella's drama stars Ricardo Darín as an Argentinian former cop-turned-crime novelist still obsessed with an unsolved 25-year-old rape-homicide case. Also with Soledad Villamil, Carla Quevedo, Pablo Rago, Javier Godino, Mariano Argento, and Guillermo Francella.