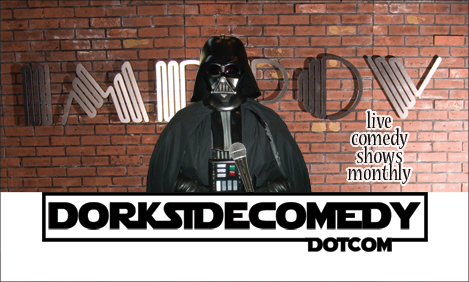 WED ? 23
Viewers of The Big Bang Theory will want to get over to the Improv at Arlington tonight for a lineup of self-described nerds performing standup comedy in a show called Comedy From the Dork Side. We'll give this show bonus points for any jokes about calculus derivatives and points off for any jokes about Star Wars or Star Trek. The show is at 8pm at 309 Curtis Mathes Way. Tickets are $15. Call 817-635-5555.


THU ▪ 24
Having received its world premiere in Philadelphia only 14 months ago, Something Intangible receives its regional premiere here this weekend, courtesy of Circle Theatre. Bruce Graham's play about two brothers running a Hollywood animation studio in the 1940s is a character study about siblings in close quarters who share a complicated relationship. We wonder if this play would make a good double bill with Sam Shepard's True West. The show runs Jun 24-Jul 24 at 230 W 4th St, FW. Tickets are $20-30. Call 817-877-3040.
FRI ▪ 25
It's not a yard sale, it's a YArt Sale at Fort Worth Community Arts Center this morning. Stop by before work to see the donated items (including paintings, sculpture, ceramics, and coffee-table books) on sale. If you didn't find what you were looking for at last week's Thrift Art Show and Auction, you might discover it here. The sale starts at 9am at 1300 Gendy St, FW. Admission is free. Call 817-738-1938.
SAT ▪ 26
Relatively little has been written about the history of abstract art in South America. The Amon Carter seeks to rectify that with its show Constructive Spirit: Abstract Art in South and North America, 1920s-50s, opening this week. The exhibit features works from Argentina, Brazil, Uruguay, and Venezuela by more than 60 artists in various media, with some works from the United States for contrast. The show runs Jun 26-Sep 5 at 3501 Camp Bowie Blvd, FW. Admission is free. Call 817-738-1933.
SUN ▪ 27
Alan Ayckbourn's farces may all have the same structure, but his Role Play touches on a subject that's different for him. It's about a young London couple whose parents are horrified at the sleazy-but-gentrifying multicultural neighborhood that the couple has moved to. Stage West takes up this play that combines the now-ness of Zadie Smith with the tick-tock structure that has made Ayckbourn's plays successful for decades. The show runs Jun 24-Jul 25 at 821 W Vickery Blvd, FW. Tickets are $15-30. Call 817-784-9378.
MON ▪ 28
It's June, and the paint horses are back at Will Rogers Memorial Center. As with other years, the American Paint Horse Association Summer World Championship Show runs for a week and a half and features events every day instead of just on the weekend. The show runs Jun 23-Jul 3 at 3401 W Lancaster Av, FW. Admission is free. Call 817-834-2742.
TUE ▪ 29
Piano Texas ends with Miguel Harth-Bedoya conducting Fort Worth Symphony Orchestra in three well-known piano concertos (Rachmaninov's Second, Schumann's, and Beethoven's Fourth) to accompany three young visiting artists. The performance is at 7:30pm at TCU, Ed Landreth Auditorium, 2800 S University Dr, FW. Tickets are $10-20. Call 817-257-7602.