In an increasingly partisan state, it's increasingly hard to be the man in the middle. That's the tightrope that Texas House Speaker Joe Straus of San Antonio is walking.


Consider the dynamics: Straus, despite being a lifelong Republican, would never have ousted former Speaker Tom Craddick, a conservative and autocratic Midland Republican, without the support of most of the House's Democrats.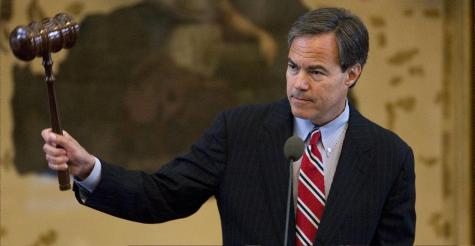 Yet to continue as speaker, he now has a vested interest in seeing Republicans hold their narrow 77-73 edge in the 150-member House. Or add to it — but not too much.
That's because if the Democrats make good on their goal this year of again reaching majority status in the House, they are almost certain to pick one of their number for his job.
Meanwhile, Straus, who was among those addressing the Republican State Convention in Dallas a few weeks ago, came in for criticism from the likes of David Barton, vice-chairman of the state GOP from 1997 to 2006.
Barton, who runs a self-styled conservative Christian organization called "Wallbuilders," distributed thousands of fliers at the convention, charging that Straus poses a greater danger to conservative Republicans than do the Democrats.
Among Straus' sins as listed by Barton was having a former moderate-conservative Democratic state legislator, Clyde Alexander, as his chief of staff for his first year.
Straus has been courting the Republicans, including calling for increasing their majority in the House. But that currying of favor with his fellow Republicans has drawn heat from some of the Democrats who brung him.
For instance, Jim Dunnam, the Waco Democrat who chairs the House Democratic Caucus, was critical of Straus for appointing conservative Larry Taylor of Friendswood to be the fourth Republican to just one Democrat of the House's five members on the Sunset Advisory Commission.
A little history on how Straus, who had never so much as chaired a committee in his almost four years in the House, was elevated to preside over the whole House: Straus and 10 other Republicans, disgruntled (to put it mildly) with the high-handed behavior of Craddick as House speaker, decided to select one of their number to oppose him.
Dunnam delivered a list of 64 Democrats who pledged not to vote for Craddick for a fourth two-year term under any circumstances.
One of the 11 ABC ("Anybody But Craddick") Republicans, Byron Cook of Corsicana, hosted a meeting at his Austin house, with 10 attendees and the 11th attending electronically. After each round of voting, they dropped the lowest finisher from the next ballot. Straus won, by one vote.
Cook and the other members of what was called "The Group of 11" then joined with the 64 Democrats and quickly attracted enough additional Republicans and Democrats that Straus held a press conference to release a list of 85 supporters — nine more than the 76 needed to win.
In this year's election, Straus' danger in getting too many Republicans is that they may flank him on the right. But if that were to happen, most Democrats would probably back Straus, who has been far more evenhanded in his oversight of the House than Craddick was.
Meanwhile, another person who wanted Straus out as speaker — ultra-conservative Eagle Forum leader Cathie Adams of Dallas, who was interim chair of the state GOP — was voted out as chair in favor of Houston's Steve Munisteri.
Former Texas Agriculture Commissioner Jim Hightower, a progressive Democrat, was fond of saying there's nothing in the middle of the road except white lines and dead armadillos. Straus may field-test Hightower's theory.
Whatever happens, Straus, or whoever in an outside chance might replace him next year, will have a large role in drawing House districts in the upcoming redistricting. The legislature is unlikely to agree on a redistricting plan, and so the chore will fall to the Legislative Redistricting Board — a five-member body comprised of the land commissioner, attorney general, comptroller, lieutenant governor, and yes, the speaker.
Veteran Texas political reporter Dave McNeely can be reached at davemcneely111@gmail.com.