It's taken 50 years, but two of Fort Worth's most outstanding (and still living) modern painters will finally exhibit their work together. On Saturday, David F. Gibson and Greg Rivera's One Hundred Years of Painting will open from noon to 9 p.m. at 2902 Race St., Ste. 108. The pop-up gallery is scheduled for one day only and will feature more than 30 original paintings. The show is significant because the painters have known each other since childhood, trained under many of the city's most significant early artists, and have never shown their works together.
Gibson and Rivera noticed each other right away while attending private art classes at the Fort Worth Museum of Contemporary Art (now the Modern Art Museum of Fort Worth) in the early 1960s. Later, they shared art classes at Stripling Junior High School and Paschal High School. None of the other students handled a paintbrush quite like those two.
"We quickly figured out we were the best painters in these classes, and we learned from each other by talking," Rivera said.
After high school, they left Texas in different directions. Gibson made his way back to Fort Worth years ago. Rivera traveled the world and only returned to his hometown last year, to spend more time with relatives. He and his wife leased a loft on Race Street and met Debby Stein, who is part of the redevelopment efforts in and around the little Eastside thoroughfare that has tried for several years to attract funky, artistic businesses and crowds. Stein suggested a pop-up gallery. Rivera and Gibson had always talked about having a show together, and now they had their chance more than 50 years after they first painted together.
"We'd talked for a long time about doing a show," Gibson said. "For one reason or another, it never worked out. And then this space just fell in our lap. We both have a body of work we can put together. The clock is ticking. We're not getting any younger. We'll probably both keep painting until we can't paint anymore."
They learned from Helen Silvestri and Beatrice Dunning in Fort Worth schools and trained under Fort Worth Circle artists Bror Utter, Dickson Reeder, McKie Trotter, Emily Gutherie Smith, and other artists who taught at local museums. Reeder is generally considered the leader of the Fort Worth Circle, a group of young artists who blossomed in the 1940s and were among the first in Texas to tackle abstract and surreal art.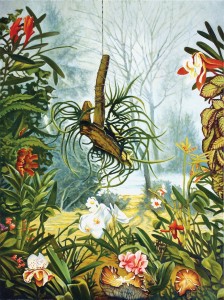 Gibson and Rivera painted mostly landscapes at school, but in the private classes they explored abstraction. By their late teens, Gibson and Rivera were invited to join the distinguished stable of artists who had their works shown at Neiman Marcus exhibits.
Reeder visited Paschal to speak to art students back then, and Gibson approached him afterward.
"I gave him one of my drawings he really liked, and after that we sort of became art friends," Gibson said. "We always compared art notes."
Afterward, Gibson attended Kansas City Art Institute, while Rivera trekked up to New York City's Pratt Institute. They occasionally spoke to each other on the phone but mostly lost touch.
During summers, Gibson returned to Fort Worth and stayed with sponsor families. One of them lived across the street from Reeder and his wife, Flora, on 6th Avenue. The Reeders and some of the other Circle artists were known for their glitzy lifestyles and devotion to art, dance, theater, and the avant-garde. Gibson got to know the couple better and spent a lot of time in the Reeder studio discussing painting techniques.
"He was a real talker," Gibson said. "His wife did these kinds of weird Eastern Indian dances, sort of vodka-induced, I think."
Gibson, 65, earned his bachelor's degree in 1972. His paintings have hung at numerous juried shows and at Texas Christian University, the Fort Worth Community Arts Center, Heliotrope Gallery, and Dutch Phillips Gallery.
Rivera, 66, left Pratt before graduating but later earned a Ph.D. in Art Science at the California Institute of Integral Studies. He's traveled the world working as a humanist, and his works have been shown at One Painting in New York City, Jeffrey Meier Gallery in New Jersey, and in Mexico and Spain. Locally, Arts Fifth Avenue and the Fort Worth Community Arts Center have exhibited his works.
In addition to promoting this exhibit, the Riverside Arts District is hosting a concurrent celebration of the arts and community on Race Street, with a car show, bike rodeo, and vendors. For fans of painting and fans of Fort Worth, One Hundred Years of Painting is a can't-miss Gallery Night stop.
[box_info]
One Hundred Years of Painting
Noon-9 pm Sat at 2902 Race St, No. 108, FW. Free.
[/box_info]