The newest neat-o, cheap ethnic restaurant near UTA — well, it's been a week now since Chow, Baby was in the area, so this could already be outdated — is Thai Basil Leaf (805 W. Park Row Dr., Arlington), in what Chow, Baby likes to call the Nizza Pizza strip. Neat-o because it has one long wall painted purple and its opposite painted green — like basil leaves, get it?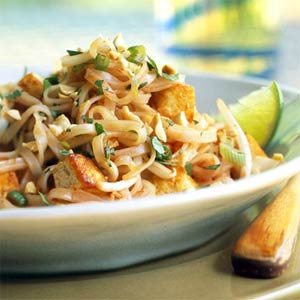 Chow, Baby was very proud that it got it. More important to people who have a budget like Chow, Baby's is the cheap part: Most dishes are under $10 and with very large portions too. While it's not the poppiest Thai in town, there's plenty of bang for the buck here.
"Dancing" dumplings ($5), little pork/shrimp/mushroom-stuffed cuties, got their bang from a shower of fried-garlic crumbs. Spicy basil fried rice ($8.95) was much less spicy and basil-y than anticipated, but was still a pleasing stir-fry. Most dishes come with choice of protein: chicken, beef, pork, tofu, or small-extra-charge seafood; Chow, Baby dropped the extra buck and was very happy with the half-dozen large, tasty shrimp in its gravy noodle ($8.95), a bowl of pan-fried flat noodles and broccoli in a rich black-bean sauce.
Mango with sticky rice is on the menu ($3.95), but Chow, Baby went rogue for peace pudding ($2.95), teeny tapioca pearls and coconut bits in sweet coconut cream. It's the latest greatest dessert in the history of the world — a tough act to follow, for the next neat-o cheap ethnic restaurant that opens near UTA. Next week?
Uno Problem-o
Chow, Baby's self-proclaimed nutri-linguistic genius — its remarkable ability to communicate its food desires no matter how vast the language barrier — hit the skids at Super Taco (in the Super Plaza market, 4613 E. Lancaster Ave.). Language problems at a taqueria, of all places! The whole dang menu is Mexican food words, a first or second language for most Texans. You may half-expect your attempts at "baba ghannouj" or "saag gohst" or "les escargots à la Bourguignonne" to be met with a quizzical look (or a smirk), but where's the language barrier with "fajita burrito"? I mean, really.
Anyway, the minor point is that Chow, Baby's perfectly pronounced (dangit) order got massively screwed up, probably due to lousy prepositions. The larger point, though, is who cares — these are some mighty fine meats (tacos 99¢), perhaps not quite as amazing as gas-station tacos but definitely at the top of the supermarket-taqueria echelon. Spice levels ranged from silky barbacoa to mild marinated pork to kicky chicken asada; more punch may be had with a red sauce that's not quite as dangerous as it looks. The star was the chorizo, fried with red chiles; here the corn tortillas acted as much more than a meat-delivery system, adding a lovely sweet note to the smoky sausage, hot peppers, and fresh, cool cilantro and onions. Of course they're fresh: The produce section is 10 feet away.
The sole disappointment was the gristly beef fajita taco, the meat as chewy as it was flavorless, so that tiresome jaw work went unrewarded. If the order-taker could understand just one word in "fajita burrito," why did it have to be the first one? Burrr-EE-toe. Burrr-EE-toe. Chow, Baby will keep working on its accent.
Contact Chow, Baby at chowbaby@fwweekly.com.