In the shadow of the Hospital District, Rosedale Street just east of I-35 offers a veritable coop of fried chicken places. Clearly the hospitals didn't spring up around the eateries, so it must be that restaurants that dish out comfort food tend to locate near places where people need the most comforting.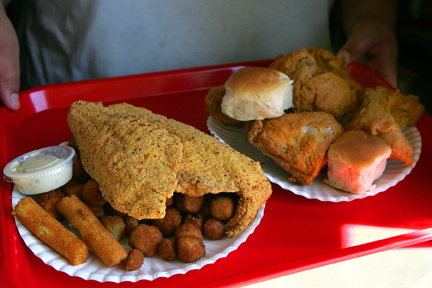 Texas Style Chicken and Seafood is a newish addition to the group of quick chicken joints along Rosedale, up the block from the venerable Mama E's BBQ and Home Cooking. Texas Style is small, with maybe half a dozen tables. And almost everything is fried, which, in moderation, isn't necessarily a bad thing, right?
Put away all thoughts of your cholesterol level, your waistband, and your blood pressure when you walk in the door. Texas Style's cooks have a smoking-hot deep fryer at their disposal, and they're not afraid to use it. The jalapeño poppers were mild, covered in a crumbling crust and stuffed with real cheddar cheese (not that easy-melt stuff). The hot wings were indeed all that. The sauce seemed to have been cooked into them. They also weren't overly goopy and did not require multiple napkins to enjoy.
The chicken-fried crust that comes on everything was delicious and perfectly crunchy. Since it's not spicy, it allows the main ingredients to shine. The dark-meat chicken plate could best be described as fried chicken for fried-chicken purists: perfectly done thigh and drumstick meat coated in a crispy outer shell with just a hint of an oily sheen. Oddly satisfying were the rich, slightly metallic chicken livers. Skip the chicken tenders, though. They were plentiful but dry.
You shouldn't walk into a chicken place on Rosedale and necessarily expect to eat healthy. However, the healthiest thing on the menu, the fried catfish, could also very well be the best. The peppery cornmeal batter packed a nice crunch, and the fish was fresh, without that odd smell or taste that sometimes comes with catfish.
The sides were equally delicious. The fried okra pieces were fresh: no over-battering or long-time freezer storage to taint the veggie's gummy goodness. The corn nuggets, ordered on a whim, were a delight. Picture creamed corn, dipped in batter, and fried. They're so gooey, chewy, sweet, and delish that you could eat about two dozen of them and still not be satisfied. (An order is just six.)
The food comes out on Styrofoam plates with plastic flatware. There aren't any desserts, which is fine: Texas Style doesn't seem like the kind of place for a date or for lingering over your food in deep conversation. The place's mission is to serve good food and fast, though since everything is homemade, you may have to wait a little longer for your order than you would at, say, the corporate chicken joint up the street. When I arrived early in the evening recently, a MedStar ambulance was in the smallish parking lot, motor running. I wondered if the rig was there to cart away someone who'd OD'd on fried goodness. But the driver just wanted a bite to eat before a long night shift.
"The food's really cheap, and it's good," she said. "It's the kind of food that keeps you full for hours."
Texas Style Chicken and Seafood
201 W Rosedale St, FW. 817-882-9818. 10:30am-10:30pm Mon-Thu, 10:30am-10pm Fri-Sat, 11am-8pm Sun. MasterCard/Visa accepted.
Jalapeño poppers $1.99
Hot wings $3.89
Catfish and chicken tender dinner $5.99
Dark meat plate $2.49
Chicken livers $2.49