Shea Seger's music is now –– finally –– available for download. Seger, the subject of a recent cover story ("Shea Seger Redux," April 7, 2010), is a Fort Worth-born singer-songwriter who popped up on the international music radar about 10 years ago seemingly out of nowhere and appeared in publications as massive as People, Elle, and Time … and then disappeared.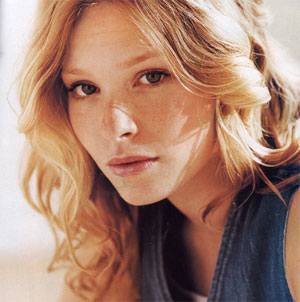 Well, she's back, with a new outlook and new album. Whereas Seger's debut, The May Street Project (named after the street in Fort Worth that she grew up on), is funky and danceable, her new, eponymous record is barebones, raw, occasionally subtle, occasionally furious, and mostly acoustic. Recorded in Austin over a year ago, the album includes instrumental contributions from The Who's Pino Palladino on bass, drummer J.J. Johnson (John Mayer, Doyle Bramhall), and Andrew Wallace, who has played keyb's in the touring band of Pink Floyd's Roger Waters. Seger got her start in London 10 years ago, and to make her story come full circle and get back into the biz, she recently went back across the pond. 
On Saturday at 1919 Hemphill, several outré artists will perform as part of Bible Belt Bitfest 2, a bi-annual festival celebrating music that –– well, how to put this simply? –– music that sounds like it's coming from an old-school video game. Lots of bleeps and bloops and stuff. Pretty progressive, especially considering the massive amount of technological know-how that goes into programming (as opposed to merely writing and performing) a "chiptune" or "8-bit" song. Bible Belt Bitfest is one of its kind in North Texas. Slated to play are Fort Worth's Naxat, Yakuza Heart Attack (Dayton, Ohio), Albino Ghost Monkey (Madison, Wis.), MicroD (Arlington), Reteris (Dallas), and PixyJunket (Plano), with visuals by Party Time! Hexcellent! (Austin). For your button-mashing pleasure, multiple retro game systems will be set up throughout the venue. Doors open at 6 p.m. Music will start at 7:45 p.m. "sharp," according to Hotdogstorm, Bible Belt Bitfest 2's presenter. A $6 donation is requested, and leave the alcohol at home. To listen to some chiptunes from the artists, visit http://biblebeltbitfest.bandcamp.com.
On Thursday at 1919 Hemphill, Fort Worth über-punks High Anxieties will celebrate the release of their new 7-inch, Negaduck, on Rise & Shine Records, a little label that could out of Arlington that we wrote about last week ("High Anxieties Rise & Shine"). Joining High Anxieties for the 1919 show will be Ceremony, Punch, Innards, and Fort Worth's HUMANERROR.  Other cool shows this weekend: Josh Weathers and the True+Endeavors will perform on Saturday at Keys Lounge (5677 Westcreek Ct., 817-292-8627), and on Friday, Hentai Improvising Orchestra, The Underground Railroad, and The Shortest Distance will flip some wigs at Lola's Saloon (2736 W. 6th St. in the West 7th Street corridor, 817-877-0666). Can't remember the last time you heard from The Underground Railroad? Neither can we. It's been a minute. But knowing the guys in the band –– frontman/guitarist Bill Pohl, bassist Matt Hembree (Goodwin, Stoogeaphilia, Pablo and the Hemphill 7), and drummer Kurt Rongey –– the show will be tight and full of proggy goodness. (Man, I wish Doug Polhamus would sit in and play Jean-Luc Ponty to Pohl's John McLaughlin.) 
Contact HearSay at hearsay@fwweekly.com.