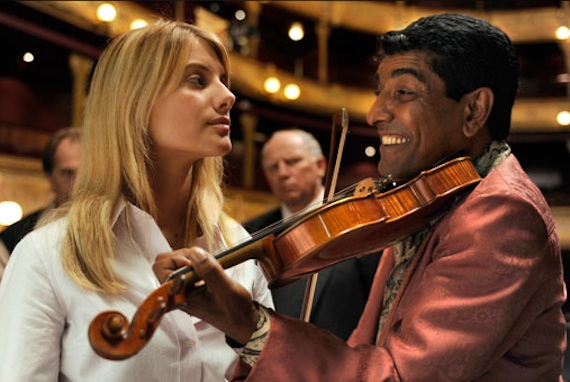 OPENING:
The Concert (PG-13) Radu Mihaileanu's comedy about a former Russian symphony conductor-turned-janitor (Alexei Guskov) who gathers his old musicians together to accept an invitation to play in Paris. Also with Mélanie Laurent, Dmitri Nazarov, François Berléand, Alexander Komissarov, and Miou-Miou. (Opens Friday in Dallas)
The Disappearance of Alice Creed (R) Gemma Arterton stars in this British thriller as a woman who turns the tables on the two men (Martin Compston and Eddie Marsan) who try to kidnap her for ransom. (Opens Friday in Dallas)
The Father of My Children (NR) Mia Hansen-Løve's drama stars Louis-Do de Lencquesaing as a suicidal French film producer trying to keep his business and family afloat. Also with Chiara Caselli, Alice de Lencquesaing, Alice Gautier, Manelle Driss, Eric Elmosnino, Dominique Frot, Antoine Mathieu, and Igor Hansen-Løve. (Opens Friday in Dallas)
The Other Guys (PG-13) Will Ferrell re-teams with director Adam McKay (Talladega Nights, Anchorman) in this comedy as a New York City desk cop who teams with a disgraced detective (Mark Wahlberg) to solve a career-defining case. Also with Samuel L. Jackson, Dwayne Johnson, Eva Mendes, Steve Coogan, Bobby Cannavale, Damon Wayans Jr., Rob Riggle, Lindsay Sloane, Ray Stevenson, and Michael Keaton. (Opens Friday)
Step Up 3D (PG-13) The series of dance movies meets the 3-D craze with this film about an NYU freshman (Adam G. Sevani) who takes two street dancers (Rick Malambri and Sharni Vinson) to compete in a hip-hop dance competition. Also with Alyson Stoner, Keith Stallworth, Kendra Andrews, Stephen Boss, and Joe Slaughter. (Opens Friday)
Twelve (R) Joel Schumacher adapts Nick McDonnell's novel about a drug dealer (Chace Crawford) whose life comes apart after his cousin is murdered. Also with Emma Roberts, Rory Culkin, Curtis "50 Cent" Jackson, Emily Meade, Erik Per Sullivan, Isiah Whitlock Jr., and Ellen Barkin. (Opens Friday)
Cats & Dogs: The Revenge of Kitty Galore (PG) Sequel to the 2001 kids' flick finds feline and canine spy agencies cooperating to stop a vengeance-obsessed cat (voiced by Bette Midler) who plans to drive every dog in the world insane. Like a James Bond movie for kids, it's surprisingly tolerable, with decent action scenes and a story that zips along. Most importantly for parents, it doesn't make you want to end your life. The CGI talking-animal effects are far from perfect, though, and my 10-year-old cousin only liked it but didn't go crazy for it. Considering the cost of taking the family to the movies, this is probably best saved as a rental, but it's far from a bad one. Additional voices by Sean Hayes, Neil Patrick Harris, Christina Applegate, James Marsden, Katt Williams, J.K. Simmons, Wallace Shawn, Joe Pantoliano, Michael Clarke Duncan, Roger Moore, and Nick Nolte. Also with Chris O'Donnell and Jack McBrayer. — Cole Williams
Cyrus (R) A comedy that takes the idea of men who can't grow up to a logical and funny extreme. John C. Reilly stars as a loser whose romance with his gorgeous, sexy new girlfriend (Marisa Tomei) is imperiled by her clingy 21-year-old son Cyrus (Jonah Hill) who lives with her. Cyrus is a great character, a pre-sexual monster who feeds off his mother's love, and the psychological warfare between him and Reilly's character is compelling stuff as Cyrus vows to break up his mom's relationship. Filmmakers Jay and Mark Duplass (Baghead, The Puffy Chair) let their actors ad lib at will, with good results, but resolve everything too easily, with bad results. Still, Hill gives his most impressive performance to date, and the vivid way the film brings Cyrus to life is its best accomplishment. Also with Catherine Keener, Matt Walsh, and Kathryn Aselton.
Despicable Me (PG) Slight but agreeable animated film features Steve Carell voicing a wannabe supervillain named Gru who adopts three unwanted girls from an orphanage (voiced by Miranda Cosgrove, Elsie Fisher, and Dana Gaier) to help him gain access to a rival villain and ultimately steal the moon from the sky. The girls help Gru get in touch with his feelings, and it's thankfully not anywhere near as mushy as it could have been. Gru's chattering yellow minions are a terrific comic creation, but there's not enough good material to go around them and a great supporting voice cast. The closing credit sequence uses 3-D better than any other recent film. Additional voices by Jason Segel, Russell Brand, Kristen Wiig, Will Arnett, Danny McBride, Jack McBrayer, Mindy Kaling, and Julie Andrews.
Dinner for Schmucks (PG-13) The remake of Francis Veber's 1999 French farce The Dinner Game stars Paul Rudd as a financial analyst who tries to win a promotion by bringing an eccentric IRS worker (Steve Carell) to a business dinner so that his firm's executives can make fun of him. The American version makes the main character much less of a bastard, which does Rudd no favors and puts us in the weird position of laughing at the idiots while condemning the businessmen in the movie for doing the same thing. The trump card is Carell, who wreaks havoc with wide-eyed wonder, spews malapropisms, and gets into a slapstick contretemps with a demented stalker (Lucy Punch). His inspired idiocy rescues the film. Also with Stephanie Szostak, Zach Galifianakis, Jemaine Clement, Bruce Greenwood, David Walliams, Ron Livingston, Kristen Schaal, Chris O'Dowd, Octavia Spencer, and Jeff Dunham.
Grown Ups (PG-13) Yet another dreary, sloppily made Adam Sandler comedy, this one stars him as one of a bunch of middle-school buddies (along with Chris Rock, Kevin James, Rob Schneider, and David Spade) who reunite for the funeral of a beloved basketball coach. They wind up spending an entire weekend making limp wisecracks about how young they used to be while you spend the entire movie waiting for anything to happen. If you're similar in age to Sandler and his pals, there's a small chance you'll find this wildly funny. Everybody else can just make like Sandler's fictional kids, staying inside and playing video games. Also with Salma Hayek, Maria Bello, Maya Rudolph, Joyce Van Patten, Colin Quinn, Tim Meadows, Norm Macdonald, and Steve Buscemi.
Inception (PG-13) One of the trippiest summer blockbusters in recent memory, this big brain-teaser stars Leonardo DiCaprio as the leader of a team of corporate spies who have to plant a self-destructive idea in the head of an heir (Cillian Murphy) by breaking into his dreams. Writer-director Christopher Nolan (The Dark Knight) enhances the movie's dreamscapes by twisting real locations into M.C. Escher-like tableaux, while cinematographer Wally Pfister and production designer Guy Hendrix Dyas make it all look elegant and beautiful. Nolan may have outsmarted himself here — the hero's struggles to let go of his dead wife (Marion Cotillard) don't pull the emotional weight that they should. Nevertheless, the movie sends you tumbling down a fascinating rabbit hole. Also with Ellen Page, Joseph Gordon-Levitt, Tom Hardy, Ken Watanabe, Dileep Rao, Tom Berenger, Lukas Haas, Pete Postlethwaite, and Michael Caine.
---
The Karate Kid (PG) Why isn't this movie called
The Kung Fu Kid
? This remake of the 1984 hit stars Jaden Smith as a 12-year-old who's relocated from Detroit to Beijing, where he's bullied by the locals until he meets a maintenance man (Jackie Chan) who teaches him kung fu. Director Harald Zwart does well with the Chinese setting, but the real attraction is Chan, who knows how to play this laconic character for laughs and does just as well with the character's private grief. (If you've only watched his Hollywood stuff, you may be surprised to see that Chan can act.) The movie manages to capture the electric charge of the famous "wax on, wax off" scene, and enough of the original's inspirational punch to make it a worthy successor. Also with Taraji P. Henson, Han Wenwen, Wang Chenwei, and Yu Rongguang.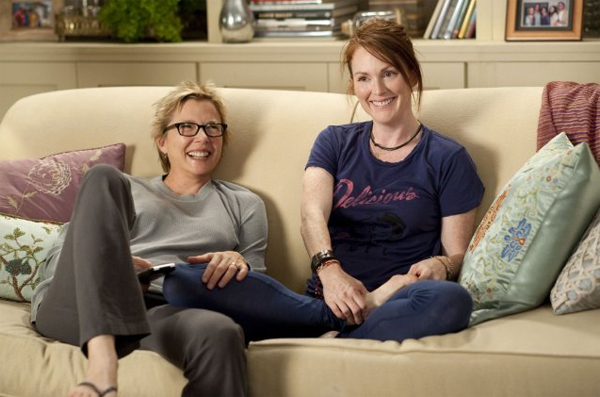 The Kids Are All Right (R) A comic masterpiece. Annette Bening and Julianne Moore play a lesbian couple whose lives are upended when their teenage children (Mia Wasikowska and Josh Hutcherson) track down their biological father (Mark Ruffalo), who suddenly warms to the task of parenting. Director/co-writer Lisa Cholodenko proves adept at finding the humor in awkward situations, mines the crunchy California setting for satirical humor about the character's bourgeois attitudes, and maintains a leisurely pace while telling her story in ruthlessly economical fashion. The cast is phenomenal, headlined by the two leads' easy rapport, and Moore's dry-eyed climactic mea culpa to her family will devastate you. For all that, it's the compassion and insight into a long-term marriage under strain that makes this movie a glowing triumph. Also with Yaya DaCosta, Kunal Sharma, Eddie Hassell, Zosia Mamet, and Joaquín Garrido.
Knight and Day (PG-13) The terrible pun in the title isn't explained until late in this piffling comedy-thriller, and it's not much of a payoff. Tom Cruise stars as a CIA hit man wrongly being hunted down by his fellow agents, and Cameron Diaz is the garage owner who gets dragged into the plot. Cruise plays the role with a flippancy that's funny and mildly disturbing in context, as if his character from Risky Business had grown up to be a government assassin. Yet the script is lame, there's no chemistry between the leads, and Diaz' character spends most of the film as a shrieking liability. With exotic locations ranging from Salzburg to Seville, this plush film isn't bad, necessarily. It's just that … wait, what was it about again? Also with Peter Sarsgaard, Viola Davis, Paul Dano, Jordi Mollà, Marc Blucas, Celia Weston, and Maggie Grace.
The Last Airbender (PG) In theory, this is a great idea. In practice, it doesn't go well at all. M. Night Shyamalan tries to escape his creative rut with this fantasy-adventure about an enchanted boy (Noah Ringer) who must use his mystical powers over the four elements to prevent the warlike Fire Nation from conquering the other three. Based on an animated cable TV show, this movie mangles the story into an indecipherable mess of political alliances, tribes, and personality-free leaders. The romantic subplot is sodden, the pace is lumbering, the actors are off, and even Shyamalan's visual flair is nowhere in evidence except for some well-executed martial-arts sequences. Less philosophy and more ass-kicking would have been the way to go here. Also with Jackson Rathbone, Nicola Peltz, Dev Patel, Cliff Curtis, Seychelle Gabriel, Shaun Toub, Aasif Mandvi, and Randall Duk Kim.
Predators (R) A motley crew of badasses (led by merc Adrian Brody) are taken to a "game preserve" planet and stalked by three of the interplanetary hunters. The first hour builds spectacularly, making the Predators threatening again, introducing new twists to the mythos. The shiny, likable cast fits together well, but the slower second half doesn't deliver on the first, the cast and plot twists aren't fully utilized, and 23 years of SFX evolution can't top the original Stan Winston-designed Predator. Still, a mostly successful return to form after the fumbled Aliens vs. Predator films. Also with Alice Braga, Topher Grace, Walton Goggins, Oleg Taktarov, Danny Trejo, Mahershalalhashbaz Ali, and Laurence Fishburne. — Cole Williams
Ramona and Beezus (G) Beverly Cleary's beloved series of kids' books finally comes to the big screen, in a movie that's somewhat more interesting than most others of its type. Joey King plays the famously imaginative troublemaker, who faces some serious economic hardship after her dad (a marvelously light John Corbett) loses his job. Director Elizabeth Allen ventures into some regrettably amateurish fantasy sequences to depict Ramona's imagination, but the writing is reasonably sharp and there's even a well-played romantic subplot between Aunt Bea (Ginnifer Goodwin) and Howie Kemp's Uncle Hobart (Josh Duhamel). A sequel wouldn't be the worst thing. Also with Selena Gomez, Bridget Moynahan, Jason Spevack, Hutch Dano, and Sandra Oh.
Salt (PG-13) This implausible but stylish and highly enjoyable potboiler gets Angelina Jolie back to doing what she was made for: kicking large amounts of ass. She plays a CIA officer who's fingered by a Russian defector (Daniel Olbrychski) as a Soviet double agent who will assassinate the Russian prime minister on U.S. soil. She then spends the rest of the movie running from her colleagues, while the script's many plot twists leave us in suspense as to whether she's actually who she claims to be. The story doesn't hold up, but who cares when Jolie is taking down rooms full of armed guys and building a rocket launcher out of an office chair and cleaning supplies? Director Phillip Noyce makes it all into good old-fashioned spy fun. Also with Chiwetel Ejiofor, Liev Schreiber, August Diehl, Olek Krupa, Hunt Block, and Andre Braugher.
71: Into the Fire (NR) John H. Lee's Korean War film tells the real-life story of 71 South Korean student volunteer soldiers who holed up in an abandoned girls' middle school in Pohang in 1950 and repelled a North Korean invasion force of 766 troops. Choi Seung-hyeon (better known as a Korean rapper under the name T.O.P.) plays the scared young soldier who's suddenly promoted to captain, and Kwon Sang-woo plays the juvenile delinquent who becomes a hero amid the heat of battle. Like many other Korean War films from the past decade, this one rips off stylistic and character tics from Saving Private Ryan, but non-Korean audiences will still probably find this unfamiliar story interesting. Also with Cha Seung-won, Kim Seung-woo, Park Jin-hye, Koo Seung-hwan, Kim Hye-seong, and Kim Sung-ryeong.
---
The Sorcerer's Apprentice (PG) Nicolas Cage re-teams with Jon Turteltaub, who directed him in those dopey
National Treasure
movies, to make this ultra-lite fantasy-adventure. Cage plays a centuries-old disciple of Merlin who discovers that a geeky NYU physics grad student (Jay Baruchel) is the chosen one whose untapped magical powers can prevent a similarly aged evil wizard (Alfred Molina) from raising the dead and taking over the world. The special effects look really good here, but the writing is lame, and Baruchel — who can be a terrific supporting actor, especially in comedies — doesn't have the charisma to carry a movie. Despite an homage to
Fantasia
, this movie feels distinctly un-magical. Also with Teresa Palmer, Toby Kebbell, Omar Benson Miller, Jake Cherry, Alice Krige, and Monica Bellucci.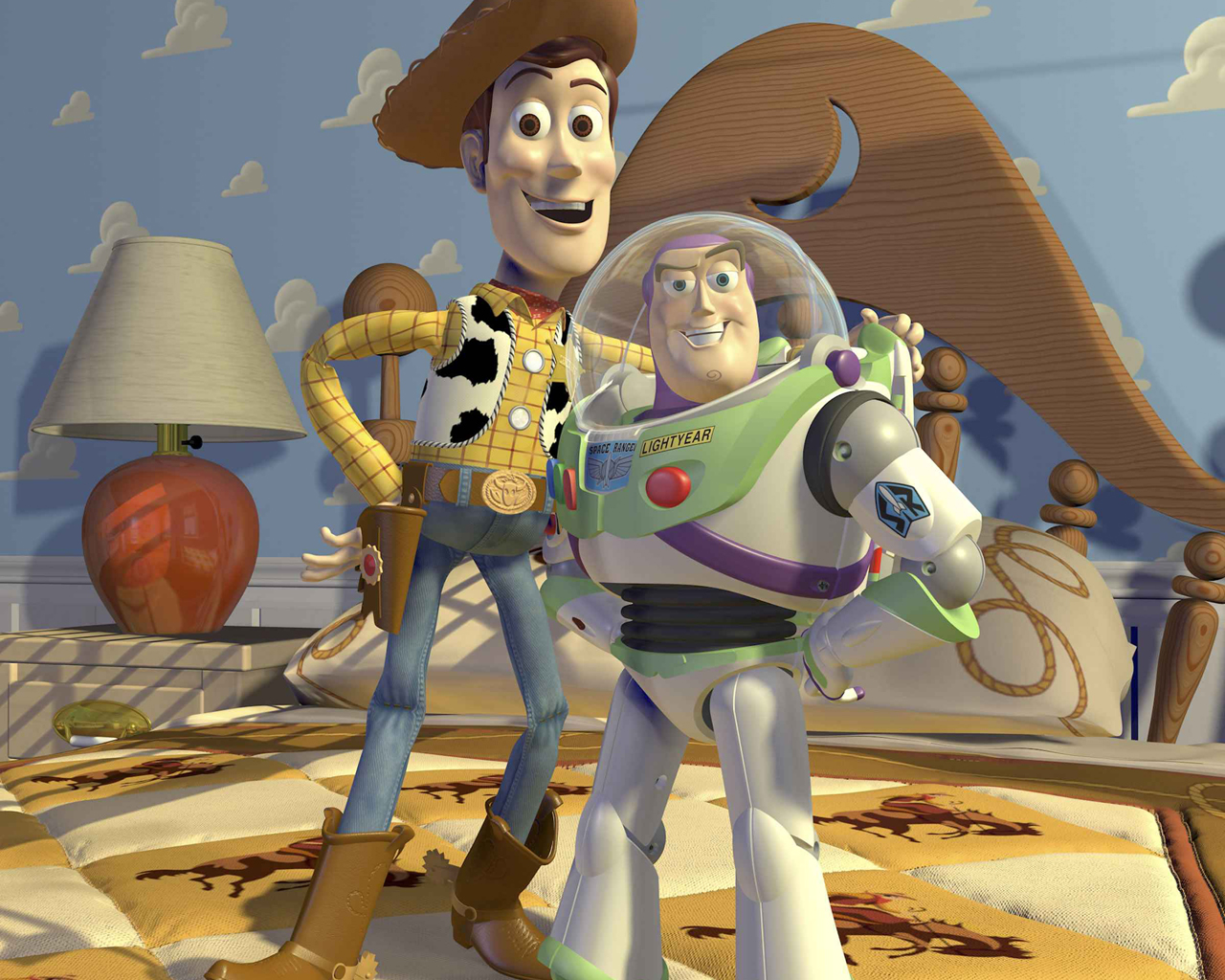 Toy Story 3 (G) Yet another fantastic piece of work from Pixar. When their now-grown owner heads off to college, Woody and Buzz (voiced by Tom Hanks and Tim Allen) and the other toys are accidentally shipped off to a local day care center, where the toys are run by a strawberry-scented teddy bear (voiced by Ned Beatty) who acts like a cruel warden. The filmmakers turn this into a prison-break movie but cut the action with just the right amount of cutesy humor. Esoteric references abound, and the script includes a deliriously funny encounter between Barbie (voiced by Jodi Benson) and a morally shady clotheshorse Ken (voiced by Michael Keaton) among its wealth of rich comic material. Additional voices by Joan Cusack, Don Rickles, Wallace Shawn, John Ratzenberger, Estelle Harris, John Morris, Blake Clark, Teddy Newton, Bud Luckey, Javier Fernández Peña, Kristen Schaal, Jeff Garlin, Bonnie Hunt, Timothy Dalton, Whoopi Goldberg, and R. Lee Ermey.
The Twilight Saga: Eclipse (PG-13) The best one so far, for what that's worth. Bella Swan (Kristen Stewart) is targeted by a vengeful vampire (Bryce Dallas Howard) with an army of new vampires, so her two boyfriends (Robert Pattinson and Taylor Lautner) have to team up to save her. There's less static here than in the previous Twilight films, but there's still too much, and the romance stubbornly refuses to spark. Still, the script has its moments of insight and wit, and the movie is blessedly unafraid to lighten up every once in a while. The series still needs improvement, but it's headed in an encouraging direction. Also with Xavier Samuel, Billy Burke, Jackson Rathbone, Ashley Greene, Nikki Reed, Kellan Lutz, Elizabeth Reaser, Peter Facinelli, Julia Jones, Gil Birmingham, Jodelle Ferland, Cameron Bright, Dakota Fanning, and Anna Kendrick.
DALLAS EXCLUSIVES:
Agora (NR) This historical epic by Alejandro Amenábar (The Others) stars Rachel Weisz as a philosopher in 4th-century Egypt whose country is violently taken over by Christians. Also with Max Minghella, Oscar Isaac, Ashraf Barhom, Michael Lonsdale, Rupert Evans, and Homayoun Ershadi.
The Dry Land (R) Ryan O'Nan stars in this drama as an American soldier struggling to readjust to civilian life back home in Texas. Also with America Ferrera, Wilmer Valderrama, Melissa Leo, Jason Ritter, Ethan Suplee, Ana Claudia Talancón, and Barry Shabaka Henley.
The Girl Who Played With Fire (R) The sequel to The Girl With the Dragon Tattoo stars Michael Nyqvist as a Swedish journalist who finds his investigative partner (Noomi Rapace) the accused party in a high-profile murder case. Also with Lena Endre, Sofia Ledarp, Peter Andersson, Georgi Staykov, Yasmine Garbi, Mikael Spreitz, Tehilla Blad, and Michalis Koutsogiannakis.
I Am Love (R) Luca Guadagnino's romance stars Tilda Swinton as a Russian emigré in turn-of-the-century Italy who embarks on a tragic adulterous love affair. Also with Flavio Parenti, Edoardo Gabriellini, Alba Rohrwacher, Pippo Delbonno, Waris Ahluwalia, and Marisa Berenson.
The Killer Inside Me (R) Michael Winterbottom's adaptation of Jim Thompson's novel stars Casey Affleck as a sheriff's deputy who is revealed to be behind a string of psychopathic murders in West Texas in the 1950s. Also with Kate Hudson, Jessica Alba, Ned Beatty, Elias Koteas, Tom Bower, Bill Pullman, Brent Briscoe, and Simon Baker.
Kisses (NR) Lance Daly's film about two troubled 13-year-old Irish kids (Shane Curry and Kelly O'Neill) who spend one night away from home on the streets of Dublin. Also with Paul Roe and Neilí Conroy.
The Nature of Existence (NR) Roger Nygard's documentary about comparative religion.
9500 Liberty (NR) Eric Byler and Annabel Park's documentary shows the effects of a strict new anti-immigration law on the residents of Prince William County, Va.
Restrepo (R) Tim Hetherington and Sebastian Junger's documentary spends one year with a platoon of U.S. Army soldiers trying to establish an outpost in a heavily contested valley in Afghanistan.
South of the Border (NR) Oliver Stone's documentary portrait of seven Latin American leaders, including Raúl Castro, Hugo Chávez, Cristina Fernández de Kirchner, Evo Morales, and Luiz Inácio Lula da Silva.