"It's just unreal," said Adrian Santiago as we talked about the upcoming DVD release of his micro-budget film Grim. "Since we finished, it all feels like it's been happening to somebody else."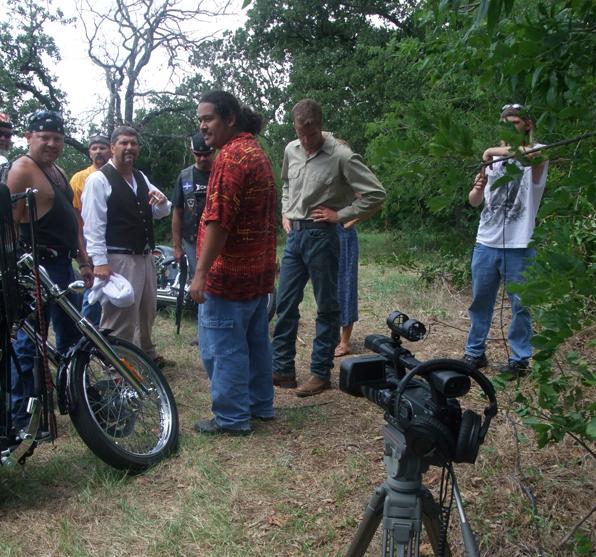 The 26-year-old Arlington resident wanted to make movies ever since he was a child growing up in Grand Prairie. "The better times I had with my family were all about watching movies," he said, citing 1980s action flicks like Predator as a formative influence. (He had just seen The Expendables the day before our interview, and he was raving about it.) Though he got his degree from the American Broadcasting School in Arlington with an eye toward a future in the radio industry, he found himself working more and more in local film productions as a crew member, as well as background extra work on TV's Prison Break and other mainstream gigs. He also worked on three separate short films (including his own) for the now-defunct Fox TV show On the Lot, and spent one semester teaching a guerrilla film course in Dubai in 2008, which he recalled as "one hundred degrees at night, and it's right on the coast, so it's really muggy." On a deeper note, he was struck by the disparity between rich and poor there, many of the latter immigrants from Pakistan.
Grim is Santiago's first feature film. He did it through his production company, Project Black Studios. (Interesting fact: He bought the domain name as a teenager and used the site to host video games for his high-school friends. Only four years ago did he start using it to make films.) The movie, which takes its title from the main character's last name, was shot in 12 days last summer in Joshua, on the property of lead actor Christopher Dimock. The post-apocalyptic thriller was inspired by, of all things, Santiago's breakup with his girlfriend. "I was angry and depressed and watching a lot of TV news," said Santiago. "I wrote from that place."
The filming featured daytime shoots in scorching summer weather and a gladiator scene filmed in an old barn where everything kicked up dust made from pulverized rat droppings. It also featured a shootout with dozens of bikers firing off guns, something facilitated by the fact that the filming location was on private property and outside city limits. "We bought three kinds of gun blanks, and then we told these guys to bring just the types of guns that fit those blanks," said Santiago, who found the extras as friends of friends. The resulting movie looks far more expensive than its minuscule budget of $2,500, as Santiago pulled strings to keep expenses low. "When you work for free for four years, you acquire a lot of favors," said the filmmaker.
This past spring, Santiago was astonished to receive a call from Troma Entertainment, the B-movie production and distribution company legendary for such titles as Surf Nazis Must Die and Sgt. Kabukiman, N.Y.P.D. He had sent a copy of Grim to the firm two months before, expecting nothing to come of it. Instead, Troma wanted to put it out on disc. The scheduled date for availability on Amazon is Sept. 28, and Santiago hopes to see it on Netflix by year's end, with talks for possible Blu-Ray and foreign distribution in progress. So far there hasn't been any money up front, but Santiago points out that the distribution costs being picked up by Troma already outweigh the movie's budget and that he'll see money once the movie starts to sell. He's eager to at least break even, having financed the film himself. His only current source of income is part-time tech support work.
So far he hasn't yet settled on his next project, though he's toying with the idea of a Mafia film based on the short he did for On the Lot. He hopes to someday make an action thriller as awesome as the ones that enthralled him in his youth. "If I can get there just once, that'd be so cool."