From 9 p.m. to 4 a.m. on Friday at the Where House (2510 Hemphill St. on the South Side), the Funkytown Fall Festival will take place, featuring (in order of appearance) Goodwin, Sally Majestic, KatsüK, Spoonfed Tribe, and Pablo and the Hemphill 7, with DJ Apogee spinning between bands and with imagery projected on the walls "rave-style," according to festival co-organizer Daniel Katsük, throughout the evening (and early morning: note the end time).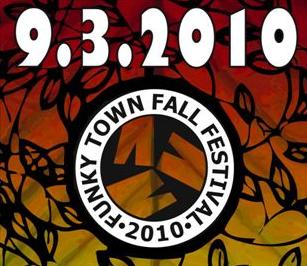 The event planners hope to put on a Funkytown Fall Festival every year. "It is a celebration of this vibrant scene and those who keep it alive by coming out and supporting their local artists," Katsük said. All of the bands are Fort Worth/817 stalwarts –– maybe next year's festival will include some young blood –– and all have shared stages before but not in such a party-friendly atmosphere. The Where House, according to founder Casey Smith, was created to cater to performers rather than just make money, and if recent Where House get-togethers are any indication, 2510 Hemphill has become like the respected 1919 Hemphill but for drinkers. (The Where House is BYOB.) Cover charge for the inaugural Funkytown Fall Festival is $12.
Clearly, the thing to do on Friday before heading over to the Where House is to pay a visit to Magnolia Green Park, also on the South Side (at the 1100 block of Lipscomb Street between Rosedale Street and West Magnolia Avenue), where Josh Weathers and the True+Endeavors will perform as part of Fort Worth South Inc.'s and the Weekly's free monthly outdoor concert series, First Friday on the Green. The music gets going at 7 p.m. Bring blankets and lawn chairs, but leave the coolers at home –– there'll be food and beverages for sale.
A new recording is on the way from a band that came on like gangbusters a couple of years ago and then kinda disappeared. JJ & the Rogues have just finished revamping, rebuilding, and reorganizing their home studio space and have been laying down tracks for a fall release. Two songs, "Staredown" and "Nothing Here Worth Staying For," will be featured as singles –– the band says the latter has a Costello/Petty/Orbison vibe. Cool. The band also got the rights to cover a song by Dr. Dog and may do a full album next year. Until then, JJ & the Rogues intend to play shows around Texas. Be sure and catch 'em.
Fort Worth Music Outreach, the educational arm of the Fort Worth Music Co-Op, presents the inaugural Guitar Club on Sunday, Sept. 12, at 6:30 p.m. at 911 S. Main St. on the South Side. A group lesson will be followed by a jam session open to all skill levels and directed by a pro guitarist. Six- and four-stringed donations will also be accepted. They will be used to help teach aspiring young Fort Worth musicians. The Guitar Club is ideal for developing guitarists and also pros looking to lend a hand. Frequency of the sessions will depend on the level of interest.
Contact HearSay at hearsay@fwweekly.com.