Just to let you know, this is another column about the White Elephant and Lola's Saloon. I know I write about both of these bars a lot, and I also know there are plenty of other places in town to talk about. Thing is, all those other places will be around next week and presumably the week after that. The Australian chicks I met on Friday night, however, were in town for one night only.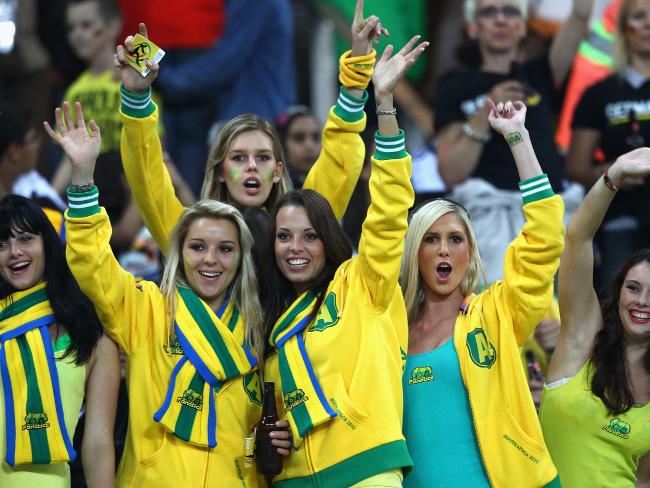 The only plan I had was to check out Bravo Zulu's debut at Lola's. That wasn't until midnight, and I napped until 10. Former metal head-turned-honkytonk hero Cody Jinks was going on at the White Elephant at 11 p.m., so that's where I started out. Quaker City Nighthawks' Sam Anderson had opened the show; I figured I'd drink some beers with him, watch Cody and the White Elephant crowd for a bit, and then head to the West 7th corridor for the rest of the night.
The White Elephant was packed, and people were drunk. Cody was covering a Merle Haggard song, and Sam was seated at a table wearing a bewildered expression. That's about when I noticed a curly-haired blonde and a tattooed, short-haired brunette nearby. The former looked like Joan Osborne if Joan Osborne were a "sk8er chick," and the latter looked like Katy Perry if Katy Perry were a stripper. It turned out that the brunette actually was a stripper.
She shook my hand and said, "I'm Ellie, and she's Shelly." I repeated their names; Ellie corrected me. Apparently, Ellie is Australian for Allie, and this gaffe was the first of several phonetic misunderstandings. The pair came from Brisbane, had known each other for 12 years, and had been traveling together for eight months. Shelly went to the bar; Allie told me that her friend was "skeeving," whatever that meant. I had no way of knowing for sure — sober Australians probably aren't too hard to understand, but drunk Aussie strippers need closed captioning. Allie made me down a shot of Cuervo, my least favorite drink.
Now, I've never been to Australia, but given that it was settled by a bunch of wildass convicts, I kind of figured the whole country was just like Texas and figured it drank like Texas too. Furthermore, I'll be damned if I'll let an Aussie call me a wuss, so I upped the ante and replied with a round of whiskey. Allie folded, so I had to take two shots instead of one. It was just as well. The bar was so packed that getting a beer was nearly impossible.
I later asked her how they ended up in Fort Worth in general and the White Elephant in particular. Predictably, they were staying in Dallas for a few days, and the guidebooks or whatever said the White Elephant was a must-see. I didn't deny that the White Elephant was arguably crucial to a foreigner's Fort Worth experience, but I offered to take them elsewhere for a more comprehensive impression. That's when things got strange. And loud.
Allie claimed that she wasn't drinking too much, though she could've fooled me, given her slushly pronunciation of sibilants. I suggested going to Lola's. Shelly thought this was a great idea, but Allie would have none of it. That difference of opinion turned into a shouting match, so Sam and I got up to go hang out with Cody, who, thankfully, was on break. However, he had disappeared. We walked around the block looking for him, finding instead a couple of gals busking in front of an open guitar case at the corner of Main and Exchange. I asked them if they were from another country. When Shelly and Allie bolted out of the White Elephant screaming at each other, the two busking ladies understood why I asked.
Allie had already called a cab and shot Shelly the finger when Shelly said she would get her own. I took Shelly to Lola's, and she bought me a High Life. I watched the band as Shelly ran around snapping photos of everyone at the show, including a man and a woman in the midst of a spirited couplefight — if I had to guess, drama probably followed her around everywhere she went. When she finally got in a cab and left, I was kind of glad I didn't get to test this theory further. –– Steve Steward
Contact Last Call at lastcall@fwweekly.com.