If nothing else, The American is an antidote to movies like Eat Pray Love, Letters to Juliet, and others in which Americans travel to Italy to rediscover their zest for life. George Clooney portrays the title character, a man living under the alias of Edward Clarke, though he picks up the nickname "Signor Farfalla" for the butterfly tattoo on his upper back. He has killed people — a prologue sequence set in Sweden shows him coldly putting a bullet in the back of his girlfriend of the moment — but he's not an assassin by trade.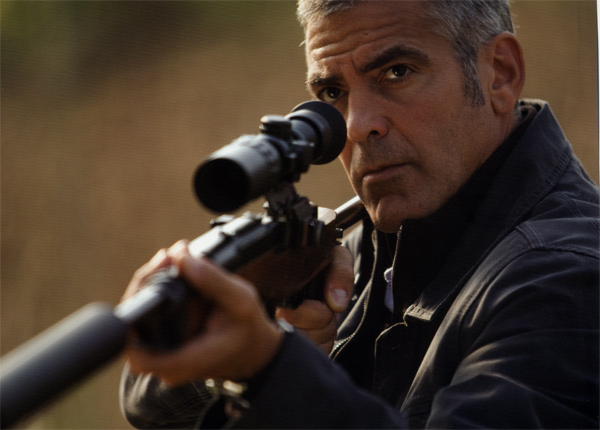 Instead, he subcontracts for contract killers, custom-designing and manufacturing guns to fit their specifications. After the Swedish business goes sour, he holes up in a small village in the Abruzzo region of Italy, lying low while making a submachine gun for a beauteous hit woman (a memorably icy turn by Dutch actress Thekla Reuten). Even this peaceful and secluded place harbors shadowy enemies who aim to make this his last job.
This is the second film by Anton Corbijn, the Dutchman celebrated as a photographer and director of music videos. His jeweler's eye for detail and atmosphere serves him well in those other media, and here he and cinematographer Martin Ruhe determinedly film the Italian scenery in a chilly manner that renders the sunlight harsh instead of welcoming. Visuals aside, Corbijn is still trying to get a handle on cinematic elements like pacing and tone. The chase scene with a Vespa-riding Clarke/Farfalla pursuing a killer in a car unfolds fluidly, but the director still fails to inject any excitement into the drama's monotone. Just as he did with his 2007 debut Control (a music bio about Ian Curtis and Joy Division), Corbijn directs this movie with so much austerity that it squeezes out any thrills or emotional investment in the characters.
Adapting Martin Booth's novel A Very Private Gentleman, screenwriter Rowan Joffe gets rid of the author's droning first-person narration and rings enough changes to the story to pack surprises for moviegoers who've read the book. Despite those improvements, he can't paper over the flaws from the source, the cheap and overly tidy dramatic ironies and the tritely conceived supporting characters like the prostitute (Violante Placido) who falls for Clarke/Farfalla or the village priest (Paolo Bonacelli) who sees into the guy's soul. Without the novel's admittedly tiresome philosophizing about death and history, the main character is a cipher who gives Clooney nothing to play. The actor spends most of his screen time scowling with all his might, but we're missing the coiled self-loathing that made his similar performance in Michael Clayton so mesmerizing. Grim and joyless, this performance is Clooney's least interesting work since Ocean's Twelve.
The director fits the main character much better than the star does. The American could have been directed by Clarke/Farfalla himself. It's spartan, perfectionistic, ruthlessly craftsmanlike, cautious to a fault, full of aesthetically pleasing shots and visual compositions. It's also as dry as the Italian countryside after a monthlong drought, and much like the gunsmith for hire, it's a brooding bore.
The American
Starring George Clooney and Violante Placido. Directed by Anton Corbijn. Written by Rowan Joffe, based on Martin Booth's novel. Rated R.