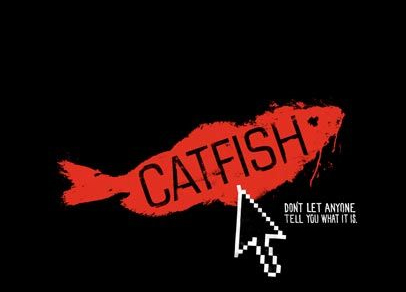 OPENING:
Catfish (PG-13) Henry Joost and Ariel Schulman's possibly staged documentary about Nev Schulman and his attempts to date a woman he met on the internet who may not be what she claims to be. Also with Rel Schulman and Megan Faccio. (Opens Friday in Dallas)


Heartbreaker (NR) Romain Duris stars in this French comedy as a man who's hired to break up the impending marriage of a rich man's daughter (Vanessa Paradis). Also with Julie Ferrier, François Damiens, Héléna Noguera, Jacques Frantz, and Andrew Lincoln. (Opens Friday in Dallas)
Like Dandelion Dust (PG-13) Mira Sorvino and Barry Pepper star in this Christian-themed drama as a working-class couple who try to regain custody of a child (Maxwell Perry Cotton) who's already been adopted by someone else. Also with Cole Hauser, Kate Levering, and L. Scott Caldwell. (Opens Friday at AMC Parks at Arlington)
Never Let Me Go (R) Mark Romanek (One Hour Photo) adapts Kazuo Ishiguro's novel about an English schoolgirl (Carey Mulligan) who realizes that she and her fellow students are clones who have been farmed to donate their vital organs to the world's population. Also with Keira Knightley, Andrew Garfield, Sally Hawkins, Nathalie Richard, and Charlotte Rampling. (Opens Friday in Dallas)
The Virginity Hit (R) Huck Botko and Andrew Gurland, screenwriters of The Last Exorcism, write and direct this documentary-style comedy about a teenager (Matt Bennett) whose friends try to get him his first sexual experience. Also with Zack Pearlman, Jacob Davich, Justin Kline, Krysta Rodriguez, Nicole Weaver, and Harry Zittel. (Opens Friday)
You Again (PG) Kristen Bell stars in this comedy as a woman who discovers that her brother's new fiancée (Odette Yustman) is the same girl who used to torment her in high school. Also with Jamie Lee Curtis, Sigourney Weaver, James Wolk, Victor Garber, Kristin Chenoweth, Patrick Duffy, and Betty White. (Opens Friday)
Alpha and Omega (PG) This undistinguished animated film is about a female wolfpack leader-in-waiting (voiced by Hayden Panettiere) and a slacker male wolf from the same pack (voiced by Justin Long) who have to help each other get back home after they're captured by the park service and relocated to another park far away. There's nothing terrible about this (except possibly the musical howling sequences). Yet even with a fairly good chase sequence with angry bears, there's nothing worth going out of one's way for. Additional voices by Danny Glover, Larry Miller, Vicki Lewis, Eric Price, Chris Carmack, Christina Ricci, and the late Dennis Hopper.
The American (R) George Clooney scowls with all his might in this dry-as-dust thriller about a cautious and ruthlessly craftsmanlike gunsmith who subcontracts for contract killers, lying low in Italy while working on a job that may be his last. Director Anton Corbijn displays a jeweler's eye for detail, but his austere direction squeezes out any thrills and fails to paper over the cheap dramatic ironies and stock characters. The movie is so spartan and perfectionist that it could have been directed by its main character, a brooding bore. Also with Violante Placido, Thekla Reuten, Paolo Bonacelli, Johan Leysen, and Filippo Timi.
Despicable Me (PG) Slight but agreeable animated film features Steve Carell voicing a wannabe supervillain named Gru who adopts three unwanted girls from an orphanage (voiced by Miranda Cosgrove, Elsie Fisher, and Dana Gaier) to help him gain access to a rival villain and ultimately steal the moon from the sky. The girls help Gru get in touch with his feelings, and it's thankfully not anywhere near as mushy as it could have been. Gru's chattering yellow minions are a terrific comic creation, but there's not enough good material to go around for them and a great supporting voice cast. The closing credit sequence uses 3-D better than any other recent film. Additional voices by Jason Segel, Russell Brand, Kristen Wiig, Will Arnett, Danny McBride, Jack McBrayer, Mindy Kaling, and Julie Andrews.
Devil (PG-13) This creaky parable about sin and forgiveness is dressed up as a supernatural thriller about a Philadelphia homicide cop (Chris Messina) who watches via a security camera as five passengers trapped in a skyscraper's elevator (Geoffrey Arend, Logan Marshall-Green, Bojana Novakovic, Jenny O'Hara, and Bokeem Woodbine) are mysteriously killed off one at a time by an unseen force. One of the passengers turns out to be a demon — if not Satan him/herself — whose methods are revealed by an insulting stereotype of a religious Latino security guard (Jacob Vargas). Forget the elevator car, it's the theology in this movie that's really confining. Also with Matt Craven, Joshua Peace, Joe Cobden, and Caroline Dhavernas.
Easy A (PG-13) Emma Stone's easy aptitude for charm and comedy carries this comedy. She portrays a virginal high-school student who lies to her fellow students about having sex, initially to impress her best friend (Aly Michalka), then to keep her gay friend (Dan Byrd) from being harassed, and finally to change her own wallflower reputation. The high-powered supporting cast is lively, the script goes to some surprising places, and director Will Gluck's comic timing is pretty well on. However, it's the spunky, sparky, sarcastically knowing Stone and her infectious sense of fun that carry this show. Watch for the musical number at a pep rally. Also with Penn Badgley, Patricia Clarkson, Stanley Tucci, Amanda Bynes, Malcolm McDowell, Cam Gigandet, Fred Armisen, Lisa Kudrow, and Thomas Haden Church.
---
Eat Pray Love (PG-13) A beautifully photographed travelogue and very little else. Julia Roberts stars in this adaptation of Elizabeth Gilbert's memoir about a New York writer fleeing broken relationships by traveling to Italy, India, and Indonesia to find inner peace. Cinematographer Robert Richardson films it all lusciously, and the climactic scene on a beach is phenomenally acted by Roberts and Javier Bardem. The rest of it is crap, because director/co-writer Ryan Murphy (
Running With Scissors
) captures Gilbert's blinkered self-absorption without her self-deprecating sense of humor. You're better off watching the Food Channel for a couple of hours. Also with James Franco, Viola Davis, Hadi Subiyanto, Luca Argentero, Tuva Novotny, Rushita Singh, Christine Hakim, Mike O'Malley, Billy Crudup, and Richard Jenkins.
The Expendables (R) Delivers exactly what you expect: terrible dialogue, macho posturing, shootouts and explosions, and enough testosterone flying around on screen to spatter audience members in the first few rows. Sylvester Stallone directs, co-writes, and stars in this throwback thriller as the leader of a multinational team of soldiers for hire sent to overthrow the dictator of a Latin American banana republic. The director does better with explosions than hand-to-hand combat, but the audience for this film is in it for the nostalgia and the ass-kicking by its older stars with a minimum of fuss. Also with Jason Statham, Giselle Itié, Jet Li, Mickey Rourke, Dolph Lundgren, Terry Crews, Randy Couture, Steve Austin, Charisma Carpenter, Eric Roberts, David Zayas, Gary Daniels, Bruce Willis, and Arnold Schwarzenegger.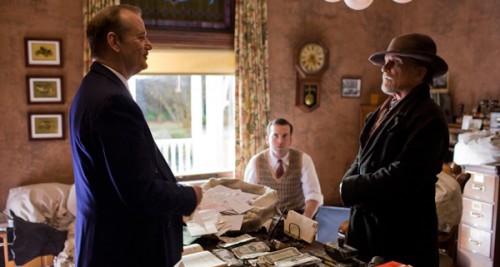 Get Low (PG-13) A useful reminder of what a magnificent actor Robert Duvall is. Here he portrays an old hermit in the Tennessee backwoods in the 1930s who enlists the help of a funeral home director (Bill Murray) to throw a funeral party for himself while he's still alive. There really isn't enough material to fill the movie's 100-minute running time, and you can pretty much tell how everything will go: sepia tones on the screen, fiddle and banjo music on the soundtrack, a long-buried secret in the main character's past. Yet the film is exquisitely photographed by David Boyd, and Duvall's delivery of the climactic monologue is a marvel. He's worth seeing all on his own. Also with Sissy Spacek, Lucas Black, Scott Cooper, Bill Cobbs, and Gerald McRaney.
Going the Distance (R) Drew Barrymore and Justin Long star in this comedy as a New York couple who hook up with each other six weeks before she moves permanently to San Francisco to finish grad school. The script is surprisingly serious in its treatment of the challenges of maintaining a long-distance relationship, but it doesn't come up with anything particularly insightful. The leads — despite being a real-life couple — can't make us care about their predicament. The bursts of raunchy humor and Christina Applegate's expert performance as Barrymore's protective older sister don't make this movie worth seeking out, but they save it from being completely forgettable. Also with Charlie Day, Jason Sudeikis, Ron Livingston, Jim Gaffigan, Kelli Garner, Rob Riggle, Sarah Burns, and Leighton Meester.
Inception (PG-13) One of the trippiest summer blockbusters in recent memory, this big brain-teaser stars Leonardo DiCaprio as the leader of a team of corporate spies who have to plant a self-destructive idea in the head of an heir (Cillian Murphy) by breaking into his dreams. Writer-director Christopher Nolan (The Dark Knight) enhances the movie's dreamscapes by twisting real locations into M.C. Escher-like tableaux, while cinematographer Wally Pfister and production designer Guy Hendrix Dyas make it all look elegant and beautiful. Nolan may have outsmarted himself here — the hero's struggles to let go of his dead wife (Marion Cotillard) don't pull the emotional weight that they should. Nevertheless, the movie sends you tumbling down a fascinating rabbit hole. Also with Ellen Page, Joseph Gordon-Levitt, Tom Hardy, Ken Watanabe, Dileep Rao, Tom Berenger, Lukas Haas, Pete Postlethwaite, and Michael Caine.
The Last Exorcism (PG-13) The most terrifying movie in a while. Patrick Fabian plays a former charlatan who makes a living debunking exorcisms until he runs across a Louisiana family whose teenage daughter (Ashley Bell) has a real demon inside her. Director Daniel Stamm makes good use of the cinema-vérité approach, building slowly and taking time introducing us to the characters. The performances are terrific, but the most impressive thing is how scary this movie is while earning only a PG-13 rating. Also with Louis Herthum, Iris Bahr, and Caleb Landry Jones. — Cole Williams
Lottery Ticket (PG-13) Rap star Bow Wow stars in this comedy as a young man from the projects who draws a lottery ticket worth $370 million and then has to spend three days fending off neighbors and thugs before he claims the money. There's not much memorable here, just some preachiness about how the main character should be doing something worthy with the money that moderately harshes the comedy buzz, and one well-played blow-up with his best friend (Brandon T. Jackson) over the stress. All in all, the entertainment here offers slightly better value than scratch-off tickets. Also with Loretta Devine, Naturi Naughton, Keith David, Terry Crews, Charlie Murphy, Mike Epps, Bill Bellamy, Gbenga Akinnagbe, Ice Cube, and an uncredited T-Pain.
Machete (R) A Latino version of the blaxploitation films of the 1970s, Robert Rodriguez' latest stars Danny Trejo as an honest Mexican federale who becomes caught up in a vast conspiracy involving an anti-immigrant state senator (Robert De Niro), a militia group, and a drug lord (Steven Seagal!). The movie dances all over the line between straight-up exploitation and genre parody, and Rodriguez (we're getting the Rodriguez of Desperado and Once Upon a Time in Mexico) doesn't always do it deftly. The movie's best at playing illegal immigration and Latin ambience for laughs. While it has some flashes of good satire, it mainly just detonates a canister of laughing gas. Also with Jessica Alba, Michelle Rodriguez, Jeff Fahey, Don Johnson, Cheech Marin, Shea Whigham, Daryl Sabara, and Lindsay Lohan.
Nanny McPhee Returns (PG) And her sequel is about a thousand times worse than the original. Emma Thompson reprises her role as the magically empowered British nanny, who pops up to help an overwhelmed young mother (Maggie Gyllenhaal) keep her farm while the husband is off fighting in World War II, leaving her to raise her three kids plus a city-bred nephew and niece. The overacting is pretty ferocious here, with the adult performers worse offenders than the kids. The scenes take place in no particular order, switching haphazardly between grim pathos involving the war and cutesy comedy like a synchronized swimming scene with pigs. It's all horribly offensive. Also with Oscar Steer, Asa Butterfield, Lil Woods, Eros Vlahos, Rosie Taylor-Ritson, Rhys Ifans, Maggie Smith, Ralph Fiennes, and Ewan McGregor.
---
The Other Guys (PG-13) On a scale of Will Ferrell-Adam McKay comedies, this isn't as good as
Talladega Nights
, but it's way better than
Step Brothers
. Ferrell plays a forensic accountant who teams up with a disgraced NYPD detective (Mark Wahlberg) to solve a series of murders connected with financial fraud. The laughs fall off considerably in the second half, but neither Wahlberg nor Eva Mendes (as the accountant's improbably hot wife) have ever been funnier onscreen, and there are some great set pieces like a brawl conducted in whispers and an exchange about the winner of a hypothetical lion vs. tuna fight. Stay for the closing credits, which feature animated graphics explaining the 2008 financial crisis. Also with Samuel L. Jackson, Dwayne Johnson, Steve Coogan, Damon Wayans Jr., Rob Riggle, Bobby Cannavale, Lindsay Sloane, Ray Stevenson, Michael Keaton, and an uncredited Anne Heche.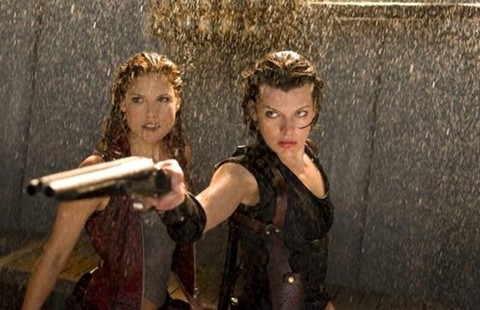 Resident Evil: Afterlife (R) If you've seen any zombie movies at all, this one doesn't show you anything new. Paul W.S. Anderson re-teams with Milla Jovovich, who leads a group of prisoners out of a zombified L.A. to a zombie-free paradise. The filmmakers waste the premise of Alice clones left over from the last installment in favor of a suspenseless setup and uninventive throwing-things-at-the-3D-camera action. It all turns out extremely mediocre. Save your money for the video games. Also with Kim Coates, Shawn Roberts, Sergio Peris-Mencheta, Spencer Locke, Sienna Guillory, Boris Kodjoe, and Wentworth Miller.
The Switch (PG-13) Actually worse than you'd think. Jason Bateman plays a neurotic bachelor who drunkenly ruins the sperm sample that his best friend (Jennifer Aniston) wanted to use to get pregnant, secretly substitutes his own sperm for the sample, and then forgets about it until seven years later, when she drops back into his life with their son (Thomas Robinson), who now exhibits all of his dad's neuroses. The two leads play the material flawlessly, which only points out the weakness of the material and the myriad implications in the premise that haven't been thought through. Hard to believe this is based on a short story by Jeffrey Eugenides. Also with Patrick Wilson, Jeff Goldblum, Todd Louiso, and Juliette Lewis.
Takers (PG-13) Hey, look! This heist movie features a couple of real-life criminals in the cast! Idris Elba plays the ringleader of a group of bank and armored car robbers who are roped into doing a huge job for a former colleague (T.I.) who just got out of prison. There's too much attention paid to the personal lives of the criminals and the pursuing cops, but the action sequences are pretty slick, including a foot chase with Chris Brown doing some parkour leaps and a shootout in adjoining hotel rooms. They make this into a serviceable genre picture. Also with Paul Walker, Matt Dillon, Hayden Christensen, Michael Ealy, Jay Hernandez, Johnathon Schaech, Marianne Jean-Baptiste, Nick Turturro, Steve Harris, and Zoe Saldana.
The Town (R) Ben Affleck might be a major filmmaker-in-waiting. He directs, co-writes, and stars in this crime thriller as the brains behind a gang of Boston bank robbers who tries to get out after falling for a bank manager (Rebecca Hall) who was taken hostage on a previous job. Adapted from Chuck Hogan's novel Prince of Thieves, this taut, streamlined film improves on its source considerably. The role calls for Affleck to project self-loathing and disappointment, which he does quite well. He skillfully incorporates comic relief into the script and pays as much attention to character development and his fellow actors' performances as he does to the action set pieces, which he directs with flair and assurance. This is Michael Mann territory, and Affleck looks completely at home in it. Also with Jon Hamm, Jeremy Renner, Blake Lively, Slaine, Owen Burke, Titus Welliver, Pete Postlethwaite, and Chris Cooper.
DALLAS EXCLUSIVES:
The Extra Man (R) Kevin Kline stars in this comedy by Robert Pulcini and Shari Springer Berman (American Splendor) as a failed playwright-turned-social escort to wealthy New Yorkers who mentors an aspiring playwright (Paul Dano). Adapted from Jonathan Ames' novel. Also with Katie Holmes, Dan Hedaya, Patti D'Arbanville, Lynn Cohen, Celia Weston, Marian Seldes, Alicia Goranson, and John C. Reilly.
Flipped (PG) Rob Reiner adapts Wendelin van Draanen's novel, giving alternating viewpoints on the story of a boy and girl (Callan McAuliffe and Madeline Carroll) who fall in love in the 1950s. Also with Anthony Edwards, Penelope Ann Miller, John Mahoney, Rebecca De Mornay, and Aidan Quinn.
Mao's Last Dancer (PG) Bruce Beresford's adaptation of Li Cunxin's autobiography tells the story of the poor Chinese villager-turned-ballet star (Cao Chi) who defected to the United States in the 1970s after falling in love with an American woman. Also with Bruce Greenwood, Kyle MacLachlan, Amanda Schull, Guo Chengwu, Huang Wen Bin, and Joan Chen.