Let the drooling begin among Fort Worth history buffs. Amon G. Carter's personal poker table is one of the prized items with early Fort Worth connections that will be auctioned this weekend in the Stockyards. For years, Western memorabilia collectors Jarrell and Brenda McDonald have stocked their stores — the Cross-Eyed Moose and the Bum Steer — with saddles, stuffed heads, handmade furniture, spurs, cowboy boots, and other bits of early Americana. Along
the way, they cram-packed their house with an even more extensive private collection. Jarrell, a longtime Fort Worth guy, has spent decades snatching up Cowtown collectibles.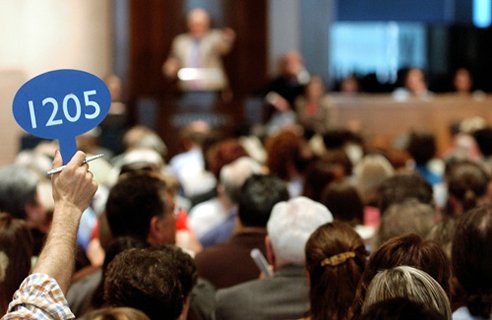 As any good collector can attest, the thrill is in the chase. The McDonalds scour the country in a pickup pulling a trailer. They hit flea markets, auctions, garage sales, antique stores, and other places to find cool stuff. Then they haul it back to town and put it in their house or shops.
Alas, they've run out of room. "We got to where we couldn't buy any art or furniture — we didn't have any place to put it," Jarrell said.
As a result, the couple is holding a two-day auction without reserves, with the intent of selling everything and starting over. "No, we are not quitting the business, getting divorced, or dying," Brenda said. "We are going to sell out and go shopping."
Topping the list of auction items is that poker table, built for Carter by Fort Worth's most famous furniture maker, August Brandt. The German immigrant's company was noted for its A. Brandt Ranch Oak furniture in the 1940s and 1950s. Before then, however, he made custom oak furniture for local bigwigs such as Carter. The McDonalds bought the poker table in 1998 from one of Carter's former employees. The green felt on the tabletop wasn't replaced and still has stains from long-ago games. Jarrell can't say for sure who tossed cards at Carter's table, but points out that the "DuPonts, Goodyears, Franklin D. Roosevelt, and Will Rogers were friends of his."
Other Fort Worth-related items to be sold include a stuffed buffalo head that hung for three decades in the Cowtown Coliseum, rodeo banners from Will Rogers Coliseum, a stuffed longhorn head from the Backstage Club, vintage Stockyards photographs, advertising memorabilia from local businesses, and original paintings by some of the city's early but unheralded artists.
The auction begins at 10 a.m. Saturday and continues on Sunday at 2340 N. Main St. in the Stockyards near the Cross-Eyed Moose. See Blotch for more information.