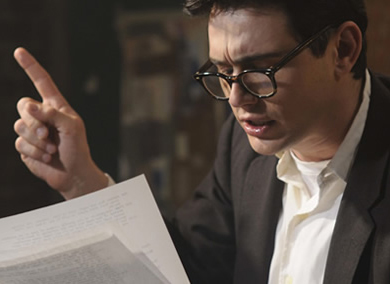 OPENING:
Howl (NR) James Franco stars in this dramatized account of the obscenity trial of Allen Ginsberg following publication of his 1957 poem. Also with Jon Hamm, Mary-Louise Parker, Jeff Daniels, Alessandro Nivola, Treat Williams, Bob Balaban, and David Strathairn. (Opens Friday in Dallas)


Conviction (R) Hilary Swank stars in this drama as Betty Anne Waters, the real-life high-school dropout who became a lawyer and freed her brother after he was wrongly convicted of murder. Also with Sam Rockwell, Minnie Driver, Melissa Leo, Loren Dean, Ari Graynor, Clea DuVall, Peter Gallagher, and Juliette Lewis. (Opens Friday in Dallas)
Paranormal Activity 2 (R) The sequel to last year's sleeper horror hit is about a family who monitors their security feed after a series of apparent break-ins at their house. (Opens Friday)
Soul Kitchen (NR) This comedy by Fatih Akin (Head-On, The Edge of Heaven) stars Adam Bousdoukos as a German-Greek chef trying to save his restaurant in Hamburg. Also with Moritz Bleibtreu, Birol Ünel, Pheline Roggan, Wotan Milke Möhring, Anna Bederke, Demir Gökgöl, and Udo Kier. (Opens Friday in Dallas)
Stone (R) Edward Norton stars in this thriller as an arsonist who tries to use his wife (Milla Jovovich) to secure early release from a parole officer (Robert De Niro). Also with Frances Conroy, Enver Gjokaj, Pepper Binkley, and Rachel Loiselle. (Opens Friday in Dallas)
Alpha and Omega (PG) This undistinguished animated film is about a female wolfpack leader-in-waiting (voiced by Hayden Panettiere) and a slacker male wolf from the same pack (voiced by Justin Long) who have to help each other get back home after they're captured by the park service and relocated to another park far away. There's nothing terrible about this (except possibly the musical howling sequences). Yet even with a fairly good chase sequence with angry bears, there's nothing worth going out of one's way for. Additional voices by Danny Glover, Larry Miller, Vicki Lewis, Eric Price, Chris Carmack, Christina Ricci, and the late Dennis Hopper.
Buried (R) A gimmick in search of a movie. Rodrigo Cortés' thriller stars Ryan Reynolds as an American supply truck driver in Iraq who comes to after an ambush and finds himself buried alive in a coffin. The director works wonders with the lighting in this film (illuminating the inside of the box with a cigarette lighter, a cell phone, and a flashlight with two different settings at various times), but he can't do anything creative with the conceit. Worse, his political points about the Iraq war are heavy-handed and obvious. Reynolds gives it all he has, but he can't act his way out of this box. Also with Stephen Tobolowsky, Samantha Mathis, José Luis García Pérez, and Erik Palladino.
Case 39 (R) Filmed way back in 2006, this supernatural thriller finally receives its much-delayed release now, and it wasn't worth waiting for. Renée Zellweger stars as a social worker who rescues a 10-year-old girl (Jodelle Ferland) from her murderous parents and adopts her, only to discover that the girl is a demon who can persuade people to kill others or themselves. The movie starts off well enough but then turns extremely silly during a scene where somebody dies being attacked by imaginary hornets. Ferland's amateurish performance and the fake scares contribute to the overall fraudulence of this piece of junk. Also with Bradley Cooper, Callum Keith Rennie, Adrian Lester, Cynthia Stevenson, Kerry O'Malley, and Ian McShane.
Devil (PG-13) This creaky parable about sin and forgiveness is dressed up as a supernatural thriller about a Philadelphia homicide cop (Chris Messina) who watches via a security camera as five passengers trapped in a skyscraper's elevator (Geoffrey Arend, Logan Marshall-Green, Bojana Novakovic, Jenny O'Hara, and Bokeem Woodbine) are mysteriously killed off one at a time by an unseen force. One of the passengers turns out to be a demon — if not Satan him/herself — whose methods are revealed by an insulting stereotype of a religious Latino security guard (Jacob Vargas). Forget the elevator car, it's the theology in this movie that's really confining. Also with Matt Craven, Joshua Peace, Joe Cobden, and Caroline Dhavernas.
Easy A (PG-13) Emma Stone's easy aptitude for charm and comedy carries this comedy. She portrays a virginal high-school student who lies to her fellow students about having sex, initially to impress her best friend (Aly Michalka), then to keep her gay friend (Dan Byrd) from being harassed, and finally to change her own wallflower reputation. The high-powered supporting cast is lively, the script goes to some surprising places, and director Will Gluck's comic timing is pretty well on. However, it's the spunky, sparky, sarcastically knowing Stone and her infectious sense of fun that carry this show. Watch for the musical number at a pep rally. Also with Penn Badgley, Patricia Clarkson, Stanley Tucci, Amanda Bynes, Malcolm McDowell, Cam Gigandet, Fred Armisen, Lisa Kudrow, and Thomas Haden Church.
I Want Your Money (PG) Filmmaker Ray Griggs presents this op-ed movie about the dangers of Obamanomics and the superiority of Reaganomics. It makes interesting points, but it shows only the conservative view and doesn't present enough hard facts as opposed to anecdotes. And the segues featuring Griggs feel melodramatic and overplayed. CGI cartoon discussions between Reagan and Obama don't help either. The movie is strongest when letting smart, experienced people make their points rationally and even manages to show the sensible side of the Tea Party. Unfortunately, though, it's largely preaching to the choir. Starring Ray Griggs, Steve Forbes, and Newt Gingrich. –– Cole Williams
It's Kind of a Funny Story (PG-13) Zach Galifianakis gives a layered, subtle performance in this overly facile mental illness dramedy. Keir Gilchrist stars as a depressed teenager who spends five days in the psych ward of a Brooklyn hospital. Writer-directors Anna Boden and Ryan Fleck (Half Nelson) make their bid for mainstream recognition with this uncharacteristically light and conventional film, and unfortunately they wind up trivializing mental illness. Nobody in the ward seems that sick; they're just sitcom characters hovering in the background and saying crazy things. As a suicidal patient, Galifianakis alone suggests the intractability of his condition while still retaining the ability to laugh at it. If only the rest of the movie had found the same balance. Also with Emma Roberts, Lauren Graham, Jim Gaffigan, Zoë Kravitz, Jeremy Davies, Lou Myers, Bernard White, Daniel London, and Viola Davis.
---
Jackass 3-D (R) Story? Character development? Artistic ambitions? Who cares! This movie has grown men running through hallways filled with tasers! Johnny Knoxville and the boys reunite for another round of cinematic self-punishment, marking
Jackass
' 10th anniversary. You probably already know if you want to see this or not, so let's say it's not quite as hilarious as previous versions. Viewers, though, will be smiling and laughing consistently, and the gang's good humor gives the movie a fun, positive attitude. Highlights include "Beehive Tetherball" and "Sweat Cocktail," as well as a special introduction from MTV's most infamous animated duo. –– Cole Williams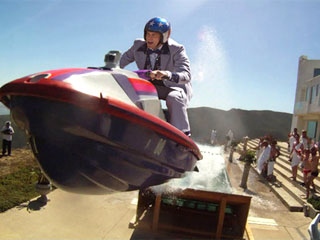 Legend of the Guardians: The Owls of Ga'Hoole (PG) Zack Snyder goes into animation with this adaptation of Kathryn Lasky's novels about a barn owl (voiced by Jim Sturgess) who goes on an adventure that leads him straight into a war between good and evil owls. The film looks spectacular, with fine visual detail even in the midst of frenzied action sequences, and the largely Australian voice cast tears through their roles. Yet the movie loses steam in its final third, with the hero practically winning the climactic battle singlehanded and an ill-advised song by Owl City killing the movie's serious, operatic mood. For family entertainment, there's much worse around. Additional voices by Emily Barclay, Ryan Kwanten, Geoffrey Rush, Joel Edgerton, Anthony LaPaglia, Sam Neill, Barry Otto, Richard Roxburgh, David Wenham, Essie Davis, Deborra-lee Furness, Miriam Margolyes, Hugo Weaving, Abbie Cornish, and Helen Mirren.
Let Me In (R) Matt Reeves (Cloverfield) directs this amazingly faithful adaptation of the Swedish vampire film Let the Right One In, with Kodi Smit-McPhee as the bullied 12-year-old kid who falls in love with a seemingly-his-age vampire (Chloë Grace Moretz) who just moved into his apartment complex. Reeves moves the setting to 1980s America, but otherwise retains the original's sinister, insinuating mood, the most fragile thing about it. Cinematographer Greig Fraser does some gorgeous work with the lighting, and the two lead actors give the central romance an innocence that makes all the bloodshed around them seem more menacing by comparison. It may be only a copy, but it's a really good one. Also with Richard Jenkins, Dylan Minnette, Sasha Barrese, Cara Buono, Ritchie Coster, and Elias Koteas.
Life As We Know It (PG-13) Pure crap. Josh Duhamel and Katherine Heigl portray two single professionals who don't like each other but are forced to take care of a baby girl after her parents — friends of theirs — are killed. This is too long, too busy, and too predictable to even qualify as flawed fun. Director Greg Berlanti doesn't know how to shift between moods, and the two protagonists demonstrate a lack of feeding and diapering skills that borders on criminal neglect. Somehow this all takes place in an improbably beautiful house. It doesn't help. Also with Josh Lucas, Sarah Burns, Chanta Rivers, Melissa McCarthy, DeRay Davis, Will Sasso, Majandra Delfino, Hayes MacArthur, and Christina Hendricks. — Jimmy Fowler
The Man From Nowhere (NR) Not to be confused with Nowhere Boy, this steeped-in-blood Korean thriller stars Won Bin as a mysterious loner with a shady past running a pawnshop in Seoul. When mobsters trafficking in human organs abduct a little girl (Kim Sae-ron) who lives next door to him, he comes out of the shadows to inflict caveman levels of violence on the criminals as he works his way up their chain of command. The film takes a while to get going and then bogs down at the very end, but the middle hour or so moves quickly and expertly, and there's a slick knife-fight sequence between the hero and a Thai contract killer (Thanayong Wongtrakul). It all adds up to an above-average thriller. Also with Kim Tae-hoon, Kim Hee-won, Kim Seong-oh, Lee Jong-pil, Kim Hyo-seo, and Song Yeong-chang.
My Soul to Take (R) Either Wes Craven is marking time until Scream 4, or he's well and truly out of ideas. Either way, this latest slasher flick of his fails to cohere on even the most basic levels. Max Thieriot plays one of several teens born on the death date of a famous serial killer in their small town. On the kids' collective 16th birthday, they all get murdered one by one. Craven borrows so many clichés from other slasher flicks that the film quickly approaches self-parody, and the bad 3-D transfer only makes matters worse. Also with Emily Meade, Frank Grillo, Denzel Whitaker, Zena Grey, Nick Lashaway, Jessica Hecht, Dennis Boutsikaris, Raúl Esparza, and Shareeka Epps.
Nowhere Boy (R) Aaron Johnson (Kick-Ass) is mesmerizing starring in this bio as a teenage John Lennon. The star captures Lennon's Liverpool accent, musical abilities, and rebellious streak so fully that this character would be interesting even if he weren't a musical genius. Anne-Marie Duff gives the movie's other great performance as Lennon's mother, a wild, funny, creative woman who's dimly aware that she's too much of an oversexed teenager at heart to be much of a parent. The movie unfortunately traps them in an overheated soap opera-style weeper, but the acting is so strong that even moviegoers who care nothing about The Beatles will find this movie rewarding. Also with Kristin Scott Thomas, David Morrissey, Thomas Brodie Sangster, and David Threlfall.
N-Secure (R) Cordell Moore stars in this thriller as a successful man whose romantic relationships lead to murderous intrigue. Also with Essence Atkins, Tempestt Bledsoe, Denise Boutte, Lamman Rucker, Toni Trucks, and Elise Neal.
Pure Country 2: The Gift (PG) This sequel to the 1992 country music drama reunites director Christopher Cain with George Strait, though he's relegated to a cameo here. The lead role goes to singer Katrina Elam (a natural screen presence in her first film appearance) as a small-town Kentucky girl who has a meteoric rise and fall in Nashville. The canned melodrama in the script and teeth-rotting inspirational numbers on the soundtrack aren't nearly as bad as the bizarre running subplot about three angels in heaven (Cheech Marin, Michael McKean, and Bronson Pinchot) who take away her singing voice when she misbehaves. This leads to all sorts of corny dialogue and terrible special effects. This crazily ill-advised move leads what might have been a watchable drama into a spectacular derailment. Also with Travis Fimmel, Jackie Welch, Todd Truley, William Katt, and Dean Cain.
Red (PG-13) This light and airy confection stars Bruce Willis as a retired CIA black-ops guy who's forced to band together with some of his fellow retirees — and a cubicle drone who gets caught up in the action (Mary-Louise Parker) — when they suddenly become the agency's targets. Robert Schwentke needed to direct the often physically impossible hijinks in a more cartoonlike style, but he still gives the movie the proper light tone and finds the comedy in these happy warriors put out to pasture. The movie's full of incidental pleasures, too (like the badassedness of Helen Mirren as she sprays a security detail with submachine gun fire) that make it fun to have around. Also with Morgan Freeman, John Malkovich, Karl Urban, Brian Cox, Rebecca Pidgeon, Julian McMahon, Richard Dreyfuss, and Ernest Borgnine.
Secretariat (PG) Diane Lane stars in this Disneyfied sports flick as Penny Chenery Tweedy, the Denver housewife who saved her father's horse-breeding farm from financial ruin when her horse won the 1973 Triple Crown. Randall Wallace directs this film in the foursquare house style. John Malkovich steals a few laughs as Secretariat's flamboyant French-Canadian trainer, but the movie would be instantly forgettable if it weren't for Penny's speeches about how a woman can do anything. These bursts of female-empowerment rhetoric are unconvincing and hectoring, and it doesn't help that Lane is off her game here. Spend your money betting on the horses instead of this movie. Also with Dylan Walsh, Scott Glenn, James Cromwell, Dylan Baker, Kevin Connolly, Margo Martindale, Amanda Michalka, Nelsan Ellis, Otto Thorwarth, and Fred Dalton Thompson.
The Social Network (PG-13) David Fincher's ridiculously entertaining account of the birth of Facebook stars Jesse Eisenberg as co-founder Mark Zuckerberg. Eisenberg is a marvel, drawing a portrait of a lethally smart troll fueled entirely by resentment. No less impressive are Andrew Garfield as his Harvard pal and Justin Timberlake as a smooth-talking interloper who battle each other for influence over Zuckerberg. Veteran screenwriter Aaron Sorkin packs this movie with funny, quotable lines, and Fincher edits the thing for the right combination of smoothness, energy, and pace. There aren't any thunderbolts of enlightenment about Facebook or the nature of success, but this old-fashioned piece of fun hits all the right notes. Also with Armie Hammer, Max Minghella, Rooney Mara, Josh Pence, Joseph Mazzello, Brenda Song, Wallace Langham, Douglas Urbanski, and Rashida Jones.
The Town (R) Ben Affleck might be a major filmmaker-in-waiting. He directs, co-writes, and stars in this crime thriller as the brains behind a gang of Boston bank robbers who tries to get out after falling for a bank manager (Rebecca Hall) who was taken hostage on a previous job. Adapted from Chuck Hogan's novel Prince of Thieves, this taut, streamlined film improves on its source considerably. The role calls for Affleck to project self-loathing and disappointment, which he does quite well. He skillfully incorporates comic relief into the script and pays as much attention to character development and his fellow actors' performances as he does to the action set pieces, which he directs with flair and assurance. This is Michael Mann territory, and Affleck looks completely at home in it. Also with Jon Hamm, Jeremy Renner, Blake Lively, Slaine, Owen Burke, Titus Welliver, Pete Postlethwaite, and Chris Cooper.
Waiting for "Superman" (PG) Why are there quote marks in the title? Davis Guggenheim's documentary is good at diagnosing the problems in the American education system: decentralized power, lack of accountability, the outdated practice of tracking, and overly powerful teachers' unions. Yet even if you're not an education expert, you can still sense the gaps in Guggenheim's arguments. Is it really impossible to get a good education at a public school, as this movie makes out? Are charter schools really a magic bullet? Most of us would support replacing bad teachers with good ones, but how do we find good ones? Guggenheim pulls dramatic strings expertly, following four underprivileged kids competing in lotteries for space at charter schools, but his movie is too fuzzy to work as a galvanizing call to action. A graphic at the end says, "The problem is complex, the solution is simple." If only that last part were true.
Wall Street: Money Never Sleeps (PG-13) Why didn't they call this Gordon Gekko Returns or The Revenge of Gordon Gekko? Michael Douglas returns in Oliver Stone's sequel as the former financier, now an ex-con and author seeking a reconciliation with his grown daughter (Carey Mulligan) via her fiancé (Shia LaBeouf), an investment banker who wants Gordon's advice on high finance. The plot is undercut by cheap theatrics, sentimentality, and a scheme by Gordon more transparently crooked than a Nigerian prince's e-mail. Still, LaBeouf easily embodies the contradictions in his character, and it's fascinating watching the new Gordon scrap after he's brought down to our level. Watch for a fierce performance by 94-year-old Eli Wallach as an aged banker. Also with Josh Brolin, Susan Sarandon, Austin Pendleton, John Bedford Lloyd, Frank Langella, and Charlie Sheen.
You Again (PG) Well, what do you want now? Probably not this horrendous, offensive, degrading comedy starring Kristen Bell as a successful publicist who flips out when she discovers that her brother's new fiancée (Odette Yustman) is the same girl who used to torment her in high school. The mean-girl bullying in her family turns out to go back several generations, which explains why the women in this film all act like screeching psychotics incapable of rational thought. The issues seem to come from a real place, but the cast is too good for the third-rate script. The exception is Yustman, whose whiny non-acting fits the material just fine. Also with Jamie Lee Curtis, Sigourney Weaver, Betty White, James Wolk, Victor Garber, Kristin Chenoweth, Billy Unger, Kyle Bornheimer, Patrick Duffy, Cloris Leachman, and an uncredited Dwayne Johnson.
DALLAS EXCLUSIVES:
Lovely, Still (PG) Martin Landau stars in this romantic comedy as an old man finding love for the first time. Also with Ellen Burstyn, Adam Scott, and Elizabeth Banks.
Never Let Me Go (R) Mark Romanek (One Hour Photo) adapts Kazuo Ishiguro's novel about an English schoolgirl (Carey Mulligan) who realizes that she and her fellow students are clones who have been farmed to donate their vital organs to the world's population. Also with Keira Knightley, Andrew Garfield, Sally Hawkins, Nathalie Richard, and Charlotte Rampling.