The Good Luck Drive-In has been operating at its current address on West Rosedale Street at Lipscomb Avenue for about 40 years now. (Before that, the family-owned eatery operated in a West Rosedale location a few blocks closer to I-35.) Attached to a convenience store, the current space isn't much to look at –– only a couple of tiny tables, a Ms. Pac-Man machine, and a large counter where the person at the register shouts your order to the cook as you place it. But long before the word "foodie" was invented, veteran Fort Worth connoisseurs of soul food/home cooking knew this was the place to go for awesome chicken-fried steak, catfish, hot links, and barbecue chicken. It still is.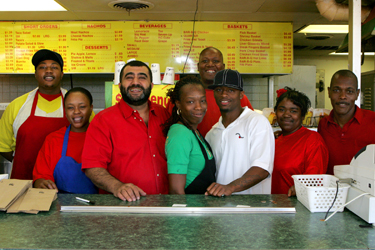 We tried the Mr. Lucky Burger with cheese first. It was good but mostly unremarkable –– a thin, flavorful, non-greasy fried beef patty with shredded lettuce, tomato, onion, American cheese, and a swipe of mayo on a soft, store-bought bun. What elevated it slightly was the unusually thick, crisp onion and bright red tomato slices, giving each bite more personality than what you'd expect from a simple burger. Again, solid but not so special.
Our fortunes improved considerably from there. The catfish basket was spectacular –– two large, fat fillets of silky, almost buttery catfish lightly battered in crumbly cornmeal breading and then deep-fried. White meaty chunks of the whisker fish practically jumped onto our plastic forks. It was served with a side of fridge-cool tartar sauce, thick and agreeably greasy fries, a dark brown slice of pillowy Texas toast, and a simple but tangy "salad" that consisted of dill pickle, tomato slices, and shredded lettuce enlivened with an extra dash of pickle juice.
The chicken giblet basket was also heavenly. It normally comes with both deep-fried and breaded chicken livers and gizzards, but since gizzards are usually too chewy to be enjoyable, we asked for all livers. They're an acquired taste, yes, but once you're hooked, they're a true soul-food delicacy, and the Good Luck Drive-In serves big, rich, tender, un-gamey livers that are deeply satisfying. They came with fries, Texas toast, and a sweet-ish homemade slaw with long crunchy shreds of cabbage.
The hot links basket was also superior. Three long, plump reddish brown pork and beef sausage links were packed so tightly in their casings that they spurted hot juice on the first yummy bite. They arrived in a thin reddish barbecue sauce that was more hot than sweet but not overbearing –– the spiciness lit a small intense fire before disappearing. They were accompanied by fries and toast and a serving of medium-spicy pinto beans that tasted like a marvelous but simple house recipe. That pretty much describes The Good Luck Drive-In vibe: downhome, handmade, and reliably delicious.
Good Luck Drive-In
900 W Rosedale St, FW. 817-332-5507.
10:30am-7:30pm Sun, 10:30am-9:30pm Mon-Thu, 10:30am-10pm Fri-Sat.
All major credit cards accepted.
Mr. Lucky Burger w/cheese $3.29
Barbecue hot link basket $6.49
Catfish basket $6.99
Fried livers and gizzards basket $5.39