Chow, Baby's first misgiving about Pho Que Huong (4601 W. Fwy) was the restaurant's location, in the upscale Chapel Hill shopping center. Admittedly, Chow, Baby has been tossing the "upscale" word around a bit too much with reference to shopping malls, but come on, this one is anchored by Central Market, where it's all too easy to drop $100 solely on upscale-y funny-smelling cheese ("Hail to the Cheese" event, through Oct. 26).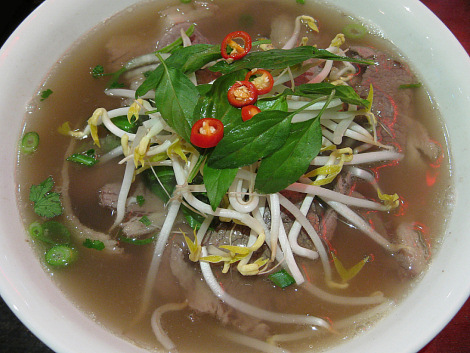 Real pho, the kind that's simmered for hours before serving, is to be found at the dingy mom & pops orbiting funny-smelling Asian supermarkets along Belknap Street in Haltom City and Pioneer Parkway in Arlington. In Chapel Hill? Chow, Baby's prejudice about ethnic restaurants in non-ethnic neighborhoods predicts "customers here won't know any better" flavorless 20-minute insta-pho. Bleh.
Misgivings continued at Pho Que Huong's front door, which reads merely "Pho." What, don't want to scare off the tourists with your funny-smelling foreign name? And on into the suspiciously chic room: bistro-y mint and chocolate décor, real art, cozy high-backed banquettes, even a healthy-looking palm tree. Chow, Baby tucked its bag of cheese under its custom-upholstered chair and prepared to be underwhelmed.
Well, Chow, Baby could continue enumerating the scary This Place Is Fake signs — no salty lemon soda on the menu, decorative garnishes on the mod square plates, gift cards available — but you know what's coming: Surprise, This Place Is the Real Thing. What a twist! Pho Que Huong is no P.F. Chang's, house of non-scary ethnic-style cuisine for American tourists; it's more like Sonny's Diner (6220 Camp Bowie Blvd.), which brought fancied-up but not dumbed-down Vietnamese cuisine to the West Side in 2007. Pho Que Huong is even prettier than Sonny's and has more plate garnishes, but the rich beef pho ($6.95, tripe not available) is also the nine-hour kind. The peanut sauce with the spring rolls ($3.50) lacked an authentic sriracha kick, but the rolls were plump with shrimp and tasted fresh-made. And the grilled pork and shrimp vermicelli bowl ($7.50) was a ringer for anything you'd get on Belknap.
You'll notice that Chow, Baby is not grumbling about the tourist prices, generally a buck more per dish than you'd pay on Belknap or Pioneer. On the contrary: Only a dollar extra for lovely décor, American-style service (they clear dirty plates right away), and convenient (if you need cheese) location? Pho Que Huong is not just good, it's good value.
This Year's Model
Already preparing for holiday overeating, Chow, Baby set off on its annual Lower Grapevine Highway errands: Thrift Town (bulky sweaters to conceal evidence of overeating), Wayne's Boot & Shoe Repair (more bulk means more footwear stress), and a refueling/rebulking stop at whatever taqueria currently inhabits the former Taco Bell near the Glenview Drive intersection.
This year it's San Diego Tacos Shop (7116 Blvd. 26, Richland Hills), which proudly and accurately bills itself as "Mexican Fast Food." Familiar with this building's decided lack of ambiance, Chow, Baby zipped thru the drive-thru for cheap, tasty, juicy tacos (most $1, but go for the $1.95 superstuffed), burritos (most $4), tortas ($4), and other hand-helds. Except for the cold, fish-stick-y fish taco ($1.50), all disappeared within a couple of blocks. Next stop, the annual visit to the family mechanic: For some reason, the Chowbabymobile needs new springs already.
Contact Chow, Baby at chowbaby@fwweekly.com.