How many artists can say they have work in the private collections of Van Cliburn and the late President Gerald Ford's family as well as those of Henry Rollins and Johnny Knoxville? Fort Worth's own Sarah Green, 51, is a British-born printmaker and self-described "digital painter" whose vibrant celebrity images are slowly gaining fame around the country.


Last month Green celebrated her first solo Los Angeles show, The Art of Jackass, a series of computer-drawn head shots and portraits of the cast of the beloved and condemned '00s reality show and subsequent movies, all full of bizarre, scatological, and sometimes naked stunts.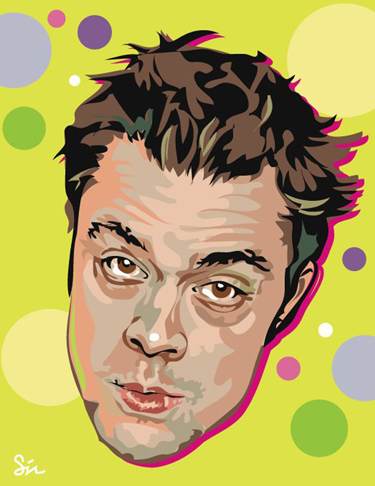 "Some people are drawn to landscapes and some to architectural work, but I'm fascinated by people's faces," Green said. "I love the ravishing Hollywood photos by George Hurrell of women like Greta Garbo and Carole Lombard. I also love intensely physical sports like hockey and boxing –– my grandfather was a fighter –– so the Jackass boys are natural subjects for me."
Green's late artist father, Christopher Hill, schooled her in the essentials of her artistic obsession –– an intense appreciation for celebrity iconography and an ability to express that appreciation through drawing. While she was growing up in England and later after the family moved to Texas, she went to the movies with her father constantly. He favored 1930s and '40s dramas and adventures that starred dashing figures like Alan Ladd, Errol Flynn, and Douglas Fairbanks Sr. As soon as she was old enough to hold a pencil, she learned figure drawing from her father. Her first solo exhibition was in 2006 at Artspace 111 and, unsurprisingly, featured a collection of movie star portraits called In My Father's Chair.
Although she earned a degree in vocal performance at Texas Wesleyan University in 1984, she remained focused on visual art. Her first paid jobs were commercial assignments: sign painting, murals, and ad illustrations. As an adult, she went on to work extensively in oil painting, photography, printmaking, and her current medium of digital painting on an iMac computer. She's unashamed to cite commercial art as an influence throughout her career. "It's very difficult to make a living as an artist unless you do commercial work," she said. "Every artist I know has had to do it at some point during their career."
Although she doesn't consider Andy Warhol a primary influence –– Toulouse-Lautrec, Goya, and Rembrandt are among her personal gods –– she loves the "commercial gloss" of Warhol's famous prints and the confidence and clarity of their images. "I don't think Warhol necessarily captured the personality of his subjects, but he understood how strong our obsession with image was," Green said. "That's why his work is so beautiful to look at."
Green uses Adobe Illustrator software to create her digital paintings, which are funny, fierce, and almost kinetic, with pools and streams of liquid color. She doesn't work with filters or manipulate original images. Instead, she snaps casual photos of her subjects for inspiration and draws their faces by hand, using a graphic tablet and a pressure-sensitive pen. The toxic effects of years of working with paint led her to the medium of digital painting. And although the legendary David Hockney has since come out as a fan of making art on his iPad, the transition to a new technology wasn't easy for Green. "I grappled with this as a legitimate art form," she said. "I'm old enough to have worked in very traditional media for most of my life. I thought, 'This is too easy. I'm not having to crank the prints through the press myself.' But I've always worked intensely in very short spurts, so this works very well for me."
In addition to Cliburn, Ford, and Rollins, all of whom have commissioned her to do portraits, many members of the Jackass gang have become fans and patrons. She met Johnny Knoxville, Steve "Steve-O" Glover, Jason "Wee Man" Acuna, and Dave England through the TV show's cameraman, Rick Kosick. He and Green were both photographers for the now-defunct L.A. skateboarding rag Big Brother. In 2007, Kosick commissioned her to do a digital painting of him, and eventually other Jackass insiders asked her to do the same. These works comprised the dozen or so pieces in The Art of Jackass, whose opening coincided with the recent national release of the Jackass 3-D movie. Portraits in the show included Knoxville; his pal Jesse Merlin, a bisexual S&M aficionado posing with a photo of gay English icon Quentin Crisp; Jackass producer Shanna Zablow walking a rooster on a leash as a motorcyclist flies perilously through the air overhead; and a mock comic book page celebrating cast member England's ability to "shit on command" called Cautionary Tales: House of Poo. Jackass 3-D director Jeff Tremaine "came by for the opening and pronounced the show a major success," Green said.
His words came as a huge relief to Green, because two hours before the reception, the artist arrived at the gallery and was shocked to find that her work had been neither framed nor placed on the walls. The event was organized in record time though. "I think I lost two years off my life," Green said, "but they told me, 'That's the Hollywood way.'"