Fort Worth Symphony Orchestra does the circus. Live circus acts will perform with the orchestra in Bass Performance Hall as part of a pops concert devoted to life under the Big Top. Aerialists, acrobats, dancers, jugglers, strong men, contortionists, and other acts from the famous Cirque du Soleil form Cirque de la Symphonie, a company geared toward orchestra performances.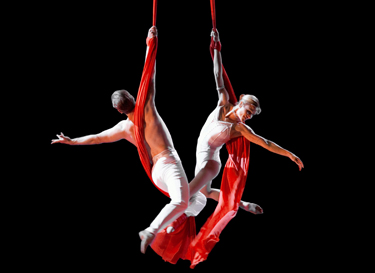 In the FWSO's widening search for novelties to attract new audiences, the Las Vegas-style program will have everything but animals. Performers include Olympians, international gold medalists, and world-record holders. Behind them will be the orchestra perched on risers. Some modifications to the stage shell will be made to accommodate the aerialists, who will fly overhead in dance-like routines.
The conductor will be Ron Spigelman, music director of the Springfield Symphony Orchestra in Missouri. The one-time associate conductor of the FWSO will accompany the circus acts in performances of popular classical selections, including Dvorák's "Carnival Overture," the Toreador song from Bizet's Carmen, Saint-Saëns' "Bacchanale" from Samson and Delilah, and his Danse Macabre. The FWSO will also play excerpts from Ravel's Bolero, John Williams' Star Wars, De Falla's "Spanish Dance," and Tchaikovsky's Swan Lake. –– Leonard Eureka
8pm Fri-Sat, 2pm Sun at Bass Performance Hall, 555 Commerce St, FW. Tickets are $27-79. Call 817-665-6500.