A few years ago, late-night dining options for Fort Worth folks were limited to Ol' South or Whataburger. Thankfully, a few intrepid entrepreneurs are rectifying the situation by opening delicious taco trucks. We have been raving about Salsa Limón, whose quesadillas and barbacoa tacos are huge hits in the West Berry Street area, and the equally delectable Taco Heads arrived in September next to Poag Mahone's and 7th Haven at the intersection of Carroll and West 7th streets. Taco Heads is now feeding diners and drinkers from 7 p.m. until 2 a.m. Wednesdays through Saturdays.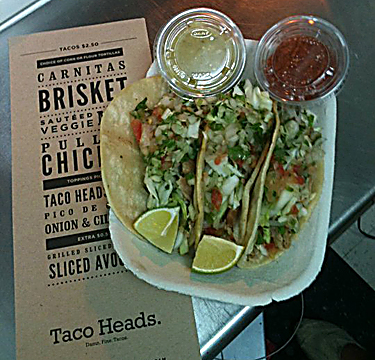 Sarah Castillo, the locally raised mastermind behind Taco Heads, recently quit her other jobs with Eddie V's Prime Seafood and the Texas Rangers to peddle stuffed tortillas. Castillo says business these last few weeks has been "awesome." She and her sister have even received several marriage proposals. Whether gentlemen covet the Castillo hermanas for their tacos or the sisters' other virtues is open for debate. The tacos, for the record, are outstanding.
Before midnight, Taco Heads offers brisket, carnitas, vegetable, or chicken tacos in fresh flour or corn tortillas. Castillo says the recipes are "part family and part me crossing the border and eating tacos in the streets of [Nuevo] Progreso, Mexico," near Edinburg, Texas, the location of the University of Texas-Pan American, where she played golf for part of her college career. She got the idea for a cabbage, onion, cilantro, and lime slaw from a Nuevo Progreso shack. The slaw is one of several Taco Heads toppings, alongside jalapeño and lime, fresh pico de gallo, or cilantro and onions. Be warned that the brisket is inherently spicy, so add on with caution.
After midnight, Taco Heads officially starts its breakfast offerings. Never too early, right? The well-designed menu fastened to the outside of the silver Modernist-looking truck advertises the standard Tex-Mex taquito choices: eggs with bacon, potatoes, chorizo, or cheese. Why is it that eggs taste so much better in the early morning hours? They certainly do at Taco Heads, where a potato-and-egg is the perfect nightcap. Especially for only $2.50.
With any taco selection, customers can choose from the smoky red adobo or the tangy green tomatillo salsas. Or both. The adobo sauce came with an "eat at your own risk" warning, but it wasn't painfully spicy — just fresh.
For folks who want to extend a nighttime social hour, Taco Heads sits right next to a still-smells-fresh wooden deck with tables courtesy of 7th Haven. Bands and DJs have entertained diners during the cool fall season, and 7th Haven sells beer for the patio area, so the drinking and eating can happen in the same locale.
Castillo intentionally chose the West 7th area for her venture. However, she thinks the area is "getting a little franchise-y –– I wanted to be a part of the local restaurants like Fred's [Texas Café] and Love Shack [So7]." Taco Heads, she said, "brings a little bit of funk."
Taco Heads is effectively mixing quality with spunk and community, ensuring it fits right into the developing West 7th neighborhood. Castillo is seeing more and more new faces, so word has already been traveling quickly. Whether the crowds stick around during the colder weather season remains to be seen, but, luckily, Fort Worth nighttime temperatures are tolerable for all but about two months of the year. Mild climate is on the list of reasons to live in Fort Worth, a list that now includes Taco Heads.
Taco Heads
Behind 7th Haven, 2700 W 7th St, FW. 817-744-8550.
7pm-2am Wed-Sat. All major credit cards accepted.
Brisket taco $2.50
Bacon-and-egg taco $2.50
Avocado slices $ .50