Here's the composite feedback on last week's column: "That's a neat trick, poking your thumb muscle as a guide to whether your steak is cooked right. I'll be sure to try that next time I can afford a steak." Well, now, wait. True, Chow, Baby had name-dropped the houses of the $40 rib-eyes, but there's plenty of places around where you can get a decent steak for less than the cost of a hamburger (if it's a Fredburger plus cheese fries and a lemonade, total $12.95).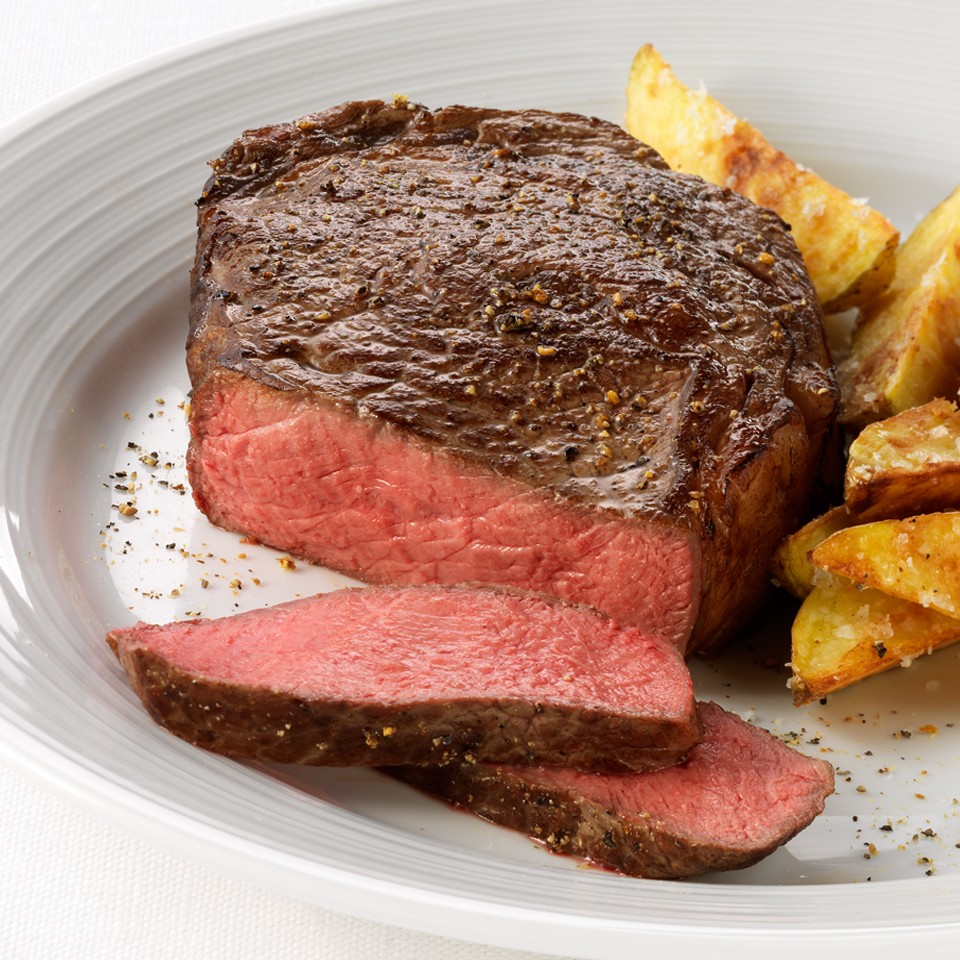 For example: Normally one would (should) be highly skeptical of a $9.95 rib-eye. But J.R. Bentley's Pub (406 W. Abram St., Arlington) has proven its kitchen abilities with great chargrilled burgers (starting at $4.95), so Chow, Baby took a chance on the high end of the menu. And was rewarded for its daring: The poke test showed the 10-oz. steak to be perfectly cooked, and the eyeball test revealed nice grill marks. The taste test revealed not a whole lot of flavor (other than salt), and the texture was that of previously frozen meat, but what do you want for 10 bucks? In fact, Chow, Baby would say this steak was worth at least $14.95.
Conversely, the 10-oz. rib-eye at Arlington Steak House (1724 W. Division St., Arlington) is worth nowhere near its list price of $13.99; on a lucky day you'll be able to cut and chew the thing, but you'll rarely be glad you did. (Almost everything on the battered-'n'-fried part of the menu is great, though: chicken livers, pork chops, fried chicken.) No, for divey atmosphere and attentive service plus a decent budget steak, it's The Flame Steakhouse (3755 W. Euless Blvd.), where the tasty, somewhat-tender 10-oz. strip ($16.95) is seasoned with red wine, garlic, and black pepper. Yum.
Divey atmosphere, great service, value steaks — for years now Chow, Baby has heard buzz about M & M Steak House (1106 NW 28th St.), and finally made it over last week. And a great dive it is: a dim, claustrophobic room with cinderblock walls, ratty deer heads, cheap furniture, and Hank Williams on the jukebox. M & M is cash only, so Chow, Baby had taken care to pack a 20-spot — what! $21.95 for a 12-oz. rib-eye on 28th Street's seediest stretch (and that's really saying something)! Across the street at Taqueria San Luis, that would buy 13 barbacoa tacos with enough left over for a papaya paleta. How is $21.95 a bargain?
Well, for one thing, the menu-promised 12 ounces was a fib — this plate-blanket looked at least 16. Chow, Baby could barely finish half, and that was no reflection on its taste: The steak was juicy, tender, and flavorful — much of the flavor came from salt, as appears to be a theme with budget steaks, but the meat underneath that was good too. The other half of the steak aced the cold-the-next-day test: still very tender, but the salt seemed less overwhelming, leaving a top note of nicely seasoned beef. So if you figure $21.95 for two meals, that's a pretty good deal — and it gets even better. As Chow, Baby was digging for loose change at the cash register, attentive and friendly server Leslie announced that rib-eyes are half-price on Wednesday nights. So two servings comes to, what, $5.50 each? Now there's a value meal for you.
Contact Chow, Baby at chowbaby@fwweekly.com.