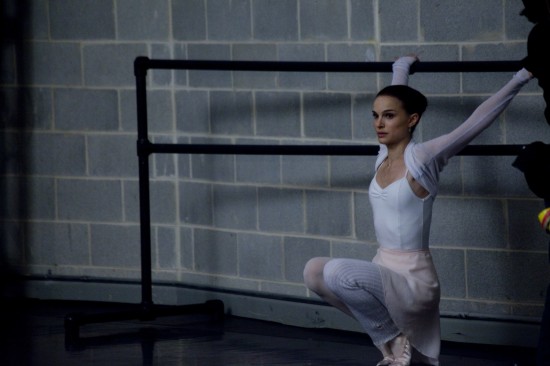 OPENING:
Black Swan (R) Natalie Portman stars in this film by Darren Aronofsky (The Wrestler) as a ballerina who suffers terrifying psychotic delusions while preparing to dance the lead in Swan Lake. Also with Mila Kunis, Vincent Cassel, Barbara Hershey, Benjamin Millepied, Ksenia Solo, Sebastian Stan, and Winona Ryder. (Opens Friday in Dallas)


Minuteman (NR) Mark Milhone's thriller stars Riley Smith as a former U.S. soldier who must recover his erased memories of his experiences in Iraq. Also with Christian Kane, Willa Ford, Bryan Massey, and Barry Corbin. (Opens Friday in Dallas)
Vision (NR) Margrethe von Trotta (Rosenstrasse) directs this German film starring Barbara Sukowa as Hildegard von Bingen, the 12th-century nun who became famous as a composer, theologian, botanist, poet, and playwright. Also with Heino Ferch, Hannah Herzsprung, Alexander Held, and Lena Stolze. (Opens Friday in Dallas)
The Warrior's Way (R) Jang Dong-gun stars in this English-language martial arts Western as an Asian assassin forced to hide out in an Old West town after incurring his clan's wrath. Also with Kate Bosworth, Geoffrey Rush, Tony Cox, Ti Lung, and Danny Huston. (Opens Friday)
What If… (PG) Kevin Sorbo stars in this Christian-themed film as a businessman who's visited by an angel (John Ratzenberger) who shows him what his life would have been like if he hadn't walked away from the ministry. Also with Kristy Swanson, Debby Ryan, Stelio Savante, and Kristin Minter. (Opens Friday at AMC Grapevine Mills)
Burlesque (PG-13) The plot is by-the-numbers, the dialogue is terrible, the acting is practically nonexistent, and yet none of that matters as long as Christina Aguilera is singing. The pop star makes her film debut with this musical about an Iowa girl who heads to L.A. and finds her place at a burlesque club run by a former dancer (Cher, singing as badly as ever and wearing at least two pounds of makeup, glitter, and sequins). The movie takes entirely too long to get the star singing, but Aguilera's three numbers in the middle of the film are a large slice of fabulousness. Stanley Tucci's performance as the gay best friend makes everything better. Moviegoers looking for a dose of musical camp will find it here. Also with Cam Gigandet, Eric Dane, Julianne Hough, Alan Cumming, Peter Gallagher, Dianna Agron, and Kristen Bell.
Due Date (R) You've seen all this before. Robert Downey Jr. plays a tightly wound architect who hitches a ride with an aspiring actor (Zach Galifianakis) to get to L.A. in a hurry. The chemistry between the vitriolic Downey and the chaotic Galifianakis can't be faulted, and the latter mines real emotions out of an often ridiculous role. Unfortunately, too many laughs come from improvised throwaway lines rather than the situations, and there are too many in-jokes. After a while, you can only take so much inanity. Also with Michelle Monaghan, Juliette Lewis, Danny McBride, RZA, and Jamie Foxx. — Steve Steward
Fair Game (PG-13) Doug Liman's second film this year (after Green Zone) about the war on terror is this dramatization of the Valerie Plame incident, starring Naomi Watts as the CIA undercover agent who's exposed in 2003 when her husband (Sean Penn) questions the Bush Administration's evidence for going to war in Iraq. The movie isn't a spy thriller so much as it is a portrait of a marriage under strain, as Plame tries to silently ride out the controversy while her husband urges her to speak up in her own defense. This intelligent, well-acted film rehashes some enraging facts and builds to a rousing conclusion. Also with Noah Emmerich, Michael Kelly, Ty Burrell, Brooke Smith, Bruce McGill, David Andrews, and Sam Shepard.
Faster (R) Wildly uneven thriller stars Dwayne Johnson as an ex-con getaway driver who upon his release from prison immediately sets about killing the men responsible for his brother's murder. The multiple plots stumble over one another, and there's a thoroughly bizarre storyline about a pretty-boy British millionaire software nerd (Oliver Jackson-Cohen) who has become a contract killer out of sheer boredom. There's also an awesome performance by Adewale Akinnuoye-Agbaje as a God-fearing reformed criminal on the hit list who tries to make his would-be killer see the light. Bits like these make this unholy mess of a film stand out from the other action films. Also with Billy Bob Thornton, Maggie Grace, Carla Gugino, Mike Epps, Lester Speight, Jennifer Carpenter, Xander Berkeley, and Tom Berenger.
For Colored Girls (PG-13) Tyler Perry adapts Ntozake Shange's trailblazing play for colored girls who have considered suicide when the rainbow is enuf, and it's an awkward fit. He weaves a unifying story around the play's series of dramatic monologues, and it works amazingly well at first, with Tessa Thompson, Phylicia Rashad, and Loretta Devine doing justice to the music of Shange's words. Unfortunately, this movie then turns into a typical Perry film, with indifferent performances by much of this high-powered cast and the director's limited, moralizing view of women clashing with Shange's inclusive approach to her characters' stories. Perry's interest in another artist's material is encouraging, and he deserves credit for bringing this play to the screen. It's too bad that he damaged it so much. Also with Janet Jackson, Thandie Newton, Kerry Washington, Kimberly Elise, Anika Noni Rose, Michael Ealy, Omari Hardwick, Hill Harper, Richard Lawson, Macy Gray, and Whoopi Goldberg.
Harry Potter and the Deathly Hallows: Part 1 (PG-13) A movie that's not meant to stand on its own and doesn't. After Voldemort (Ralph Fiennes) overthrows the government, Harry and his friends (Daniel Radcliffe, Emma Watson, Rupert Grint) become fugitives, leaving school to destroy the cursed objects that contain Voldemort's soul. Because this is only the first half of the seventh and last installment, this movie is all buildup and no payoff, with pacing issues we haven't seen since the first two Harry Potter movies. There's no emotional traction, and even the temporary breakup of Ron and Hermione doesn't achieve much, though it leads to a nice bit with Harry cheering her up by dancing with her. This might well have worked better as the first half of a five-hour gigantic finale. Also with Helena Bonham Carter, Jason Isaacs, Alan Rickman, Timothy Spall, Guy Henry, Andy Linden, Brendan Gleeson, Clémence Poésy, David Thewlis, Evanna Lynch, John Hurt, Rhys Ifans, and Bill Nighy.
---
Jackass 3-D (R) Story? Character development? Artistic ambitions? Who cares! This movie has grown men running through hallways filled with tasers! Johnny Knoxville and the boys reunite for another round of cinematic self-punishment, marking
Jackass
' 10th anniversary. You probably already know if you want to see this or not, so let's say it's not quite as hilarious as previous versions. Viewers, though, will be smiling and laughing consistently, and the gang's good humor gives the movie a fun, positive attitude. Highlights include "Beehive Tetherball" and "Sweat Cocktail," as well as a special introduction from MTV's most infamous animated duo. –– Cole Williams
Love and Other Drugs (R) Jake Gyllenhaal plays a slacker who becomes a pharmaceutical salesman in the mid-1990s just in time to catch the Viagra boom while at the same time meeting a Stage 1 Parkinson's patient (Anne Hathaway) who has mind-blowing sex with him and then tries to push him away because of her condition. The lead actors are incredibly beautiful and get large amounts of naked, and much of the humor here seems to come straight from a Judd Apatow film. Flawed though it is, the movie is both funnier than the average weeper and more layered than the average romantic comedy. That would seem to make it an above-average film. Also with Josh Gad, Oliver Platt, Hank Azaria, Gabriel Macht, Judy Greer, George Segal, and the late Jill Clayburgh.
Megamind (PG) This uneven DreamWorks animated film is about a blue-skinned alien supervillain (voiced by Will Ferrell) who finally vanquishes his superhero nemesis (voiced by Brad Pitt), then unexpectedly finds that he has no sense of purpose in life without a good guy to fight. The comic talent in this cast comes up with some fizzy one-liners, and the story takes some surprising turns when Megamind tries to turn a dorky news cameraman (voiced by Jonah Hill) into a new superhero. However, the good jokes are too infrequent, and there's far too much attention paid to everybody's feelings and not enough to the action. The sentimentality defeats the comedy. Additional voices by Tina Fey, David Cross, Justin Theroux, J.K. Simmons, and Ben Stiller.
Morning Glory (PG-13) A great deal of talent comes to very little in this overacted comedy about a morning TV news/talk show's new executive producer (Rachel McAdams) who engages in a professional tug-of-war with her newly hired co-anchor (Harrison Ford), a legendary newsman with a giant stick up his ass. The focus gives short shrift to both Diane Keaton (as a bickering co-anchor) and to a romantic subplot involving an evening news producer (Patrick Wilson). Director Roger Michell looks uncomfortable with the demands of light entertainment, McAdams makes her character's upbeat professionalism look borderline crazed, and the movie isn't funny. Like its heroine, this movie tries way too hard to please. Also with Jeff Goldblum, John Pankow, Matt Malloy, and Ty Burrell.
The Next Three Days (R) Paul Haggis (Crash) stops pondering social issues to deliver this uneven prison-break film about a community college lecturer (Russell Crowe) who believes that his wife (Elizabeth Banks) was wrongly convicted of murder and vows to free her from prison. Rather than focus on the actual break, the movie focuses on the two slipping out of the city before a police dragnet closes in. Haggis cagily plays with our expectations and doesn't lay out the escape plan all at once, and the last 20 minutes or so is breathless stuff. Yet the script still has flaws, and Crowe is all wrong as a soft guy who's unfamiliar with guns. Watch for a sharp cameo by Liam Neeson as a prison-break expert. Also with Olivia Wilde, Ty Simpkins, RZA, Jonathan Tucker, Michael Buie, Jason Beghe, Aisha Hinds, Daniel Stern, Kevin Corrigan, and Brian Dennehy.
Red (PG-13) This light and airy confection stars Bruce Willis as a retired CIA black-ops guy who's forced to band together with some of his fellow retirees — and a cubicle drone who gets caught up in the action (Mary-Louise Parker) — when they suddenly become the agency's targets. Robert Schwentke needed to direct the often physically impossible hijinks in a more cartoonlike style, but he still gives the movie the proper light tone and finds the comedy in these happy warriors put out to pasture. The movie's full of incidental pleasures, too (like the badassedness of Helen Mirren as she sprays a security detail with submachine gun fire) that make it fun to have around. Also with Morgan Freeman, John Malkovich, Karl Urban, Brian Cox, Rebecca Pidgeon, Julian McMahon, Richard Dreyfuss, and Ernest Borgnine.
Secretariat (PG) Diane Lane stars in this Disneyfied sports flick as Penny Chenery Tweedy, the Denver housewife who saved her father's horse-breeding farm from financial ruin when her horse won the 1973 Triple Crown. Randall Wallace directs this film in the studio's foursquare house style. John Malkovich steals a few laughs as Secretariat's flamboyant French-Canadian trainer, but the movie would be instantly forgettable if it weren't for Penny's speeches about how a woman can do anything. These bursts of female-empowerment rhetoric are unconvincing and hectoring, and it doesn't help that Lane is off her game here. Spend your money betting on the horses instead of this movie. Also with Dylan Walsh, Scott Glenn, James Cromwell, Dylan Baker, Kevin Connolly, Margo Martindale, Amanda Michalka, Nelsan Ellis, Otto Thorwarth, and Fred Dalton Thompson.
Skyline (PG-13) While Jarrod (Eric Balfour) and Elaine (Scottie Thompson) visit Jarrod's best friend Terry (Donald Faison) in L.A., bright blue lights descend from the sky, heralding an invasion of brain-sucking, human-abducting aliens. Maybe since directors Colin and Greg Strause's last movie was the franchise-killing Aliens vs. Predator: Requiem, expectations were low. But this is a fun little B-movie. The directors do a lot with the one-apartment-building location, keeping things tense and moving along, and they get every dollar's worth of impressive special effects out of a minuscule $10 million budget. The intimate POV of an alien invasion has been done better in Signs and War of the Worlds, and plot holes abound, but for folks wanting an alien fix, this isn't a bad way to go. Also with David Zayas. –– C.W.
Tangled (PG) Presumably this title was chosen because there's already a musical called Hair. Disney's fractured animated take on the Rapunzel story has the Grimm brothers' heroine (voiced by Mandy Moore) as the lost child of a royal couple, kidnapped and raised by an old sorceress (voiced with great gusto by Donna Murphy) who keeps her adoptive daughter in the tower by telling her that the world is an evil place. The movie bites off more than it can chew in trying to be both a musical and an action-thriller, with Rapunzel exploring the world and getting into hijinks with a handsome thief (voiced by Zachary Levi). The weak songs don't help, either. Still, the notes of psychological complexity in Rapunzel's relationship with her smothering drama queen of a mother are enough to keep this thing watchable. Additional voices by Ron Perlman, M.C. Gainey, Jeffrey Tambor, Richard Kiel, and Brad Garrett.
Unstoppable (PG-13) After a cargo train is accidentally let loose down the tracks with no one at the controls, veteran engineer Frank Barnes (Denzel Washington) and rookie conductor Will Colson (Chris Pine) set out to stop it. Based incredibly loosely on the "Crazy Eights" incident in Ohio in 2001, the story has been Hollywood-ed up with greedy corporate execs and melodramatic subplots, and it feels like Washington and Pine play second fiddle to the runaway train until the last third of the movie. Still, they have enough chemistry to be entertaining, and Tony Scott's frenetic directing keeps the movie tense and fast paced. It's pretty formulaic Hollywood stuff but still fun thanks to the energetic directing and decent lead performances. It's also a must-see for train watchers. Also with Rosario Dawson. –– C.W.
DALLAS EXCLUSIVES:
The Girl Who Kicked the Hornet's Nest (R) The last installment of the Millennium trilogy stars Noomi Rapace as a private investigator who must prove her innocence in a triple homicide while immobilized in a hospital bed. Also with Michael Nyqvist, Lena Endre, Annika Hallin, Jacob Eriksson, Sofia Ledarp, Anders Ahlbom, and Georgi Staykov.
Welcome to the Rileys (R) James Gandolfini stars in this drama as a bereaved father who takes in an underage prostitute (Kristen Stewart) while on a business trip. Also with Melissa Leo, Joe Chrest, Eisa Davis, and Ally Sheedy.
Wild Target (PG-13) Bill Nighy stars as a British hit man who falls under the spell of a woman (Emily Blunt) who's supposed to be his target. Also with Rupert Grint, Rupert Everett, Eileen Atkins, and Martin Freeman.
The Wildest Dream (PG) Anthony Geffen's documentary tells the stories of the first mountain climber ever to attempt the summit of Mt. Everest –– and the climber who found his remains 75 years later.