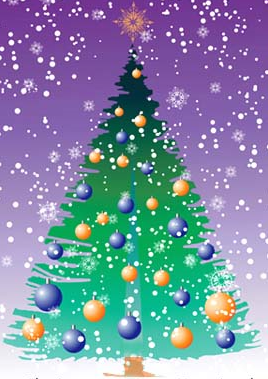 WED ? 1
Arlington Museum of Art opens its new show in midweek, and even more unusually, instead of paintings or sculpture, the Christmas Tree Festival features trees decorated by various charities. Good for AMA for waiting until December to put up their holiday show, and even better to use it to draw attention to worthy causes. The show runs Dec 1-23 at 201 W Main St, Arlington. Admission is free. Call 817-275-4600.
THU ▪ 2
Got the holiday blues? They're nothing compared to the clinical depression that Sarah Kane wrote about in her play 4.48 Psychosis, completed in 2000 shortly before her suicide. The show (whose title refers to the fact that Kane frequently awoke at 4:48 in the morning) is a fragmented series of monologues about depression that has found increasing appreciation since it debuted. Sundown Collaborative Theatre's production runs Dec 2-12 at Art Six Coffeehouse, 424 Bryan St, Denton. Tickets are $8-10. Call 214-729-0313.
FRI ▪ 3
For some reason, the theatrical troupes are all doing spoof versions of A Christmas Carol this year, including a version laden with show tunes from other shows at Theatre Arlington. Still, we're most intrigued by the one at Pantagleize, which has imported a mostly female take on Dickens' story from Britain's Farndale Avenue Housing Estate Townswomen's Guild Dramatic Society. The show runs Dec 2-19 at 1400 Henderson St, FW. (The building faces W Rio Grande Av.) Tickets are $5-15. Call 817-477-0032.
SAT ▪ 4
In other news, it turns out there are teams other than TCU that play college football. They won't be title contenders like the Horned Frogs, but ninth-ranked Oklahoma and 13th-ranked Nebraska will be contesting the Big 12 Championship Game this afternoon at Cowboys Stadium. Kickoff is at 7pm at 1 Legends Way, Arlington. Tickets are $63.75-143.75. Call 800-745-3000.
SUN ▪ 5
Patrick Marber's play Closer infamously has a man crying out for intimacy in the middle of a strip club. The hero of Rajiv Joseph's comedy All This Intimacy may be wishing for a little less, as the play is about him impregnating three women in the same week. The play receives a staged reading, courtesy of Amphibian Productions, at 7pm at Fort Worth Community Center, 1300 Gendy St, FW. Tickets are $5-15. Call 817-923-3012.
MON ▪ 6
Once again, Fort Worth Symphony Orchestra livens up a Monday in December by performing Handel's Messiah at Bass Hall with Southwestern Seminary Chorus. Nothing against Handel, FWSO, or this holiday tradition, but we wish another orchestra would counter with Berlioz' L'enfance du Christ, or better yet, Eric Idle and John Du Prez' Not the Messiah (He's a Very Naughty Boy). In the absence of those, the Messiah performance is at 7:30pm at 555 Commerce St, FW. Tickets are $19-65. Call 817-665-6000.
TUE ▪ 7
There's a spate of classical music performances going on at TCU this week. Friday features two one-act English-language operas, while Saturday has three faculty members giving the same chamber-music performance that they'll give later this month for Chinese national TV. Tonight, Germán Gutiérrez conducts the TCU Symphony Orchestra. The performance starts at 8pm at Ed Landreth Auditorium, 2800 S University Dr, FW. Tickets are $5-10. Call 817-257-7602.