Last July, an elderly man was sitting on his front porch on Fort Worth's Near East Side when two pit bulls attacked him, knocking him over. One of the dogs bit the man on a finger. Eventually, the man identified one of two pit bulls belonging to wounded military veteran Steven Woods, as the biter.

What followed was, from the point of view of both Woods and the city's animal control department, one for the books. His dog was declared a dangerous animal, removed from Woods' home, and spent five weeks in the dog pound. Now she's back, but with a doggie version of a criminal record. Along the way, city officials accused Woods of sleight-of-dog, Woods accused the city of mistreating the animal, and so many animal lovers e-mailed the city to complain that, Woods' attorney was told, it crashed the city's server at one point.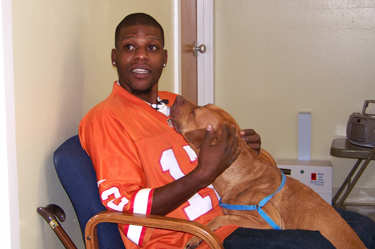 All for a pit bull named Mimi who Woods said has been critical in helping him recover from post-traumatic stress problems. Mimi and Woods have a special relationship — he calls her his therapy dog, though she has not received the special training given to seeing-eye dogs and other service animals.
In spring 2004, Woods, an Army private first class, was part of a convoy headed to Baghdad when his truck was destroyed by a roadside bomb in Tikrit. The attack left him with spinal injuries that force him to walk with a cane, and his intestines were so damaged that he now has to use a catheter. But perhaps his most devastating injury was a severe case of post-traumatic stress disorder, which has resulted in depression and anxiety, he said.
A psychiatrist suggested that he get a dog to help him cope with his PTSD. So four and a half years ago, he got Mimi, then a six-week-old puppy. Woods said that she has been crucial to his recovery, the only constant in his life.
The attack on the elderly man took place about a block from Woods' house. When the man told animal control officers he thought it was one of Woods' dogs that had bitten him, Woods was asked to bring his two dogs to the shelter. That time, the victim said neither of the dogs had been his attacker. But three months later, police and animal control officers came to Woods' door and asked him to bring his dogs to the shelter again. This time, the victim picked out Mimi.
What changed? Brandon Bennett, director of the city's code compliance division, which oversees the animal shelter, said that, on the occasion of the first doggie lineup, he believes that Woods brought somebody else's dogs for the victim to see and brought his own dogs only when officers surprised him at home and he had no time to make a substitution.
Randy Turner, Woods' attorney, said Bennett's accusation is absurd. Turner said Woods' dogs were at his girlfriend's mother's house in Arlington when the attack took place.
In any event, animal control workers took custody of Mimi in October, and Woods set about trying to get her freed — including finding a lawyer. Since he lives on his $779 monthly disability check, he has few resources. But Turner was able to take on the case pro bono through the Tarrant County Veterans Clinic, run by the Fort Worth Bar Association.
Woods believes that the city mistreated Mimi while she was in custody. The dog lost a significant amount of weight. During the first day of Mimi's trial, which, ironically, was on Veterans Day, Woods was shown a picture of Mimi while on the witness stand. Turner said that, after a long pause, Woods began to tear up.
In the picture, "I could see her ribs and her backbone," Woods said. "It didn't even look like my dog."
Bennett strongly denied any mistreatment and said it's not unusual for dogs in a kennel situation to lose weight. He said Mimi was seen by a veterinarian every day and fed canned food twice day. But she was high-strung, lunging at people from her cage, and typically barked and ran circles all day, he said.
"Early on in our custody of the dog, the veterinarian noticed that the dog was losing weight," he said.
After a two-day trial, a municipal judge declared Mimi a dangerous dog. The ruling wasn't a death sentence for the pit bull, but in order to get her back, Woods was required to pay for a special license and the city's bill for boarding her. In all, the charges topped $1,000.
"It was financially beyond his ability," said Turner. "I told the judge that if you determine that the dog is dangerous, it's a death sentence for the dog, because there is no way Mr. Woods can comply with all of the 'dangerous dog' requirements."
The city gave Woods 15 days to come up with the money, although Bennett said there was never an intent to put Mimi to death.
Turner sent out e-mails to everyone he could think of to ratchet up public pressure. One those messages found Jonnie England, director of animal advocacy at the Metroplex Animal Coalition, made up of 55 local animal rescue and animal welfare groups. The coalition started a "Save Mimi" fund. They sold t-shirts featuring the image of a pit bull behind bars. In two days they raised $16,000, and England stopped taking donations.
"It struck me as something I could help with — raising the money," she said. "I contacted Turner and offered to help, and people started to respond and make donations.
"The original goal was $1,200 to pay the … fees, and then it went viral, and donations just poured in," she said. "We issued a check to cover the cost to bail her out and satisfy the legal requirements by the city. … The rest has gone into a trust account for Steven for the care of Mimi."
After a short battle over whether or not Woods' house met the requirements for a proper enclosure, Mimi was returned to Woods after five weeks. He said that he was overwhelmed by the public's generosity.
"I was so excited," he said. "I knew I was going to get my little girl back, and it just made me so happy. I didn't know there were people out there like that — who would just help us."
Life is still not quite the same for Mimi or Woods. She has to be muzzled and on-leash every time she goes outside. She has to wear a fluorescent yellow collar as a warning. And Woods had to put up four signs outside his house indicating that a dangerous dog lives there.
Bennett said that he couldn't believe all the attention this case has gotten from the public and news media. "We've never run into this kind of media blitz and accusations before," he said.
He understands the side of the story the animal-loving public sees, but Bennett said there's another side as well.
"There are two different stories," he said. One is the narrative that Turner has told the public, of an injured war veteran whose dog was taken from him.
The other story, to which the city responded, he said, "is that one afternoon an elderly man was doing nothing but sitting on his front porch, minding his own business, when he was viciously attacked by a pit bull … . We are standing up to our obligations to protect the public from dangerous dogs."
Turner and Wood are also upset that there is no appeals process built into the dangerous-animal law. Bennett agreed that an appeals process should be included if appeals can be done in a timely manner.
Turner and others believe that Woods should have received some special consideration because of all he's sacrificed for his country.
"It struck a nerve," Turner said. "People were angry at how he was being treated."