Brett Walker, who plays standup bass in the cowpunk trio The Dan Family, writes songs in his head as he drives a tractor around his family's Parker County farm all day. His co-songwriter, guitarist Daniel Payne, finds inspiration in a small coffin turned into a gigantic pedal board. Drummer Daniel Hardick, however, actually sits at the real controls of the group. Based on his mood, he's allowed to determine how fast or how angry the songs sound on any given occasion.


Finding a balance isn't easy when mixing country with punk, rockabilly, and old-school alternative rock, so the band throws it all into the wind and lets the music land where it may.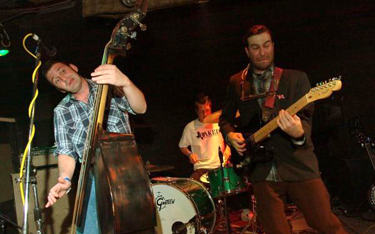 Since forming in December 2008, The Dan Family has played with popular groups like Eleven Hundred Springs, David Allan Coe, and Wayne "The Train" Hancock. They have also fought, broken up, and reunited. They recorded an album, Jewels, but they feel it doesn't adequately capture their collective voice.
After an upcoming show at the House of Blues with Fort Worth's Holy Moly, The Dan Family will take a break for a few months while Payne plays lead guitar with Bob Wayne on a European tour and Walker goes to Nashville to record his side project, Walker and the Texas Dangers.
While the gypsy-like uncertainty wouldn't sit well with most bands, The Dan Family shrugs it off. "We're just open to the opportunities we do have," Hardick said.
"It's a means of survival," Payne agreed. "It's not about profit but about being able to actually play music."
No matter where or with whom he does it, Payne plays as often as he can. The South Plains College-educated guitarist gets his inspiration from his Telecaster's multitude of tones and the thousands of miles he crosses touring the Southwest. He has a solo project called 800 Mile Monday and a solo album, In the Fertile Gardens of Freedom. When he started playing guitar as a teenager, he was "really resistant" to country music. "I was clinging to rock 'n' roll," he said, but he realized that, with C&W, "I would at least have a gig to play, so I got in a band that played country music."
Now he's figured out how to do both. He saves the fleet-fingered guitar playing for The Dan Family and takes a calm approach to 800 Mile Monday, but he's open to crossing over. If a fan requests one of his songs at a Dan Family show, he will play it regardless of whether it is an official Dan Family song or not.
Walker appreciates Payne's talent and is willing to be flexible for the sake of the music. "He's the closest guy I've found who does something similar to what I do," Walker said of Payne. Walker is also a solo singer-songwriter. He was in another, now-defunct, band, playing mandolin in The Fence Crawlers, and after quitting he thought that his sorrowful songs could be fleshed out with the addition of a bass player. He even bought a standup bass, and when he couldn't find anyone to play it, he decided to learn the instrument himself. He, Hardick, and Payne met at the defunct Fairmount nightclub on the South Side, and things fell into place quickly.
Based on word-of-mouth referrals, The Dan Family opened for Hancock just a few months after practicing for the first time. The high-energy songs with comical undertones like "Pain Pill Blues" and "Rebel Soldier" sound like a young Johnny Cash who did a bunch of meth and hired a punk drummer, but The Dan Family isn't copying anyone else's style.
Payne mixes experiences in his life with the fiction he reads because "the words land in your head from somewhere," he said. "You gotta go tell it."
While some of the plots in his songs may be exaggerations, he knows his audience will forgive him. "If people won't question the government, they damn sure won't question that," he said.
Walker, on the other hand, takes situations from his life and turns them into cowpunk as a form of therapy. "I'm a pretty boring guy, but I can act a fool onstage," he said.
Having fun is the reason Walker makes music. His songs are about "shining light on a depressing situation," he said. When a girlfriend falsely accused him of being her child's father, he penned "Shotgun Wedding" as a response. "At least I turned it into a situation I can laugh about now," he said.
While the lyrics may be depressing, the music is uplifting and fun. The Dan Family walks this line very carefully. The people who book shows never can figure out whether to fit The Dan Family with punk acts or country acts. "We stick out like a sore thumb," Hardick said. But in a saturated country music market, being different is probably a good thing.
The Dan Family
Sun, Dec 26, w/Holy Moly at House of Blues,
2200 N Lamar St, Dallas. 8pm. $10. 214-978-BLUE.