OPENING: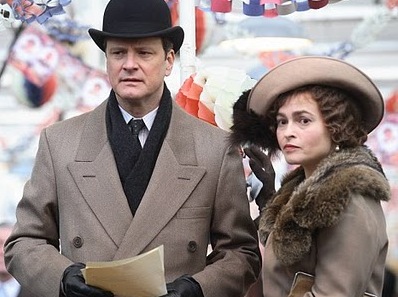 The King's Speech (R) Colin Firth stars in this drama as Britain's King George VI, who struggles to overcome a speech impediment when he unexpectedly must assume the throne. Also with Helena Bonham Carter, Geoffrey Rush, Guy Pearce, Michael Gambon, Jennifer Ehle, Timothy Spall, Derek Jacobi, and Claire Bloom. (Opens Friday in Dallas)


Rare Exports: A Christmas Tale (R) Jelmari Helander's satirical film is about a team of Finnish scientists who make bizarre discoveries during an archeological expedition to find Santa Claus. Starring Per Christian Ellefsen, Peeter Jakobi, Jorma Tommila, Tommi Korpela, Onni Tommila, Ilmari Järvenpää, and Jonathan Hutchings. (Opens Friday in Dallas)
The Tempest (PG-13) Julie Taymor (Titus, Across the Universe) adapts Shakespeare's last play — and changes its main character into a woman — about a sorceress (Helen Mirren) in exile who causes her former political enemies to be shipwrecked on her island. Also with Russell Brand, Djimon Hounsou, Felicity Jones, Reeve Carney, Alfred Molina, Tom Conti, Ben Whishaw, Alan Cumming, Chris Cooper, and David Strathairn. (Opens Friday in Dallas)
Tron: Legacy (PG) The 1982 Disney film with a cult following spawns this cool-looking but tediously incomprehensible sequel that brings back Jeff Bridges as a computer guru trapped in virtual reality who must help his hacker son (Garrett Hedlund) battle the evil program (personified by a digitally created avatar of Jeff Bridges' 1982 self) that's trying to manifest itself in the real world. The 3-D effects are snazzy and echo the original film's depictions of vehicle chases and fight sequences taking place on abstract grids. Yet the mushy, shapeless story is impossible to get invested in. Michael Sheen's flamboyant performance as a court jester of the cyber-world is the only note of humanity here. Also with Olivia Wilde, Bruce Boxleitner, James Frain, Beau Garrett, Owen Best, and an uncredited Cillian Murphy. (Opens Friday)
Yogi Bear (PG) Better than the Alvin and the Chipmunks movies, which isn't saying much. Dan Aykroyd voices the computer-generated Hanna Barbera bear as he teams up with Boo Boo (voiced by Justin Timberlake) to steal picnic baskets and save Jellystone Park from real estate developers. The movie has some flashes of wit, acknowledges the strangeness of a talking bear wearing a hat and necktie, and includes a nice turn by Andrew Daly as a corrupt mayor. On the other hand, Tom Cavanagh is near catatonic as Ranger Smith, Anna Faris is wasted as his love interest, and the film lacks any sort of inspiration. You and your kids will forget this as soon as it ends or even before that. Also with T.J. Miller and Nate Corddry. (Opens Friday)
Burlesque (PG-13) The plot is by-the-numbers, the dialogue is terrible, the acting is practically nonexistent, and yet none of that matters as long as Christina Aguilera is singing. The pop star makes her film debut with this musical about an Iowa girl who comes to L.A. and finds her place at a burlesque club run by a former dancer (Cher, singing as badly as ever and wearing at least two pounds of makeup, glitter, and sequins). The movie takes entirely too long to get the star singing, but Aguilera's three numbers in the middle of the film are a large slice of fabulousness and Stanley Tucci's performance as the gay best friend makes everything better. Moviegoers looking for a dose of musical camp will find it here. Also with Cam Gigandet, Eric Dane, Julianne Hough, Alan Cumming, Peter Gallagher, Dianna Agron, and Kristen Bell.
The Chronicles of Narnia: The Voyage of the Dawn Treader (PG) The least interesting franchise in our theaters grinds on with this third film starring Georgie Henley and Skandar Keynes as two Pevensie siblings who travel back to Narnia along with a horrible cousin (Will Poulter) to help King Caspian (Ben Barnes) find seven lost swords to fight off an evil green mist. Seriously, green mist is the villain here. The characters remain flat, the attempts at humor are lame, and the sermons are dispensed freely and sonorously whenever there's any uncertainty. There's a frightening sea serpent near the end, but other than that, nothing happens to disturb the soporific surface of this thing. Also with Gary Sweet, Anna Popplewell, William Moseley, Nathaniel Parker, and Tilda Swinton. Voices by Simon Pegg and Liam Neeson.
Faster (R) Wildly uneven thriller stars Dwayne Johnson as an ex-con getaway driver who upon his release from prison immediately sets about killing the men responsible for his brother's murder. The multiple plots stumble over each other, and there's a thoroughly bizarre storyline about a pretty-boy British millionaire software nerd (Oliver Jackson-Cohen) who has become a contract killer out of sheer boredom. There's also an awesome performance by Adewale Akinnuoye-Agbaje as a God-fearing reformed criminal on the hit list who tries to make his would-be killer see the light. Bits like these make this unholy mess of a film stand out from the other action films. Also with Billy Bob Thornton, Maggie Grace, Carla Gugino, Mike Epps, Lester Speight, Jennifer Carpenter, Xander Berkeley, and Tom Berenger.
127 Hours (R) James Franco gives an impressive performance as Aron Ralston, the real-life Colorado engineer who in 2003 became trapped in Utah's Blue John Canyon and eventually freed himself by amputating his right arm, which was pinned by a fallen boulder. Director/co-writer Danny Boyle (Slumdog Millionaire) stages flashbacks and hallucinations that keep the movie from being stuck in one location, and the scenery in Utah is shot with an unearthly beauty. This helps us through the unflinching depiction of Ralston's amputation. This movie tries to tease some philosophical meaning out of Ralston's accident, but it's not a deep movie by any means. It's just a nice survival yarn with a charismatic star turn. Also with Kate Mara, Amber Tamblyn, Clémence Poésy, Lizzy Caplan, Kate Burton, and Treat Williams.
Tangled (PG) Presumably this title is because there's already a musical called Hair. Disney's fractured animated take on the Rapunzel story has the Grimm brothers' heroine (voiced by Mandy Moore) as the lost child of a royal couple, kidnapped and raised by an old sorceress (voiced with great gusto by Donna Murphy) who keeps her adoptive daughter in her tower by telling her that the world is an evil place. The movie bites off more than it can chew trying to be both a musical and an action-thriller, with Rapunzel exploring the world and getting into hijinks with a handsome thief (voiced by Zachary Levi). The weak songs don't help, either. Still, the notes of psychological complexity in Rapunzel's relationship with her smothering drama queen of a mother is enough to keep this thing watchable. Additional voices by Ron Perlman, M.C. Gainey, Jeffrey Tambor, Richard Kiel, and Brad Garrett.
The Tourist (PG-13) Johnny Depp stars in this well-intentioned misfire as an American schoolteacher who's vacationing in Venice when he's mistaken for a thief and hunted down by both law enforcement and mobsters, with only a mysterious Englishwoman (Angelina Jolie) to help him. Director/co-writer Florian Henckel von Donnersmarck (The Lives of Others) takes this at a slow pace in an attempt to make the film softer and more romantic. Unfortunately, he goes too far and loses momentum. The jokes are damp squibs and the final twists provide too little payoff. You can say the same thing about the rest of the movie. Remade from a French thriller entitled Anthony Zimmer. Also with Paul Bettany, Timothy Dalton, Steven Berkoff, Christian de Sica, Alessio Boni, Raoul Bova, and Rufus Sewell.