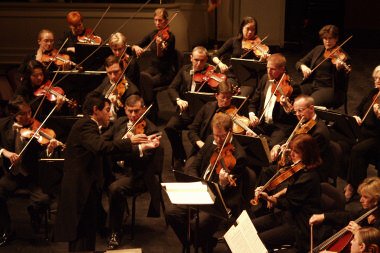 WED ? 15
John B. Hedges will be the composer-in-residence for Fort Worth Symphony Orchestra next season, but you can get an early taste of his music at a concert in Aledo this evening. Various groups connected to Aledo High School, which include some members of FWSO, will be performing the premiere of Hedges' Wrangling Wildfire, plus music by Schubert and Vaughan Williams. The concert is at 6:30pm at Aledo High School, 1000 Bailey Ranch Rd, Aledo. Admission is free. Call 817-665-6000.
THU ▪ 16
Arlington Museum of Art isn't the only venue holding a show of decorated Christmas trees. The National Cowgirl Museum and Hall of Fame's Cowgirl Christmas Tree Celebration features five trees decorated in ways that demonstrate the different functions of the institution. The show runs thru Dec 26 at 1720 Gendy St, FW. Admission is free with the museum's $8-10 entry fee. Call 817-336-4475.
FRI ▪ 17
It's going to be a busy football weekend for Cowboys Stadium. Before Sunday's game against the Redskins, the Arlington venue will host two days' worth of the UIL state football championships, featuring five high school title games in different conferences and divisions. The games are Fri-Sat at 1 Legends Way, Arlington. Tickets are $20.03. Call 800-745-3000.
SAT ▪ 18
Arts Fifth Avenue holds its 10th annual Jazzy Christmas event this year, so we'll see if they break out anything special for the occasion. We do know that the event will feature the talents of Joe Rogers, LaFeet Tap Ensemble and Hard Soles, Robert Rouse, and the art of Lynn Hart. The event is at 8pm Sat at 1628 5th Av, FW. Tickets are $10-15. Call 817-923-9500.
SUN ▪ 19
All Saints Episcopal Church is delving into unusual corners of the repertoire for its Christmas concert. Among the pieces to be performed are the finale of Saint-Saëns' Christmas Oratorio (based on old French folk songs) and Handel's Harp Concerto, a piece that is more often performed on the organ these days. It's a nice alternative to Messiah. The concert is at 5pm at 5001 Crestline Rd, FW. Admission is free. Call 817-732-1424.
MON ▪ 20
Artisan Center Theater is running Annie right now, but we're more interested in the show that their kids' theater troupe is putting on. Victor Herbert's 1903 operetta Babes in Toyland, which incorporates characters from Mother Goose rhymes, hasn't been done to death and provides a fascinating window on American musical theater when it was still heavily dependent on European models. The show runs thru Dec 22 at Belaire Theater, 420 E Pipeline Rd, Hurst. Tickets are $5. Call 817-284-1200.
TUE ▪ 21
Last Tuesday Bass Hall took a night off from The Nutcracker for Michael Martin Murphey. This Tuesday it'll be the Canadian Tenors, a classically trained quartet with a new holiday album out that includes classical and inspirational favorites. They'll join the Fort Worth Symphony Orchestra in a performance that begins at 8pm at 555 Commerce St, FW. Tickets are $29-80. Call 817-665-6000.