One thing Chow, Baby noticed on its trip to New Orleans last month: For all that the Big Easy is a hoo-hah "great culinary city," they're actually behind us on a trend. The newest, hippest hang-outs there are gastropubs, a term coined in London in the early '90s to describe pubs whose food was actually edible, then given the New York glam-up treatment starting in 2004 (meaning a side of frou-frou'd-up mac & cheese can cost $15, and "crafted" drinks start at $25), and now spreading across the country. There's a self-styled gastropub in Lincoln, Neb., even. Of course, there are several in Dallas.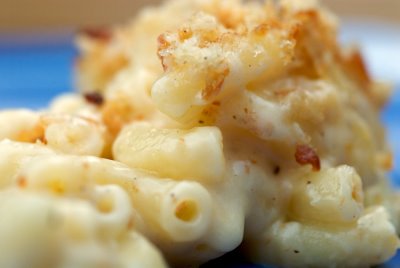 None in Fort Worth, though; at least, none going by the name "gastropub." But jeez, if the basic concept is to eat small plates of gourmet comfort food while sitting at a bar and imbibing whimsically named drinks — well, Chow, Baby's been doing that for years. "A side and a slide" (not that anyone actually slides drinks along the bar any more; pity) is one of the funnest ways to enjoy gourmet on the cheap. My Martini in North Arlington has since closed, and good riddance as Chow, Baby didn't like anything else about it after Chef Johndavid Bartlett left, but the lobster orzo & cheese and Donkey Show martini were pretty fab. At Lonesome Dove, (2406 N. Main) white truffled mac and cheese ($12) goes better than you'd think with an L.D. Tea (tea-flavored bourbon and peach liqueur), and the bar, right alongside the main dining area, is a primo people-watching spot.
If truffles and people-watching are your thing, hang out at the bar at Eddie V's (3100 W. 7th), where it's always fun to try to pick out the rich patrons from the trying-to-look-rich. The drinks aren't crafted — the house specialties include a Manhattan and a Mai Tai, cutting-edge in the 1870s and 1940s respectively — but then it's hard to imagine the whimsical drink that could stand up to Eddie V's whap-your-tastebuds truffled fusilli and cheese ($6.95). You can smell the dish from yards away, and the truffle taste lingers in the mouth for hours. Chow, Baby loves it.
The ultra-gooey seven-cheese macaroni & cheese at Mac's (2600 W. 7th) is a bargain at $3.95, and the bar and bartenders are certainly pleasing to the eye. But the music there is so freaking mod-bistro annoying — as Chow, Baby has been saying since at least 2008, will somebody please change the station already? — that while its to-go order was being prepped, Chow, Baby got its whimsy on at the neighboring Uncommon Angles. This shop of jewelry, hand-blown vases, ceramics, and must-have items like kaleidoscopes tap-dances on the line between kitsch and cool, so there's plenty to look at — and thankfully, nothing to listen to. Problem solved.
The best entertainment at Lambert's (2731 White Settlement Rd.) is chatting with bartender Bill, so go during off hours to catch him un-busy. In fact, it was while talking to Bill that Chow, Baby came up with this whole "we do so have gastropub-like establishments" idea, so blame him. Meanwhile, the kitchen was making up fabulously rich and gooey mac & cheese ($5), Chow, Baby's favorite four-cheeser in all the land — especially when washed down with Bill's Ex-Wife ($12), a crafty mix that starts off warm and sweet (Crown, spiced rum, pineapple juice), then burns you (serrano chiles). More proof that our gastropubs are better than anyplace else's, even if we don't call them that.
Contact Chow, Baby at chowbaby@fwweekly.com.