ESPN coordinating director Mike Feinberg is sitting in his temporary office on the 31st floor of the D.R. Horton Tower in downtown Fort Worth, and he has a lot of work on his plate. He's overseeing the sports network's Super Bowl coverage that will be produced all this week from Sundance Square.


The task seems rather daunting: Producing about 90 hours of original content that will be fed to ESPN's 18 different networks. Figuring out how to use 30 on-air commentators inventively. Booking famous athletes as guests. Getting sets built, including a main 62′-x-40′ set in a parking lot overlooked by the mural of the historic Chisholm Trail. Other radio/TV stages, a small demonstration football field where the Christmas tree stands on Main Street in December, and overhead "flycams" are also in the mix.
But Feinberg, 44, had something else on his mind last week. A key producer was sick and didn't think he could make it to Cowtown from ESPN's Bristol, Conn., headquarters.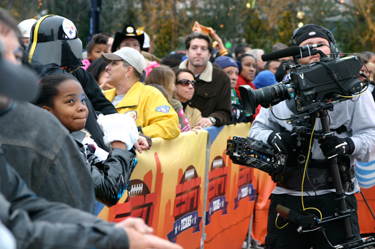 "There is always something unexpected about every day when we do the Super Bowl coverage, but you just have to deal with it," he said.
Feinberg has worked for the sports giant for 11 years, and this will be his ninth Super Bowl. A total of 300 ESPN employees will be working downtown, plus another 300 reporting from Cowboys Stadium in Arlington, the media center in Dallas, and other locations throughout North Texas.
Getting the ESPN coverage to originate from downtown Fort Worth was a huge coup for the city. The network reaches about 100 million households in the United States, while ESPN International adds another 53 million households in 59 other countries. In short, for eight days of pre-game and post-game coverage, Super Bowl fans in America and around the world will get to know Fort Worth.
So how did Fort Worth do it? Most figured ESPN would set up shop in Dallas. The media center is in downtown Dallas, with its "radio row" and the NFL Network. The league's headquarters for the Super Bowl are also in Dallas.
Feinberg would not get into why Dallas was not chosen. "I don't want to get involved with local politics, because we know this was a touchy issue," he said.
But he did elaborate a bit on what Sundance Square provides ESPN. "The first thing we think about is visual; everything has to look great," Feinberg said. "But our footprint for the Super Bowl coverage grows every year, and downtown Fort Worth had the space to accommodate us.
"We were also impressed by the close proximity of everything we needed," he continued. "The hotel rooms we needed were within walking distance. We were able to lease office space across the street, and there was room for our trailers right next to the sets. And the area is very accessible for our fans coming to watch the shows. We like to have big crowds when we broadcast, because that looks very good."
Fort Worth and Dallas both lobbied heavily for the ESPN nod. Last March, a delegation of Fort Worth civic and business leaders made a presentation in Bristol. But the original thinking was that Dallas would be more convenient, given the proximity to the media center and NFL headquarters.
In April, ESPN officials came down to look around. According to a senior producer, they toured several Dallas locations, including Victory Park near the American Airlines Center, Pegasus Plaza, the arts district, and Fair Park. "There were concerns about foot traffic," ESPN senior producer Stephanie Druley told the Dallas Observer when the decision favoring Fort Worth was announced in July. "Could we get the people there?"
Druley also told the Dallas paper that, in Fort Worth, only the Stockyards area was initially considered. That changed when the ESPN honchos took a walking tour of downtown with Texas Rangers President Nolan Ryan and TCU football coach Gary Patterson, their wives, and Sundance Square executives.
"This is a huge endeavor when we do this every year, and we have experience as to what works really well for us and what doesn't," Feinberg said last week. "We needed a large space, and we needed everything to be close by because we are on the air from 5 a.m. to 10 p.m. every day. Having restaurants and hotels within walking distance is important, given our schedule."
One problem for ESPN in Fort Worth was getting the guest athletes, coaches, and analysts over to Cowtown in a timely manner. The NFL Network and the radio stations based in Dallas are sort of a one-stop shopping spree for athletes taking care of their media obligations.
But Feinberg said ESPN's pros can handle that. Last year, for example, at the Super Bowl in Miami, the media center was in Fort Lauderdale, while ESPN set up in Miami's trendy South Beach area. "We had aggressive talent bookers who arranged transportation in Miami, and we'll do the same here," he said.
Some Dallas bloggers have theorized that Fort Worth was chosen over Dallas because it appears more typically Texan than Big D. You know, a mural with cattle, the Stockyards, the annual stock show and rodeo going on — some clichés that ESPN's viewers might need in order to reinforce their perceptions of the Lone Star State.
"We discussed that issue quite a bit," Feinberg said. "We're not going to just throw clichés out there. One of the reasons we liked downtown Fort Worth is that there is a mix of historical and new. We have that cattle mural celebrating the Chisholm Trail and then big skyscrapers right behind it. We like that this city is an equal blend of modern and old-fashioned at the same time."
And how is the East Coast native enjoying his first stay in Cowtown? "It's been great," he said. "The people have been so friendly and helpful, and we feel the excitement around here. I have been amazed that such a big city has such a small-town attitude. That sort of friendliness in a big city is very rare."
As for the Western heritage, Feinberg got his first taste last week: a rodeo performance.
"What those competitors do is incredible," Feinberg said. "And the whole presentation is done with the fans in mind. And that announcer was mind-blowing. He talked for two and a half hours nonstop and was clever and funny at the same time. Because I'm in this business, I know how hard that can be."