The estimated thousands of hungry football fans arriving in North Texas for Super Bowl XLV this week will provide an excuse for local restaurants to get all gussied up, kind of like the three host cities are doing with their streets. (Yes, City of Arlington, I've picked up the trash off my lawn.) A series of food-related and charitable events will provide tasty chow and interesting people-watching this weekend. Although there are more events and goodies than we've listed here, Fort Worth Weekly attempts, when possible, to highlight locally or regionally owned establishments.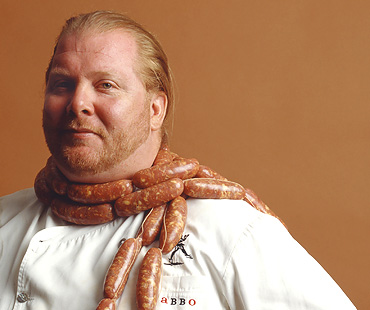 On Sat. Feb. 5, East Coast meets Lonesome Dove as part of Spaghetti Western, with larger-than-life Food Network personality Mario Batali co-chairing a benefit cook-off with Lonesome Dove Western Bistro's Tim Love at Love's Love Shack So7 (817 Matisse St., So7, 817-348-9655). Also in the mix: Food Network faves Guy Fieri and Emeril Lagasse, along with Texas Rangers' player Tommy Hunter and former Seattle Mariners pitcher Jamie Moyer. Tickets for the event, which include cocktails and presumably the chance to sample majorly tasty food, run $500. The money benefits the Mario Batali Foundation, which donates to children's and food-related causes, and Moyer's Camp Erin, a national camp for bereaved children.
Reata Restaurant (310 Houston St., 817-336-1009) will be a hot spot throughout Super Bowl week. With dining areas on several levels, Reata has a balcony that offers a nice vantage point from which to view all of the ESPN activity going on below in Sundance Square. But the home of cowboy cuisine already divides itself in half during the month-long run of the Fort Worth Stock Show and Rodeo, providing catering at both the stock show's Backstage and La Espuela areas at the Will Rogers Memorial Center. When the Super Bowl planning began, Reata president Mike Micallef chose to add a single staff person: Jacksonville-based sommelier Nathan Asaro, who successfully helped his restaurant, The Grotto, navigate Super Bowl XXXIX. Asaro says that, in his experience, Super Bowl attendees willing to pay $2,000 and up for a game ticket think nothing of adding a bottle of Cristal to their $200 meal. While most servers and managers are conversant with their wine lists, there's something to be said for an expert's presence, especially during a busy evening.
"All I do every day is help people pick out wine," Asaro said. "People are too hung up on scores and what a bottle of wine costs. There's an ocean of wine that's $50 or less."
And as for location, Asaro believes that Reata is well-positioned. "ESPN is working across the street," he said, with a laugh. "Reata's bar is going to be their green room."
At Grace (777 Main St., downtown, 817-877-3388), owner Adam Jones has not one but two sommeliers, Ryan Tedder and Jenny Kornblum, so Jones didn't feel the need to up-staff. Grace is normally dark on Sundays, but this week, it will be offering its regular menu and bar selections. "We'll be here with open arms to take care of all, whether they be wearing Packer yellow and green or Steeler black and gold," Jones said.
Chef Anthony Felli of Del Frisco's Double Eagle Steakhouse (812 Main St., downtown, 817-877-3999) said that the changes made to the menu at the stalwart steakhouse were minimal. "We thought about [making additions], but we wanted to stay committed to our local clientele," he said. "We'll stick with our normal menu."
A slight exception: Most of Felli's outstanding food will be featured in a lunch menu offered this week only. Del Frisco's temporary lunch hour will run from 11 a.m. until 2 p.m. through Super Bowl Sunday. Felli recommends making reservations. Lunchtime availability is filling up fast.
On Super Bowl Sunday evening, management at Eddie V's Prime Seafood (3100 W. 7th St., Cultural District, 817-336-8000) is offering quite a deal. Buy any entrée, and your second (lesser-priced) entrée is on the house. Magically, the offer is good for either the V Lounge or the dining room, so you can watch the game (or not). If you eat in the swanky lounge, you can take advantage of happy-hour pricing: $5 wines and specialty drinks along with specially priced appetizers.
And the Southside's West Magnolia Avenue isn't ignoring the Super Bowl hubbub. If you arrive at Ellerbe Fine Foods (1501 W. Magnolia Ave., 817-926-3663) between 5:30 and 6 p.m. through Friday, Chef Molly McCook will offer three courses for $30 per. That window of time is when diners need to be seated, but they don't have to eat in 30 minutes. Ellerbe's prixe-fixe menu includes soup or a salad, either the excellent chicken-fried steak or barbecue-spiced pork shank, and the not-to-be-missed Maw Maw's bread pudding. Ellerbe was recently named one of Bon Appétit Magazine's 10 best new restaurants in the United States.
Benefitting the Tarrant Area Food Bank and local food pantry Harvest House, Burleson's shiny new H-E-B supermarket (165 NW John Jones Dr.) is hosting a community chili cook-off on Saturday afternoon. Ten Burleson-based teams, representing local charities, will fire up the hot stuff starting at noon, and there will be kid-friendly activities all afternoon. No reservations are needed, and free samples of the contestants' best work will be handed out starting around 3 p.m. No famous athletes or chefs will be in attendance, but there's also no fee to participate.
But don't expect every 817 eatery to go Super Bowl crazy. Olenjack's Grille (770 Road to Six Flags East, Ste. 100, Arlington, 817-226-2600) isn't planning anything super-special. But the bar/restaurant is arguably the best non-chain establishment in Arlington, and customers will get a great deal: free shuttle service to and from Cowboy's Stadium with the purchase of any food or beverage. This is a service that Olenjack's offers regularly on game days, and you could do worse than bemoan how badly the Cowboys performed this year while tucking into Olenjack's Sunday brunch or watching the game from any one of the bar/restaurant's multiple big screen televisions. And the Lincoln Square shopping center, where Olenjack's is located, offers free parking with the purchase of $40 worth
of food or merchandise from Lincoln Square tenants.
El Gabacho Tex-Mex Grill (2408 W. Abram St., Arlington, 817-276-8160) isn't going to much trouble for the game. After entertaining a fairly large crowd during last year's World Series, owner David Govea realized that not everyone in his restaurant could see the televisions in the bar. So he did what any concerned bar/restaurant owner would do and bought a 55-inch plasma television, mounted so that it's visible from every seat in the building. Although happy hour at El Gabacho doesn't usually extend to Sundays, the restaurant will serve $2 Victoria beer, $2 domestic beer, and $3 imports all day during Super Bowl XLV. El Gabacho also will offer its $25 unlimited buffet, regular menu, and happy hour prices on select libations, including margaritas and swirls for $4.50.