Two years ago, an early version of the mod-rock Mansfield band Waking Alice was trying to make the most of expensive studio time while recording a demo at Fort Worth Sound. Producer Bart Rose's assistant, Michael Garcia, threw a wrench in the careful schedule by making suggestion after suggestion about how guitarist Brandon Brewer could improve his parts. Garcia's own band, Parallax View, played a similar sort of mainstream metal, and his studio expertise gave him a keen ear for possible augmentations.


Waking Alice appreciated the input and thanked Garcia by annexing him as the group's new guitarist and singer, effectively merging the two bands. The arrangement works because now, instead of relying on a clear leader, the band effectively has several. Each member is responsible for management duties and has a measure of creative control. In November, the new and improved Waking Alice released an EP, The Shaping. With disc in tow, the band has big plans to walk the fine line between rock and metal and attract listeners of both.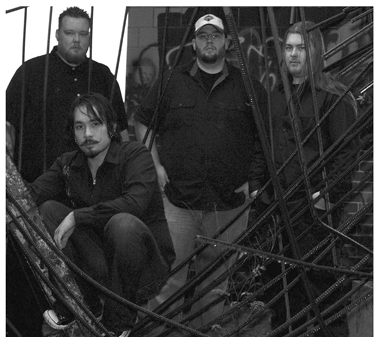 In high school in Mansfield, even though their classmates were more into Pat Green than Metallica, Brewer and drummer Darrick Anderson dreamed about starting a metal band. The plan materialized five years ago. "Waking Alice" is a reference to Alice in Wonderland. "It's a metaphor [that says] to stop dreaming," Brewer said. "If you want to go get something, go get it."
Brewer wrote the lyrics for several different singers. When friends and family didn't support his musical aspirations, Brewer developed a defensive lyrical style designed to explain why he would continue making music and why he didn't care if anyone didn't like it. The frustration expanded beyond the need to explain his intentions when he discovered that many of his early bandmates didn't want to help with the booking, promoting, and other business-oriented details that can be a drag to many musicians.
Part of the reason he and Anderson invited Garcia into the band was to ease the burden they felt about having to do all of the grunge work necessary to operate an independent band. Garcia, who brought bassist Coady Mars with him, also assumed a share of songwriting duties with his own set of experiences and expectations. The regrouped band holed up in a Mansfield practice space and reworked the old material into something that every band member could feel comfortable performing. Mars changed all of the bass lines, and Garcia rephrased most of the lyrics. "Mike needed to sing like Mike," Brewer said.
After finding a happy medium, the guys set out to write new, unified material. Garcia, unlike Brewer, writes more "abstract" lyrics, Brewer said. Garcia wrote "Chasing Memories," a track on The Shaping, about his childhood best friend who was killed serving in the U.S. armed forces in the Middle East. Rather than focusing on the details of his friend's life and death, Garcia chose to dig into the underlying emotions surrounding loss in general. "I left it open," he said. "It's about something that has ended that you want to draw back in."
Both in tunes that come from a defensive stance and ones that are more wistful jaunts through emotions and recollections, Waking Alice, with its lyrics, wants to appeal to as many listeners as possible. "If people feel you're singing to them, it helps solidify a connection," Brewer said.
When designing the music that surrounds Garcia's clear melodies and the group harmonies, the band tries to wedge itself carefully between rock and metal. They make use of plenty of guitar solos, distortion pedals, and Anderson's heavy double-bass drumming, but the music is never too loud or overbearing. And unlike most other bands who flirt with the metal tag, no one in Waking Alice ever screams into a microphone.
When the band reached a point where it was ready to tackle recording again, Garcia considered doing the project at Fort Worth Sound, where he works part time when not attending classes at UTA. But he "didn't want to wear both hats," he said. Instead, the band chose to record with two-time Grammy winner Eric Delegard (Bowling for Soup, Fair to Midland, Slobberbone) at Denton's Reeltime Audio. To add umph to the finished product, the guys paid Tom Baker (Beastie Boys, Café Tacuba, Deftones, Cher) to master the EP, and the result is finely polished and radio-friendly.
Waking Alice wants to book its shows carefully, and the band is trying to establish a rock-metal crossover scene with local artists No Scope, Silver Loves Mercury, and Addnerim. KEGL's local show has been spinning Waking Alice's new material, so word is spreading.
Finding balance while allowing each musical contributor to be himself is no easy task, a principle proven by the legions of broken-up bands, but Waking Alice has come a long way in that respect. According to Brewer, the process is all about finding "other people crazy enough to get involved in this with you," he said. l