One thing about not leaving the house much for a couple of weeks, you don't spend a lot of money on dining out. Plus, the happy Packers fans who had been staying on Chow, Baby's couch left behind little go-boxes from Olenjack's (shrimp and grits, mmm) and Reata (coffee-crusted pork tenderloin, mmm), extending the no-reason-to-dine-out for a few more days — so here we are now at mid-month with a whole month's expense account yet to blow.

How does sushi sound? Expensive, right? Especially when Chow, Baby is doing the ordering, as even after all these Piranha-loving years (Marry Me roll, fond-memory mmm) it still doesn't have a clear concept of what amount of sushi constitutes one Hungry-Man serving size. Ten pieces of raw fish? Twenty? Better get 20 to be safe.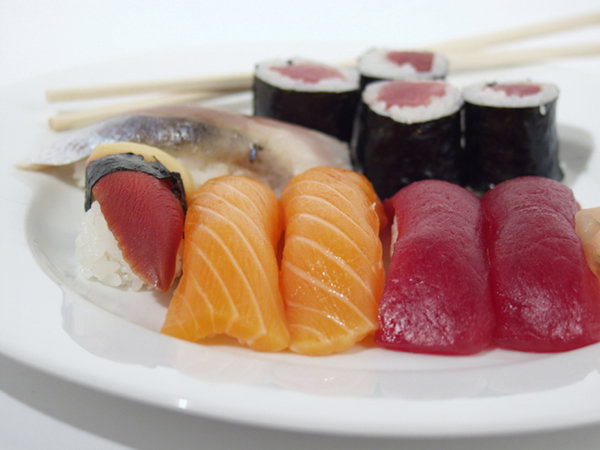 Blue Sushi Sake Grill (3131 W. 7th St., in the Museum Place, sure looked like a good candidate for right-sizing the expense account, what with its urban-glam soaring ceilings, cool-blue lighting, pop-art wall of shiny Sapporo beer cans, and hypnotic gleaming fish in a raised 1,000-gallon tank. Yes, very expensive-looking. Shockingly, though, running up the credit card that was burning a hole in Chow, Baby's pocket proved to be a challenge. You can get a fine lunch or dinner (same prices) for $12 here — the rolls are large, and many of them are priced in the single digits, so a pairing of, say, the velvety asparagus/salmon/cream cheese roll ($8, 8 pieces) and the fresh-crisp Japanese cucumber kappa ($4, 8 pieces) would fill you up both tastily and texturally. Or if you're in a nigiri/sashimi mood, you could get several three-bite pieces of plush white tuna, smoked salmon, or smelt roe for about the same total price. And then there's the "New World Sashimi" section of the menu: small plates of octopus, tuna, or ceviche-style white fish, most $10 (5 pieces). That's darn near a bargain. How is Chow, Baby supposed to drop $50 here?
To get up to budget, Chow, Baby had the able help of its newest server-throb, Scott. Now, Chow, Baby's been trying to dial back its server crushes, because one, drooling on people who have to be nice to you is inappropriate and unprofessional, and two, the younger that servers get, the more Chow, Baby is starting to feel like a perv. So we won't go on about Scott's wit (Chow, Baby almost fell off its chair, repeatedly), charm (he called me "eccentric" — what a sweet way to say "weird") and army-blanket-green eyes (mmm), but just leave it at "Man, this kid from Oklahoma City really knows his sushi." Once he found out his guest's needs — "I want to spend a lot of money" — he immediately recommended the chef's choice ninja platter ($25), a bountiful, beautiful selection of half a dozen sushi and sashimi pieces, every bite as silky, plump, fresh, and sumptuous as it possibly could be. But wait, that's not all: Taste buds were set a-tingling with two perky rolls, the eel-sauced, spicy crab "crunchy blue" and the "spicy sake" with salmon.
Unfortunately Chow, Baby couldn't quite finish the ninja platter — it's enough for two people, even if they're Hungry-Men — and so is now even farther behind, expense-account-wise, with just one week left in the month. Hmm. Next outing: a nice, big steakhouse steak? Sounds expensive, right? Good.
Contact Chow, Baby at chowbaby@fwweekly.com.