It's been a rocky road over financial and sometimes artistic potholes, but Texas Ballet Theater made it to 50 this year. Artistic director Ben Stevenson and company will celebrate the anniversary with two programs at Bass Performance Hall this weekend, along with a $500-a-plate black-tie dinner dance at City Club.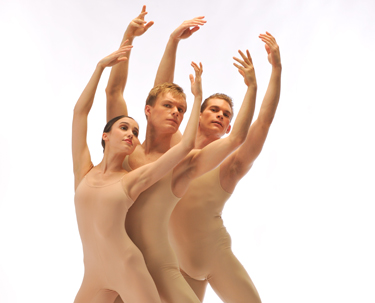 The program that will be danced on Friday and Sunday will feature revivals of Stevenson's Four Last Songs, set to the Richard Strauss music of the same name, along with George Balanchine's Theme and Variations, staged by Ben Hughes of the Balanchine Trust, not seen here since the Paul Mejia regime some years ago. The theme and variations from the Tchaikovsky Third Suite for Orchestra inspired the ballet.
The program wilal also feature the world premiere of TBT dancer/choreographer Peter Zweifel's Love Always Remains, an homage to the company's late music director, Jack Buchanan, who died suddenly in 2008.
"Jack brought Arvo Pärt's Spiegel im Spiegel to my attention after conducting Absence, my last ballet for TBT, thinking it was something I might like to choreograph," Zweifel said. Pärt's elegiac duet for violin and piano forms one of the four sections in Zweifel's new ballet, which also includes music by Vivaldi and contemporary indie-rock bands MGMT and Wolf Parade.
Saturday's program, A Taste of Dance, is a 40-minute 7 p.m. curtain-raiser for the dinner scheduled later at City Club. Stevenson's Three Preludes, set to piano music by Rachmaninoff, and Victor Gsovsky's rousing Grand Pas Classique, with music by François Auber, will be followed by the artistic director's new piece, Jazz Lovin', featuring the jazz ensemble from Dallas' Booker T. Washington High School for the Performing Arts. "I heard them play not long ago, and they reminded me of my days at the London Palladium back in the '60s," Stevenson said. "I was a young dancer then, reveling in the weekly vaudeville-like shows we put on with big-name headliners like Liza Minnelli. It was a great experience, and I tried to capture that feeling here."
For attendees of the City Club function, A Taste of Dance is free. For non-attendees, general admission is $25. With the exception of the jazz ensemble, the dancing throughout the weekend will be performed to recorded sound. — Leonard Eureka
Texas Ballet Theater Fri-Sun at Bass Performance Hall, 525 Commerce St, FW. Tickets are $19-99. Call 877-828-9200.