Chefs are usually focused on very temporary creations, food that will be gone within the hour (if not sooner). But on Sunday, several Fort Worth celebrity chefs will be cooking for posterity.

Lou Lambert (Lambert's Steaks, Seafood & Whiskey), Terry "The Outlaw Chef" Chandler (Fred's Texas Café), Molly McCook (Ellerbe Fine Foods), Lanny Lancarte (Lanny's Alta Cocina Mexicana), Grady Spears (Grady's), and others will do what they do best from 4 to 8 p.m. at Clear Fork Station (4971 E. I-20, Willow Park, just west of town) as part of a fund-raiser for Foodways Texas. A relatively new nonprofit organization devoted to "preserving, promoting, and celebrating Texas' diverse food cultures," FTX is modeled after the Southern Foodways Alliance, a similar, older group based in Oxford, Miss., focusing on Southern food.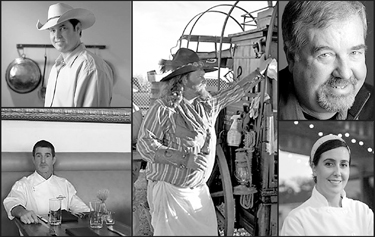 SFA does not offer any Texas-centric programs, which is part of the reason food writer Robb Walsh (Sex, Death & Oysters, Cowboy in the Kitchen) and several other professional foodies decided to create FTX. "The problem is that Texas doesn't fit neatly into the South," Walsh said. "Fort Worth is 'where the West begins,' and the other half of the state was part of the old Confederacy."
You could say that FTX's roots can be traced back to veteran food writer Elizabeth Engelhardt's Republic of Barbecue (University of Texas Press). Not long after the book was published in 2009, Engelhardt created a Texas barbecue map for SFA's web site. "The end result is, she wanted to do a Texas alliance," said Walsh, who served as a consultant on Engelhardt's book and was active in the SFA.
One thing Walsh knew he needed to do early on was acquire an academic affiliation. "Without it, you turn into just a chili-appreciation society," he said. "We wanted to be an academic organization –– but with great parties." With Marvin Bendele, who would become FTX's executive director, Walsh approached several universities, including Texas A&M, Houston, and Rice, but didn't get any bites. The University of Texas' Division of Diversity and Community Engagement in Austin eventually agreed to partner with FTX.
To get started, last July, Walsh heeded the advice of SFA's John T. Edge and invited about 50 Texas chefs, food writers, and food company owners to a two-day conference at Texas A&M. Together, they nailed down FTX's mission statement, among other things. Foodie groups across the state soon began holding fund-raisers for the organization. The events –– in Austin, Dallas, Houston, and San Antonio –– have all been successful, Walsh said, though not necessarily from a financial standpoint. However, he said, "Our main purpose of all of them is to bring the community together and tell them what we do. In that sense, they've all been successful." Foodways Texas is privately funded. Goode Company and Louisiana Foods are the organization's only two corporate sponsors.
Sunday's event at Clear Fork Station, entitled FTX Charreada, is another fund-raiser. Walsh and company, however, are tightly focused on their inaugural symposium, Fri., Feb. 25, through Sun., Feb. 27, in Galveston. The topic: seafood. "The Gulf Coast is at a crossroads now after [Hurricane] Ike" and the BP oil spill, Walsh said. "All over the country, people are skeptical of Gulf seafood, even though no oil was near Texas."
One symposium discussion will involve fishing. Many Gulf fishermen, Walsh said, are throwing white anchovies, onaga, and other potentially valuable fish overboard. "Those fishermen could be getting good money for those fish," he said.
A key part of Foodways Texas' mission is documenting Texas' culinary heritage. Not long after that July conference at A&M, Bendele recruited some young Texas filmmakers to shoot a documentary of a Czech family that still makes sorghum syrup. "We were putting our money where our mouth was," Walsh said. "Here's this food-making tradition that's on the way out the door."
Foodways Texas' other documentary is about a San Antonio piemaker who's been plying his trade for more than 50 years. The organization also hopes to begin pumping out Texas-ified cookbooks.
Foodways Texas is not without Fort Worth flavor. Lambert; Standard Meat executive Nick Nickelson; chuckwagon chef, author, and restaurateur Tom Perini (Perini Ranch Steakhouse in Buffalo Gap); and Fort Worth Star-Telegram food critic and author June Naylor are on FTX's board of directors.
In addition to the Fort Worth food at FTX Charreada, beer from Fort Worth's Rahr & Sons Brewing Company will be available. Live music (mariachi and C&W) and kids' activities will round out the event. Tickets are $45 per person or $80 per couple. Admission is free for kids 12 and under.
Foodways Texas membership is open to anyone who loves food and Texas food heritage.