Ray's Prime Steakhouse & Seafood (3206 Winthrop Ave.) has been open since last summer, but this was Chow, Baby's first visit, as it's in the space formerly occupied by [fanfare of trumpets and tears] Aventino. The short-lived but brilliant avant-garde restaurant now holds the place in Chow, Baby's faulty memory that was once occupied by the Chisholm Club — in retrospect, at least, it's the Greatest Restaurant Ever (the Chisholm Club for its dry-aged rib-eyes, Aventino for its wild boar pappardelle). Nobody and no dish could ever live up to these idealized remembrances, and any reminder is just going to make Chow, Baby sad. On the other hand, there's the "Oh, just grow up" argument, as oft explicated by the beloved, so Chow, Baby tucked its hanky in its sleeve and headed in to Ray's.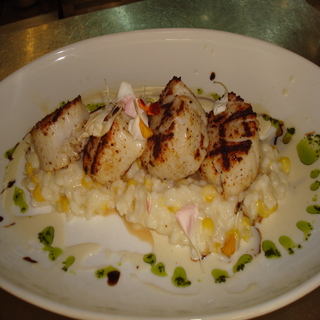 Well, no painful reminder of Aventino's sleek Euro-décor here. Ray's room is warm and cozy rustic Texana, with dark wood, creamy walls, and gloomy paintings. The large windows have been covered up but for small portholes at the top, with candles on the tables as the primary lighting source. Nor was the menu intimidating, with fish, seafood, pasta, and steak entrées starting in the mid-teens, most topping out around $30, many with yummy-looking sauces: lobster cream sauce, cognac sauce, various wine demi-glaces. Chow, Baby considered finishing up its monthly budget in one fell $52 swoop with the 20-oz. chateaubriand (for two, theoretically), but was thrilled with its final choice, the filet mignon (10 oz., $30), floating on a pond of piquant peppercorn sauce and gorgeously seared to a crisp shell around a juicy pink mantle and warm red core. (Like you used to get at the Chisholm Club, sniff.)
Ray's owner Ray Jumeri heads several Neighborhood Italian Gems, including down-the-street Fortuna, and if you seek carryovers you shall find them — all those sauces, including even the Gem-classic pink sauce, here served with spinach ravioli ($14); the Gem-hallmark stuffed-mushroom appetizer, here promoted to a portobello filled with real crabmeat ($7). But a scattering of Italian dishes does not make Ray's Prime just a fancy Fortuna; with its prime beef, Scottish salmon, and Dover sole deboned tableside, it's really in a different class altogether. That's significant because restaurants, like TV crime series, generally grow laterally: One Kincaid's or Pho 95 (or CSI or Law & Order) does well, and boom, you get more, near-identical but for location (Arlington, Miami). Sure, we had that nice upscale-chefs-going-downscale fad a few years back, when Grady Spears and Lou Lambert opened Dutch's, and Jon Bonnell took a stake in Buffalo Bros., and Lanny Lancarte opened a taqueria — no, wait, that one was just Chow, Baby's fantasy. But restaurants that try to go the other way, upstream, almost never last long.
Take, for example, the short-lived, non-gas-station-sited Chef Point II. Or more to the point, the original Aventino's, which reinvented itself from longtime Neighborhood Italian Gem, baked pastas and all, to swanky Greatest Restaurant Ever — and died less than a year later. Chow, Baby doesn't think that's going to happen to Ray's Prime, its main evidence being the flavor-blast midnight snack of leftover steak and sauce and the $15 of expense money still in its pocket. Great food, reasonable-for-what-you-get prices, unruffle-able service, comfortable room — with Ray's Prime, Ray Jumeri is fitting into his new niche just fine.
Contact Chow, Baby at chowbaby@fwweekly.com.