Battle: Los Angeles (PG-13) Aaron Eckhart and Bridget Moynahan star in this apocalyptic sci-fi thriller about a U.S. Marine battalion trying to survive in the face of a global invasion by an alien race. Also with Michelle Rodriguez, Michael Peña, Lucas Till, James Hiroyuki Liao, and Ne-Yo. (Opens Friday)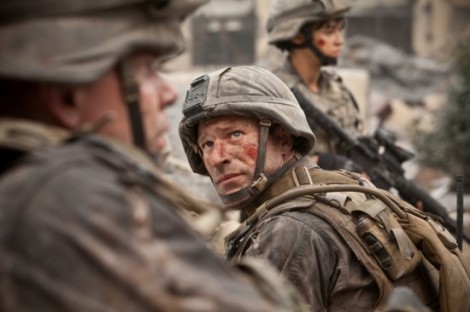 Clash (NR) Thanh Van Ngo stars in this thriller as a Vietnamese contract killer who must perform a series of jobs to save her kidnapped daughter. Also with Hieu Hien, Hoang Phuc Nguyen, Lam Minh Thang, and Johnny Nguyen. (Opens Friday at AMC Parks at Arlington)
Detective K (NR) Kim Myeong-min stars in this comedic thriller as an eccentric detective trying to solve a string of murders in 18th-century Korea. Also with Oh Dal-su, Han Ji-min, Lee Jae-yeong, Woo Hyeon, and Ye Soo-jeong. (Opens Friday at AMC Grapevine Mills)
Even the Rain (NR) Icíar Bollaín's satire stars Gael García Bernal as a Spanish filmmaker whose attempt to film an epic in Bolivia about Christopher Columbus becomes ensnared in a fight over local water rights. Also with Luis Tosar, Karra Elejalde, Raúl Arévalo, Juan Carlos Aduviri, Casssandra Ciangherotti, and Carlos Santos. (Opens Friday in Dallas)
Happythankyoumoreplease (R) Josh Radnor (TV's How I Met Your Mother) writes, directs, and stars in this comedy as a struggling writer who, along with his friends, grapples with various life decisions. Also with Malin Akerman, Kate Mara, Pablo Schreiber, and Richard Jenkins. (Opens Friday in Dallas)
The Last Lions (PG) Dereck Joubert's documentary raises awareness of the steady disappearance of African lions. (Opens Friday in Dallas)
Red Riding Hood (PG-13) Catherine Hardwicke (Twilight) directs this re-working of the fable starring Amanda Seyfried as a girl in a medieval village being terrorized by a murderous werewolf. Also with Gary Oldman, Billy Burke, Shiloh Fernandez, Max Irons, Lukas Haas, Virginia Madsen, and Julie Christie. (Opens Friday)
The Adjustment Bureau (PG-13) George Nolfi's misbegotten adaptation of Philip K. Dick's story stars Matt Damon as a rising politician whose love affair with a ballerina (a fiercely funny Emily Blunt) is impeded by a mysterious group of men who take extraordinary measures to make sure everyone's lives stay on predestined paths. The men are supposed to be angels, but the first-time director is so bad at presenting the supernatural that they just come off as a bunch of bumbling guys wearing fedoras that would be inconspicuous in 1947 but stick out in the present day. The film also aims for operatic romance, but that doesn't work either. Also with Anthony Mackie, John Slattery, Michael Kelly, and Terence Stamp.
Beastly (PG-13) This oh-so-tragically-hip modern-day reworking of the Beauty and the Beast fable (based on Alex Flinn's novel) stars Alex Pettyfer as a rich, handsome, popular high-school jerk who ridicules a Goth girl (Mary-Kate Olsen) about her looks and is promptly cursed with disfiguring scars until he can find true love. Pettyfer is better here than he is in I Am Number Four, but he doesn't have much chemistry with Vanessa Hudgens as the girl who breaks the curse. Director Daniel Barnz (Phoebe in Wonderland) fails to generate the fairy-tale atmosphere that he's going for here, and after a caffeinated start the movie subsides into Twilight-style romantic clichés. As a blind tutor who serves as the story's Lumiere equivalent, Neil Patrick Harris injects a massive dose of badly needed snark. Also with Lisa Gay Hamilton, Erik Knudsen, Dakota Johnson, and Peter Krause.
Big Mommas: Like Father, Like Son (PG-13) Martin Lawrence comes back for his third outing as Big Momma because, um, he didn't have anything better to do? After his college-age son (Brandon T. Jackson) witnesses a murder, the two of them hide out in drag at a women's fine arts school where a key piece of evidence is hidden. Director John Whitesell expends a curious amount of energy trying to make this work as a thriller (no go) and displays no flair for the tedious, predictable comedy set pieces. There is, I am sad to report, a school cafeteria musical number. This series ran out of ideas two movies ago. Also with Jessica Lucas, Michelle Ang, Portia Doubleday, Emily Rios, Henri Lubatti, Susan Walters, Sherri Shepherd, Ken Jeong, and an uncredited Faizon Love.
Black Swan (R) One of 2010's best horror movies. Also possibly the best ballet film since 1948's The Red Shoes. Natalie Portman stars as Nina, a high-strung, perfectionistic ballerina who suffers terrifying psychotic delusions as she prepares to dance the lead in Swan Lake. Darren Aronofsky's film takes a realistic, detailed look at the work that goes into dancing at this level but also presents us with hallucinations that build an all-pervading sense of dread, especially with the wounds and deformities that Nina sees visited upon her body. Portman does much of the dancing herself, and her hyper-intense acting style has never looked more appropriate. The story indulges in drippy melodrama and shopworn ideas about artists, but the feverish, heavily coded terms make this movie ballet-like in its tragic power and beauty. Also with Mila Kunis, Vincent Cassel, Barbara Hershey, Benjamin Millepied, Ksenia Solo, Sebastian Stan, and Winona Ryder.
Drive Angry 3D (R) Unapologetically trashy grindhouse thriller shot expressly in 3D stars Nicolas Cage as a damned soul who has escaped from hell to take down the Satan-worshipping cult that killed his daughter (Arianne Martin) and is now planning to sacrifice his baby granddaughter to bring about the apocalypse. The material is played with way more zest than it deserves by Amber Heard (as an improbably ass-kicking waitress who travels with the hero) and William Fichtner (as Satan's accountant, who pursues the guy to bring him back to hell), and Patrick Lussier films the car chases with a reasonable amount of skill. The movie may not be worth the 3D surcharge, but it knows what it is at heart and doesn't overextend itself. Also with Billy Burke, David Morse, Christa Campbell, Charlotte Ross, and Pruitt Taylor Vince.
---
The Eagle (PG-13) The best Channing Tatum movie so far. He stars in this adaptation of Rosemary Sutcliff's novel
The Eagle of the Ninth
as a Roman centurion in 140 A.D. who vows to reclaim his family honor by venturing alone north of Hadrian's Wall to steal back an eagle standard carried by his father's legion when they were wiped out by the natives. Tatum still can't act, but the filmmakers play up his strengths and minimize his weaknesses. Director Kevin Macdonald and cinematographer Anthony Dod Mantle capture some breathtaking visuals in the Scottish highlands. This is not a slam-bang action thriller but a contemplative, lyrical visual tone poem that's unusual for a movie released by Hollywood for the popcorn crowd. Also with Jamie Bell, Denis O'Hare, Mark Strong, Douglas Henshall, Tahar Rahim, and Donald Sutherland.
The Fighter (R) Mark Wahlberg stars in this solid, well-crafted drama about the real-life welterweight boxing champion Irish Micky Ward, who returned from an injury-related hiatus in the late 1990s to win his first title. Wahlberg is strong in the lead, but the acting honors are stolen clean away by a live-wire, alarmingly thin Christian Bale as Micky's crack-addicted half-brother who taught him how to box. David O. Russell (Three Kings) lays out the story without any of his customary frills and with an eye for the New England atmosphere. Fitting that a comeback story should be a comeback vehicle for its director. Also with Amy Adams, Melissa Leo, Mickey O'Keefe, Jack McGee, and Frank Renzulli.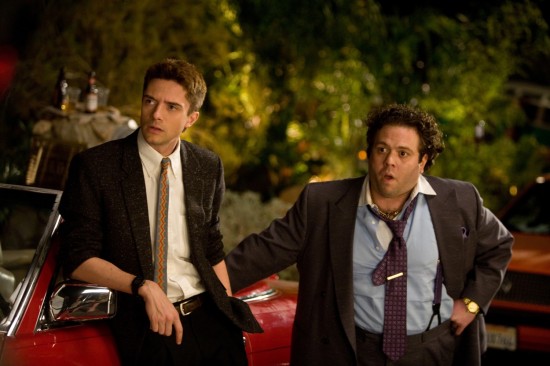 Gnomeo & Juliet (PG) Way cleverer than you'd think. British animated film transplants Shakespeare's tale into a story about feuding families of garden gnomes in neighboring houses, with James McAvoy and Emily Blunt providing the voices of the gnomes who fall in love. The jokes hit home more often than not, the script is packed with deft Shakespeare allusions, and the voice casting is nifty (Jason Statham as Tybalt, Patrick Stewart as Shakespeare, Hulk Hogan as a web site selling an insanely overpowered lawnmower). The soundtrack features Elton John songs performed by Sir Elton himself and Lady Gaga. Why wasn't there a Lady Gaga gnome in the movie? Additional voices by Michael Caine, Maggie Smith, Ashley Jensen, Matt Lucas, Jim Cummings, Julie Walters, Stephen Merchant, Dolly Parton, and Ozzy Osbourne.
The Grace Card (PG-13) This movie tries to inject thrills into its Christian-themed drama by laying on the racial tension. It doesn't work. Michael Joiner stars as a white Memphis policeman whose son was killed years earlier by an African-American criminal. With his family falling apart in the present day, his anger surfaces in the presence of his new, devoutly Christian African-American cop partner (Mike Higgenbottom). The issues here are handled poorly enough to make Crash look subtle by comparison, and the acting is so very, very bad. The pun in the title is off-putting. Let it put you off. Also with Cindy Hodge, Joy Parmer Moore, Dawntoya Thomason, and Louis Gossett Jr.
Hall Pass (R) Really sad for all the wrong reasons. The Farrelly Brothers' latest comedy stars Owen Wilson and Jason Sudeikis as two sexually frustrated married guys whose annoying, put-upon wives (Jenna Fischer and Christina Applegate) release them from their marriage vows for one week as a form of couples' therapy. The joke is that the guys are so uncool and immature that they can't live out their horndog fantasies because they make women flee in terror. That joke grows awfully thin when repeated over 105 minutes, and the movie's ultimate affirmation of conventional morality is soggy in the extreme. The bitterness here makes the filmmakers come off like their heroes, middle-aged guys who once had game but now find themselves way behind the curve. Also with Nicky Whelan, Stephen Merchant, Tyler Hoechlin, Alexandra Daddario, Andrew Wilson, Joy Behar, J.B. Smoove, Vanessa Angel, Alyssa Milano, and Richard Jenkins.
I Am Number Four (PG-13) Based on Pittacus Lore's novel, the latest movie adaptation of a young-adult publishing phenomenon stars Alex Pettyfer as one of nine superpowered refugees from a decimated alien planet who's now hiding amid Earth's population (at a high school in a small Ohio town) from his civilization's destroyers. The screenwriters don't do enough to flesh out the mythology and backstory of this alternate universe, and the high-school drama doesn't resonate, perhaps due to Pettyfer's generally wooden performance. Still, director D.J. Caruso tightens up the action on screen and doesn't treat the romantic scenes as throwaway nuisances. Teresa Palmer gives the movie a huge late boost as Number Six; she makes you wish the movie had been about the ultra-cool Six instead of the dull Four. Also with Dianna Agron, Callan McAuliffe, Jake Abel, Kevin Durand, and Timothy Olyphant.
Just Go With It (PG-13) A mighty clash between two types of bad movie: the Adam Sandler comedy and the Jennifer Aniston romance. The Sandler comedy wins. The audience loses. The two actors star in this remake of the 1969 film Cactus Flower as a plastic surgeon and his assistant, whom he talks into posing as his ex-wife for the benefit of his new girlfriend (Brooklyn Decker). Truly nothing works, not the web of deception that could be picked apart by a small child, not the chemistry between Sandler and either of his female co-stars, not Sandler's womanizing character somehow failing to notice his assistant's hotness, not the "did that actually happen?" cameo by Nicole Kidman, and certainly not any of the jokes. The whole thing is severely painful. Also with Nick Swardson, Bailee Madison, Kevin Nealon, Rachel Dratch, Allen Covert, Minka Kelly, and Dave Matthews.
Justin Bieber: Never Say Never (G) Presumably the sequel will be called Never Say Never Again and feature Bieber in a tuxedo, shooting bad guys with paintballs and drinking chocolate milk out of martini glasses. (Get on this, FunnyOrDie.com! and give me royalties!) This 3D concert film is taken from the teen pop star's 2010 show at Madison Square Garden. The movie doesn't feature enough actual concert footage, and it ill-advisedly tries to build suspense out of the singer's troubles with his vocal cords. On the other hand, there's some interesting stuff on the role of YouTube and Twitter in his rise to stardom, and the footage from Bieber's preteen years shows a kid with a preternatural facility for the drums and guitar. It's disconcerting to see Bieber duet with Miley Cyrus, who looks fully twice his age. (That is to say, she looks 24.) Also with Usher, Boyz II Men, Sean Kingston, Jaden Smith, and Ludacris.
The King's Speech (R) Colin Firth gives one of 2010's great performances as King George VI of England, who must overcome a speech impediment when he unexpectedly must assume the throne. Director Tom Hooper does up the stagey material in sturdy fashion; the choppiness in the second half is due to David Seidler's script. The best thing here is the acting: Geoffrey Rush (reining himself in for once) plays the Australian speech therapist whose unusual methods yield results, and who becomes the king's friend. The long therapy sessions between Firth and Rush are impeccably played, and Firth is an inspiring figure as a scared man thrust into a job he never wanted who struggles and finally rises to the occasion. Also with Helena Bonham Carter, Guy Pearce, Michael Gambon, Jennifer Ehle, Timothy Spall, Derek Jacobi, and Claire Bloom.
Rango (PG) This gloriously strange animated Western is about a diffident but highly imaginative chameleon (voiced by Johnny Depp) who becomes sheriff of a town filled with desert creatures. The resulting plot, unusually complicated for a kids' movie, is gleefully ripped off from Chinatown, but the main glory of this film is its extravagant weirdness, including a reference to Fear and Loathing in Las Vegas, a mariachi band made up of gloomy-looking owls, and an army of redneck moles and gophers flying on the backs of bats and firing Gatlings at a javelina-pulled carriage driven by lizards. Asian filmmakers have done some odd things with Westerns lately, but this experimental movie is every bit as delirious. Additional voices by Isla Fisher, Ned Beatty, Abigail Breslin, Alfred Molina, Bill Nighy, Stephen Root, Harry Dean Stanton, Ray Winstone, Vincent Kartheiser, and Timothy Olyphant.
The Roommate (PG-13) This generation's Single White Female — a schlocky and semi-effective thriller about a girl and her stalker. Minka Kelly plays a college student whose new roommate (Leighton Meester) goes from friendly to clingy to murderous and psychotically obsessed with her. The two lead actresses bear an astonishing resemblance to each other, but the film weirdly doesn't seem to notice this until very late in the proceedings. The writing is sloppy, but the thing rattles along well enough. Meester is nice unhinged, but I'd still take Bridget Fonda and Jennifer Jason Leigh over these two. Also with Cam Gigandet, Aly Michalka, Danneel Harris, Tomas Arana, Billy Zane, Nina Dobrev, Matt Lanter, and Frances Fisher.
Take Me Home Tonight (R) Not sure why it's set in 1988 — this derivative and slight but charming comedy would have worked perfectly well in the present day without the outdated slang and the jokes about shoulder pads. Topher Grace stars as an MIT grad who's still undecided on a career when he attends an all-night party with his high-school crush (Teresa Palmer), who's now an investment banker. The movie doesn't drag, and a deep, likable cast turns in admirably committed performances, especially Anna Faris as the hero's combative yet supportive twin sister. Even Dan Fogler is somewhat tolerable. If the actors seem to have grown younger, it's because the film was shot in 2007 and is only being released now. Also with Chris Pratt, Michael Biehn, Lucy Punch, Michelle Trachtenberg, Demetri Martin, Bob Odenkirk, Michael Ian Black, and Ginnifer Goodwin.
Unknown (PG-13) Liam Neeson stars in this good-looking, totally unbelievable thriller as an American biotech professor in Berlin who goes into a four-day coma after a car accident. Upon waking, he finds that his wife (January Jones) claims not to recognize him and an impostor (Aidan Quinn) claims to be him. You can figure out the big plot twist just from the preceding description; you don't even need to watch the trailer or read the Didier van Cauwelaert novel that the film's based on. Bruno Ganz gets a magnificent death scene as a Stasi agent-turned-PI who realizes the bad guys are closing in on him. Other than that, the acting and the writing are too indistinct to make this movie any good. Also with Diane Kruger, Olivier Schneider, Sebastian Koch, Stipe Erceg, Rainer Bock, and Frank Langella.
DALLAS EXCLUSIVES:
Nora's Will (NR) Mariana Chenillo's drama stars Fernando Luján as a Mexican Jew who discovers after his ex-wife (Silvia Mariscal) commits suicide that she has made some stunning revelations in her will. Also with Angelina Peláez, Cecilia Suárez, Ari Brickman, Verónica Langer, Max Kerlow, and Martin LaSalle.