Fort Worth filmmaker Benjamin Wilbanks, 33, calls himself "a Spielberg baby" –– Wilbanks' childhood in Cleburne was steeped in blockbuster movies like Raiders of the Lost Ark, Back to the Future, The Goonies, and, of course, Star Wars, all movies either directed by the living legend or heavily influenced by him. Although Wilbanks never studied film in an academic setting, he began working on North Texas production crews after high school in the '90s and learned the basics of film editing along the way.

"I tried not to be a filmmaker," he said with a laugh. "I worked at an Apple store. I worked at the Kimbell [Art Museum]. Now I've accepted that I have to tell stories through movies or television. If I wasn't doing that, I'd be telling a story some other way."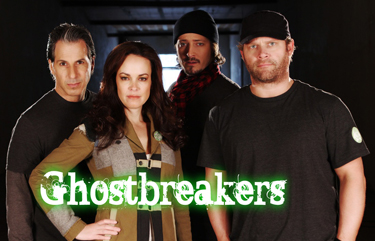 Wilbanks's resumé as a writer, director, and producer has grown slowly but impressively. In 2005, he went to the Middle East with his missionary uncle and shot a documentary short, Journey to Iraq, about the plight of Christians living in that war-torn country. The film has played at festivals around the country. In 2009, he wrote and directed Night Crawlers, a locally shot vampire comedy that will be released this year on DVD. And he served as editor on Fort Worth filmmaker Tom Huckabee's family road dramedy Carried Away, which won acclaim and awards on the film festival circuit.
Wilbanks and actor Gabriel Horn, who was the lead in both Night Crawlers and Carried Away, are now venturing into the uncharted waters of syndicated television. They and about a dozen actors and tech people –– many of them from Fort Worth –– are ensconced in an apartment complex and a cabin in Shreveport, La., while filming Ghostbreakers, a satirical half-hour show that spoofs the "paranormal reality" genre of TV shows like Syfy's Ghost Hunters and movies like the Paranormal Activity films. Horn plays one of the four supernatural investigators. Joey Greco, host of the long-running syndicated TV show Cheaters, also serves as host on the new series.
The idea for doing Ghostbreakers originated with Horn, who watched a day-long marathon of a certain paranormal reality show and found himself frustrated at the end of each episode because there was no paranormal activity on display, real or fake.
"It was always obvious with the editing and other production tricks that they were lying to the audience," Horn said. "They never delivered. And I thought, 'How about doing a show about ghosts where the audience actually gets to see the ghost?'"
Wilbanks, Horn, and Greco managed to convince a few Texas investors to finance production on an initial run of Ghostbreakers episodes –– the team is currently halfway through shooting a planned first season of 26 shows. The cast and crew are filming in old houses, businesses, and public buildings around the Shreveport area, many of which have real reputations for being haunted. (The show is shooting in Louisiana, Wilbanks said, because that state's film commission offered far more generous incentives than the Texas Film Commission.) But the show is fictional and comical –– Wilbanks and company are relying on non-union acting talent from Texas and Louisiana to improvise original characters in pre-planned scenarios, some of which are written by Carried Away director Huckabee.
"The idea is that ghosts can be anywhere," Horn said. "We've visited a haunted taxidermist's office and a haunted bakery. We've had to deal with a haunted storage bin. We offer a service. Anyone with a ghost can visit our web site, download a coupon, and call us up."
Ghostbreakers has been picked up by the flagship ABC affiliate station in New York, where the show will premiere in the fall. Incidentally, Channel 7 is one of the best stations for a new syndicated show to debut on. Other affiliates around the country tend to follow 7's lead, and sales reps for the show are busily pitching the series to other TV outlets. The producers' goal is to have the show available in 85 percent of local markets around the country, Wilbanks said. When shooting is wrapped in Louisiana at the end of March, he'll travel to Cannes in France for the international MIPTV (Marche International des Programmes de Television) market, the annual event where entertainment content is bought, sold, financed, and distributed worldwide. Wilbanks hopes to secure some overseas broadcast deals there.
He believes that if the series can just get a wide initial viewership, Ghostbreakers will score big with both horror and comedy fans. But there's one demographic that's not so thrilled about the show's satirical bent: real-life paranormal investigators.
"We've already got some pushback from that community," Wilbanks said. "They think we're making fun of them. And they're right."