You know what's a drag? Waking up with a headache, queasy stomach, and overpowering thirst — even when you didn't have a single drink the night before. What a waste of general malaise. But whatever the cause — hangover (real or imaginary), shortage of sleep, or some kind of weird spring allergy — the cure's the same: lots of carbs. That means Italian food. That means the new downtown Saviano's (400 Houston St.).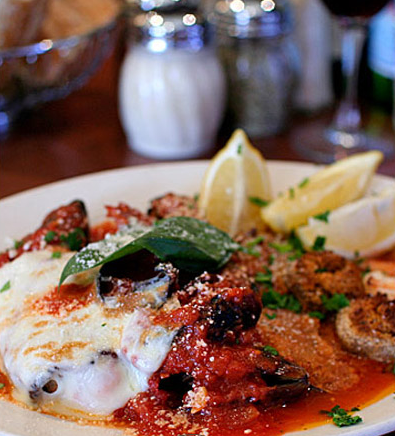 Saviano's opened this second location just a couple of weeks ago (the first, in Euless, has been a crowd-pleaser since 1994), and so far so good; the place stays fairly well packed. It's what you call more "accessible" than Sundance's other Italian offering, Taverna, where the pasta-dish names are mouthfuls like "Fiocchi al Gorgonzola e Pera" ($14, and well worth any "my Italian accent sucks" embarrassment) and the entrées run about $20. Saviano's is closer to a Neighborhood Italian Gem; no pink sauce, but lasagna and alfredo rule the menu, with lunch specials around $8.95 and most dinner entrées at $12.95. Nothing particularly surprising, just classic Italian-American comfort food. Perfect!
Megan was the ideal server for CB's fuzzy-headed indecisiveness. "Do you want to sit inside or out on the patio?" Uh … "Well, look around and then decide." (There are three distinct areas: the old Sammy's pizza counter, which looks pretty much the same; the old Zippy's, now a cozy dining area with a bar; and, carved out from the front, a small covered patio, perfect for people-watching. Patio it is.) At the drinks order, when Chow, Baby's dehydration wanted two glasses of water: "Lemon or lime?" Uh … "I'll bring you one of each." The menu is pretty straightforward, but if you need more guidance, many of the items are marked "YST" (You Should Try). Normally Chow, Baby would find this irritatingly patronizing — I can decide what I want to eat, thank you — but since on this occasion it couldn't decide, well, thanks. Megan was helpful there, too, of course: "You should get the lasagna. You'll like it."
Chow, Baby did get the YST "special recipe" lasagna (lunch $8.95, dinner $12.95) and did indeed like it: With a nice sweetish marinara, layers of cheese and savory ground beef, and lots of good Italian seasonings, it tasted homemade (in a good way). For a bit of hair of the dog, Chow, Baby also tried the YST penne alla vodka (same prices), in a lovely cream sauce; the spices here had a bit more bite, nipping away any remaining fogginess. Very nice. Chow, Baby went off the YST-recommended list only for the tiramisu ($6.95), a delightful creamy-firm pick-me-up. You should try it.
Only the starters were a bit disappointing. The sweetness of Saviano's housemade marinara didn't bring out the best in the fried calamari ($8.95), which themselves were not fried as crisp as Chow, Baby prefers. Garlic cheese bread was great, and the perfect faux-hangover cure all by itself — but it cost $4.95, which is $2 more than garlic bread should cost (indeed, it's $2.95 at Saviano's in Euless). Of course, you have to expect to pay a bit of a premium for sitting at a nice patio in Sundance Square, ministered to by a wonderful server like Megan, and enjoying good Italian comfort food. For that, $2 sounds fair.
Contact Chow, Baby at chowbaby@fwweekly.com.